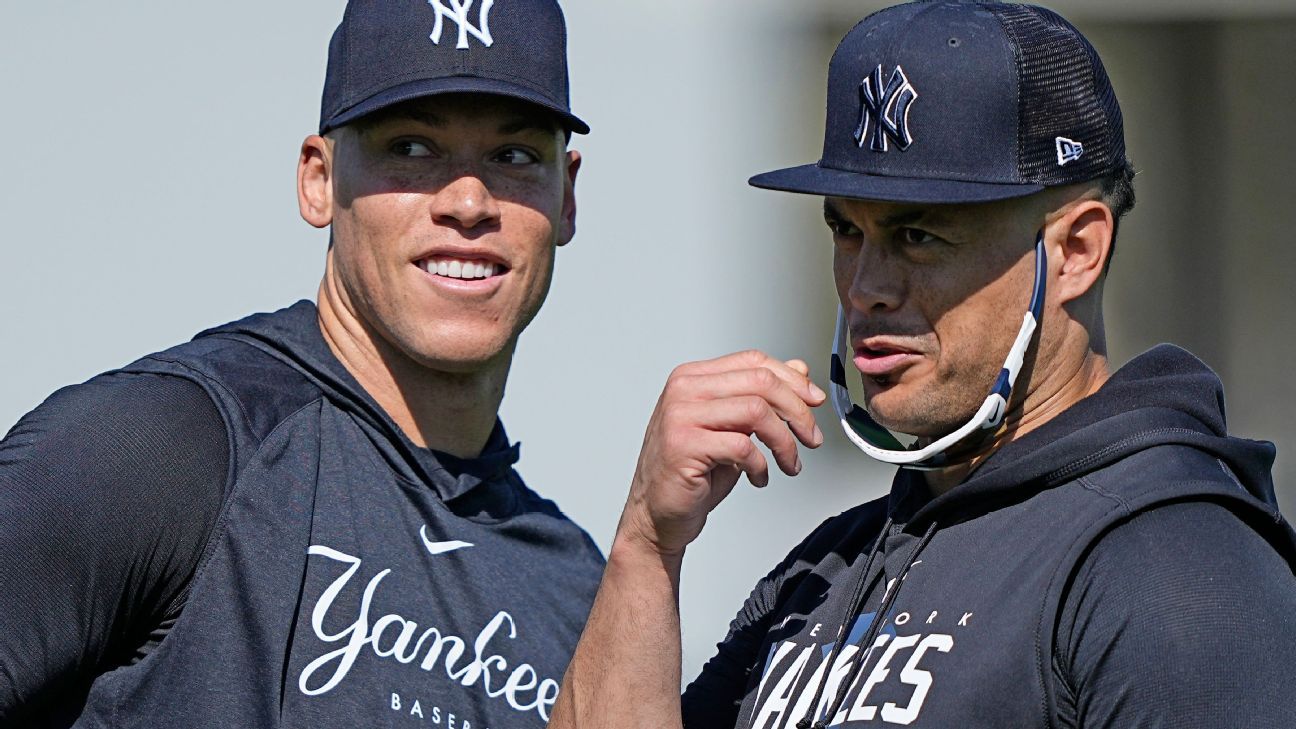 TAMPA, Fla. — New York Yankees manager Aaron Boone is considering giving All-Star outfielder Aaron Judge some reps in left field this spring, and that's all well and good with the team captain.
"I did mention it to him, if we need to get Big G in right field at Yankee Stadium, put me in left," Judge said of his conversation with Boone on more playing time for Giancarlo Stanton. "I don't mind it. I don't mind switching around so we can have (Harrison) Bader, me, and Big G out there. So, we'll get some reps in spring training and (get) comfortable out there."
Judge said that he hoped to test his abilities in left field this spring. But Boone declined to commit to a specific date or number of innings to test out Judge's left field aptitude.
"I'm open to things like that, especially in the home ballpark. So, we'll see. … We'll see," Boone said. "I would say I'm at least considering it. We'll just kind of see how that goes. No decision on that yet but it's something on my board."
Added Judge: "The only way you can really test things out, is (to) throw yourself out there. Hopefully, I'll get a couple games out there. I don't think I've played left field since probably college! I know (Stanton) wants to be a good outfielder. He's good out there; made a couple of plays the past couple of years. I expect to see him out there quite a bit."
In describing playing the field vs. serving as designated hitter, Stanton explained that he has "more of a flow" in the outfield because it allows him to remain "more engaged" in the game as opposed to being limited to "watching the game on TV" inside the clubhouse when warming up to bat. Stanton has played a total of 60 games in left field since joining the Yankees in 2018.
But Boone knows that, particularly due to Stanton's injury history, achieving that DH-outfield balance will be one of the keys to the Yankees' success this season.
And the acquisition of a Gold Glove-caliber outfielder like Bader also will limit the opportunities in center field for Judge, who actually played most of his outfield games last year (78 out of 129) in center before the Yankees traded for the New York-native.
"What is that right amount? What's the right amount, in a perfect world, where you're healthy, what's the right amount of outfield reps during the week?" Boone said in describing the challenge of that balancing act with Stanton. "I am of the belief that (Stanton) playing in the outfield is good for his game. But I also think it's good for his health. Playing the field, when healthy, gives him a better shot at staying healthy."
This topic at Yankees camp speaks to the lack of production the club has gotten from its primary left fielder, Aaron Hicks, who led the team with 46 starts in the position last year.
The 33-year-old switch-hitting outfielder was one of the main targets of the Bronx "cheers" last year after several defensive miscues and a subpar season at the plate, slashing .216/.330/.313 with 109 strikeouts in 385 plate appearances.
Besides versatile and eager 23-year-old rookie Oswaldo Cabrera, primarily an infielder until having the opportunity to man the outfield for 34 games upon his major league call-up in mid-August, the Yankees invited several experienced outfielders to spring training. But it is worth noting that Boone, as well as general manager Brian Cashman, have both said that the Yankees expect a bounce-back year from Hicks.
Among those non-roster invitees, infielder-turned-outfielder Willie Calhoun played 163 games in left field for the Texas Rangers the last five seasons, and lefty-hitter Rafael Ortega, a veteran Venezuelan-born centerfielder, played 93 games in the outfield for the Chicago Cubs the last two years.
(With Inputs from ESPN)

#Yankees #mull #moving #Judge #left #field #Stanton #field