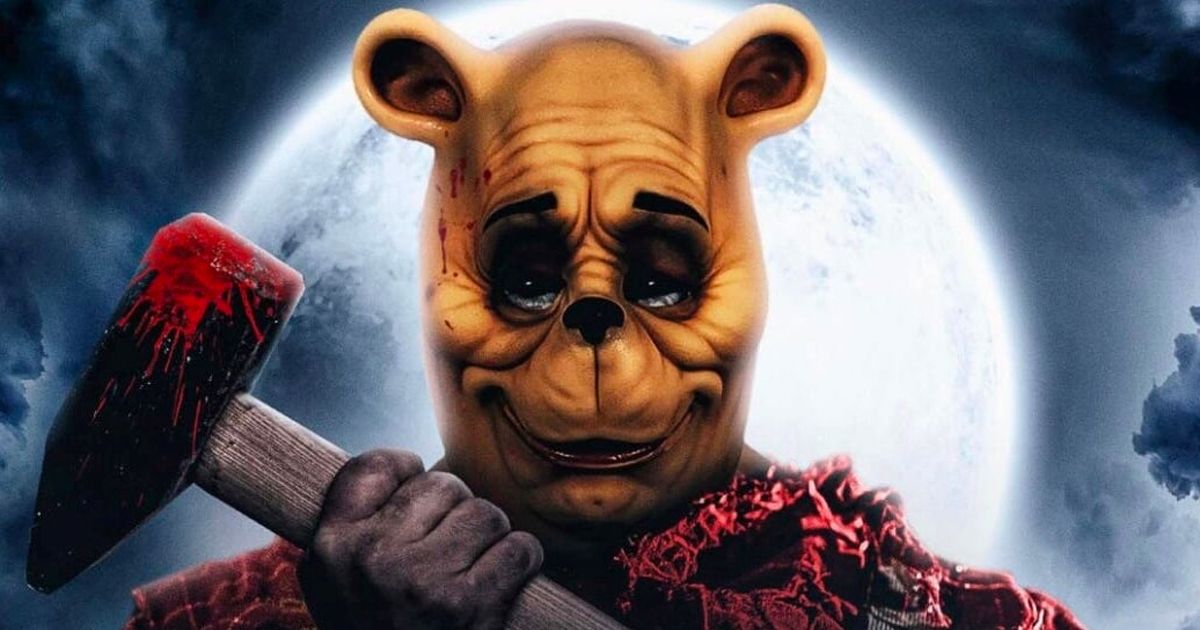 Beloved childhood characters are abandoned and have emerged as wild beasts in the trailer for the upcoming warped horror flick, Winnie-The-Pooh: Blood and Honey. Released courtesy of Jagged Edge Productions, the trailer provides the first footage from the movie, which finds treasured icons Winnie the Pooh and Piglet as slasher killers after they are left alone by Christopher Robin. Check out the first trailer for Winnie-The-Pooh: Blood and Honey below.
As every child knows, Christopher Robin befriended Winnie-the-Pooh, Piglet, and their friends, playing games and also providing them with food. What we all don't know, however, is that as he grew, these visits became more infrequent, as did the food supply, causing Pooh and the others to grow increasingly hungry and desperate.
When Christopher went off to college, his visits to the 100 Acre Wood stopped completely, causing Pooh and Piglet to become completely feral and unhinged. Which sadly resulted in Eeyore getting killed and eaten at some point. Now, Christopher Robin has returned to the forest alongside his new wife, hoping to introduce her to his old friends. Unfortunately for them, Pooh and Piglet will not forgive that easily, with the pair going on a murderous rampage for human flesh as they antagonize a group of university girls who are occupying a rural cabin.
Directed and written by Rhys Frake-Waterfield, Winnie the Pooh: Blood and Honey serves as bizarre a horror retelling of A. A. Milne's 1926 book Winnie-the-Pooh, and is possible due to The Walt Disney Company no longer holding exclusive movie rights to the characters as they were first depicted, thus allowing them to enter the public domain.
Starring Nikolai Leon as Christopher Robin alongside Amber Doig-Thorne, Maria Taylor, Danielle Ronald, Natasha Tosini, May Kelly, Paula Coiz, Natasha Rose Mills as Jess, and Craig David Dowsett and Chris Cordell as Winnie-the-Pooh and Piglet respectively, Winnie the Pooh: Blood and Honey looks about as awfully excellent as you would expect.
Winnie the Pooh: Blood and Honey Imagines Pooh & Piglet as Bloodthirsty Killers
The man behind this horrific vision of some of our childhood favorites as bloodthirsty killers, Rhys Frake-Waterfield, has previously offered some insight into why Pooh and Piglet have transformed from adorable critters into murderous monsters.
"So they've gone back to their animal roots. They're no longer tame: they're like a vicious bear and pig who want to go around and try and find prey," the filmmaker explained.
Amid all the bloodshed and horror though, Waterfield has assured fans that Winnie the Pooh: Blood and Honey will also bring some laughs. "She's having a good time and then Pooh and Piglet appear behind her, chloroform her, take her out of the jacuzzi and then kind of drive a car over her head," he said of one killer sequence. "It's scary, but there's also funny bits because there's shots of Winnie the Pooh in a car and seeing him with his little ears behind the wheel and like slowly going over there [to kill her.]"
Winnie the Pooh: Blood and Honey is coming soon to DVD and VOD worldwide.
#Winnie #Pooh #Blood #Honey #Trailer #Transforms #Pooh #Piglet #Monstrous #Killers

( With inputs from movieweb )