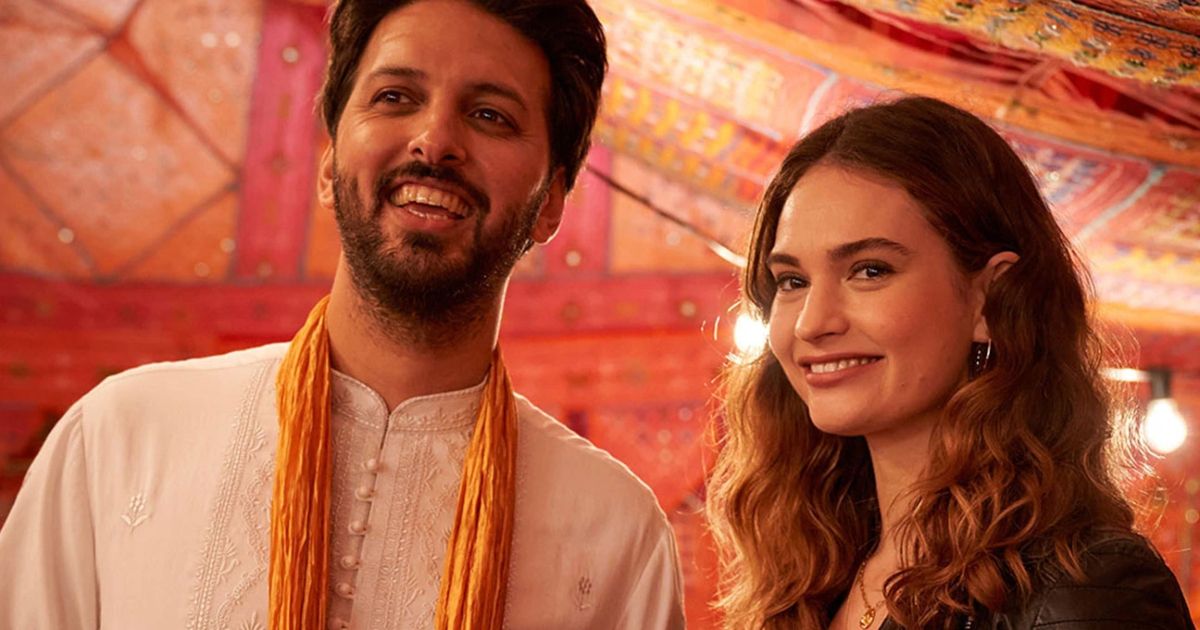 Lily James recently made waves for her role as Pamela Anderson in Pam & Tommy, but her new role the romantic comedy What's Love Got To Do With It? sees her taking on a part that is a completely different kind of love story. Described as a "heartwarming cross-cultural comedy," the new trailer for the British movie is certain to strike a chord with anyone who has attempted to date in 21st century.
What's Love Got to Do With It? is directed by Shekhar Kapur (Elizabeth) and written/produced by Jemima Khan (Impeachment: America Crime Story), and the movie's synopsis reads:
"How do you find lasting love in today's world? For documentary-maker and dating app addict Zoe (Lily James), swiping right has only delivered an endless stream of Mr. Wrongs, to her eccentric mother Cath's (Emma Thompson) dismay. For Zoe's childhood friend and neighbor Kaz (Shazad Latif), the answer is to follow his parents' example and opt for an arranged (or "assisted") marriage to a bright and beautiful bride from Pakistan. As Zoe films his hopeful journey from London to Lahore to marry a stranger, chosen by his parents, she begins to wonder if she might have something to learn from a profoundly different approach to finding love."
Alongside the award-winning cast, the film also contains music from Ivor Novello Lifetime Achievement Award-winning and Mercury Prize nominated composer, Nitin Sawhney CBE, British-Pakistani record producer, DJ, songwriter, and musician Naughty Boy, and three-time BRIT Award and Mercury Prize nominee Joy Crookes. The soundtrack also features vocal performances from Lily James, Kanika Kapoor and Rahat Fateh Ali Khan.
What's Love Got To Do With It? Has Already Gained Positive Reviews
What's Love Got To Do With It? originally began filming in late 2020 during the Covid pandemic. The film originally premiered at the Toronto International Film Festival in September 2022 and was released in the UK last month. The film gained mostly positive reviews, and currently holds a 73% approval rate on Rotten Tomatoes, which had a consensus reading, "What's Love Got to Do with It? is a standard issue romantic comedy in many respects, but a pair of appealing leads help make this love story more crowd-pleasing than not."
Director Shekhar Kapur previously spoke about the movie at the annual U.S.-Asia Entertainment Summit in 2021, explaining how the movie was all about the identities of the characters involved and a clash of cultures. He said:
"It's a story of identities. It's about cultural clashes and it's a comedy, but it's about hiding behind an identity and how identities can become tribal, and how tribalism can lead to clashes and fundamentalism. It's a romcom, but based on this fundamental idea of people adopting identities out of fear of marginalization."
The subject is certainly one that is always growing in relevance, and whether the movie was released last year, this year or in five years' time, it seems like it would continue to be one of the most relatable rom-coms of the last decade. What's Love Got To Do With It? is released in the U.S. on May 5, 2023.
#Whats #Love #Trailer #Sees #Lily #James #Leading #CultureClash #RomCom

( With inputs from movieweb )