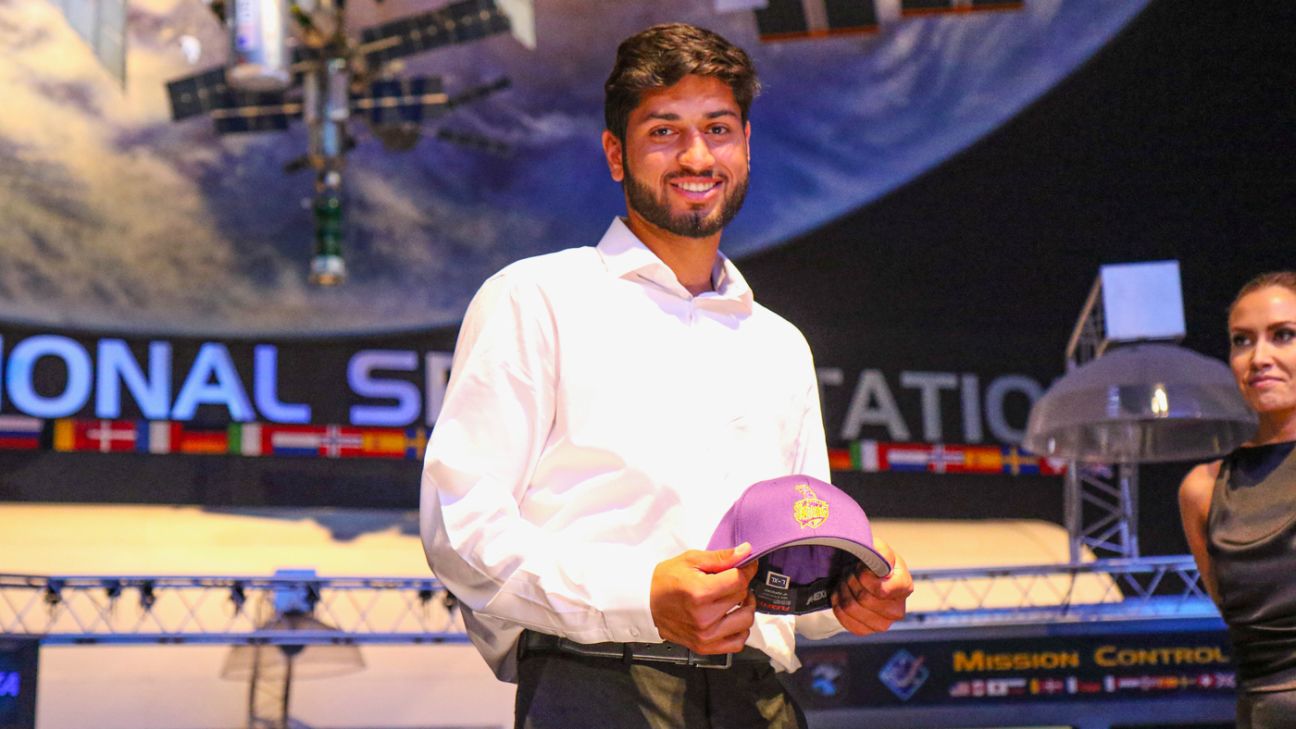 On Sunday night
at the NASA Space Center in Houston, all sorts of questions could be explored walking around this wondrous complex dedicated to the history and future of space exploration. On entering, to the left, visitors couldn't have missed a prominent exhibit dedicated to the new Artemis shuttle program which launched last November. Who might be the first woman to walk on the moon, one might ask? How many years until an astronaut lands on Mars?
By the end of that evening's Major League Cricket (MLC) player draft, conducted at the sprawling facility, a different question took center stage. One that might even stump NASA's astrophysicists and rocket scientists: What is a local cricketer in the MLC?
Judging by the list of 54 players chosen in the draft (for domestic players) it's entirely possible that if you asked any of the hundreds of people present, you might not be able to get two people to give the same answer.
Most coaches, players and fans within the USA have been sold the premise that the MLC is going to provide new opportunities for American players to aid their development by allowing them to play with and against some of the world's elite stars. That was highlighted by the announcement of the first six international signings unveiled on draft night, headlined by
Aaron Finch
,
Mitchell Marsh
and
Quinton de Kock
.
But when it came to the drafting, a steady stream of messages and social media posts highlighted both the excitement and at times dismay as to who plays as a "local" player alongside those stars. In the first round, three USA national team players were drafted:
Steven Taylor
,
Ali Khan
and
Rusty Theron
. All three have had very different journeys to play for USA.
Taylor was born and raised in Florida. He is
USA's all-time leading scorer in T20Is
and once flirted with playing for the West Indies by using his parents' Jamaican heritage. He was briefly even contracted with Jamaica's first-class team in 2017. He turned a standout knock of 88 off 71 balls in the
2017 CWI Super50 semi-final
into a $30,000 contract with Guyana Amazon Warriors in the CPL, making him the highest paid American player in a T20 franchise league at the time. The $75,000 slot he'll get for being the third overall pick by MI New York is not only two-and-a-half times what he got in the CPL, but nearly as much as he got in 2019 as one of USA's first centrally contracted players. Except, that was for 12 months' work compared to sweating out as few as five match days during MLC.
Khan was born in Pakistan, moved with his family to Ohio at the age of 18 and became a naturalized citizen in 2015. That was well before he debuted for USA in 2016 and turned into a regular on the global T20 franchise circuit in the summer of 2018. But his pathway to fifth overall pick by Los Angeles Knight Riders was destined once he had been
part of the Knight Riders set-ups
in the CPL, IPL, and ILT20.
Theron grew up in and represented South Africa before retiring and seeking out a university degree in education in Florida. His stay was meant to be temporary until he met his wife, got married and got back into cricket on the US club scene. After qualifying under the ICC's three-year residency criteria, he was eventually picked for a USA debut in 2019.
Elsewhere in the first round,
Corey Anderson
was drafted by San Francisco Unicorns. He retired from international cricket several years ago and migrated to Texas just ahead of the Covid-19 pandemic to be nearer to his then fiancée and now wife's family. He has also met the three-year residency threshold to be eligible to play for USA.
Liam Plunkett
and
Shehan Jayasuriya
, both drafted in the second round, have also decided to settle in the USA over the last two years, through marriage.
In different ways, these journeys paint a picture of a cricket league's spin on the American dream, especially for a kid growing up in Texas wanting to be the next Taylor or Khan: "Hey kid, you can make an honest living as a professional cricketer right here in America." As when 20-year-old Dallas native Ali Sheikh, who has played for USA Under-19, but is yet to get a senior team cap, was taken in the sixth round for $25,000. That's not such a bad part-time summer job for a college student at the University of Texas at Dallas. If he does well enough, it'll come off more like a summer internship leading to a full-time cricket job post-grad.
However, snaking through the rest of the draft, that dream started to get fuzzier. The lack of USA national team qualified players selected became increasingly hard to ignore, or the lack of outright American citizens. This was, after all, a draft for local players. Following the selection of Taylor third overall, it took until the fourth round for a second American-born player to be picked:
Nosthush Kenjige
22nd overall pick, joining Taylor at MI New York.
But a pick which drew much more scrutiny came one selection earlier when
Chaitanya Bishnoi
was taken by San Francisco Unicorns. In a media release issued by MLC on March 6 to highlight the shortlist of 102 players in the draft pool – including 56 who were divided into four teams for a T20 quadrangular played in front of coaches and scouts from the six MLC franchises – there was no mention of Bishnoi, a 28-year-old journeyman from Delhi who at one time was in the Chennai Super Kings squad but never made it to a starting XI. As recently as January, Bishnoi was suiting up for Haryana in the Ranji Trophy. Instead, there was a 'Chetan Bish', presumably Bishnoi's Clark Kent alter ego who had left India at the start of March, rocked up to Houston and was deemed a "local" player.
When Bishnoi walked up on stage to collect his new Unicorns cap in the tradition of American drafts and pose for a photo with tournament director Justin Geale, there were smiles on the dais mixed with the pained grins of several USA squad players in the crowd. Many of those without a central contract who live paycheck to paycheck, along with their peers currently on an ODI tour in Namibia, wound up undrafted while Bishnoi was fetching a $40,000 purse designated for fourth-round picks.
When asked for their definition of "local", an MLC official said: "A player needs to demonstrate that they will hold a 'qualified visa', have established their 'primary and permanent residence' in the US, and will continue to satisfy the ICC's guideline regarding ten out of 12 months for three consecutive years." That may be a reasonable definition but satisfying all three statutes after spending a handful of days in the country strains credulity, especially since Bishnoi was specifically described in MLC documents as a "player currently transitioning to eligible visa to be classified as domestic player". There is also a subtle but important difference in the language used by MLC, giving the green light to players who "will" pledge to stay in the USA for three years, versus the ICC guideline requiring non-citizen players to have already lived in the USA for three years.
To be fair, Bishnoi was not the only one that MLC appears to have flexed their domestic player statute for, though he is the only one to bizarrely alter his name upon arrival. Mukhtar Ahmed and Saif Badar, 30 and 24 respectively, also arrived at the 11th hour into Texas for the quadrangular T20s held the week before the draft, having been part of the Pakistan domestic set-up during the 2022-23 season. Mukhtar went in the second round for $65,000 and Badar in round seven for $15,000.
USA players on the fringe of being drafted might have been able to reconcile this if they saw the "local player" criteria being massaged to accommodate, say, Virat Kohli. But many people in US cricket circles are struggling to understand why MLC officials were so desperate to shoehorn a trio of fairly obscure names into the draft who will not move the needle one bit when it comes to marketing exposure, ticket sales or TV ratings.
In the end, players with deep ties to the national team were few and far between among draft selections. Only seven American-born players (13% of the picks) were chosen, including four in the Under-23 development category. Though there is a requirement to have an Under-23 player in each squad, there's no mandate to play them in the XI. It means that realistically, only three franchises may have a solitary American-born player in their starting XI of the 66 players who will make their MLC debut from July 13.
Separate from that, there is miniscule representation of USA national team players on the whole. Only 15 out of the 54 picks were players who have been capped for the senior or Under-19 teams. When all the overseas signings are finalised, it means that at best an average of two USA players will be in any squad.
This is in stark contrast to, as a relevant example, the UAE's ILT20. Though nine overseas players were allowed in any starting XI, organisers mandated that each squad pick four UAE-qualified players and two in every starting XI. MLC will allow six overseas players in their starting XI, yet their malleable definition of "local" – along with no mandate to specifically pick a minimum number of USA-qualified players – means that there may be numerous matches where not a single USA national team player takes the field.
The glowing exception is MI New York. Despite their stubbornly goofy branding in tagging Mumbai into the name of every domestic city-based franchise they have a stake in, MI New York has the most American flavour by far. They used six of their nine draft picks – double the next best – on USA squad players. That's thanks in large part to former USA head coach J Arunkumar in their backroom. If he thought the quality of a USA player was no good, he could easily have ignored his former charges. Instead, he has vouched for their quality. If that many are good enough for MI New York, why not other teams?
At the other end, Washington Freedom and San Francisco Unicorns only took one USA squad member each. Meanwhile, a total of 22 current or former USA squad members at junior or senior level went undrafted out of the final pool of 102 players. The snubs include the three batting heroes of USA's first ever T20I win over a Full Member nation
in December 2021
against Ireland:
Sushant Modani
,
Gajanand Singh
and
Marty Kain
. That kind of unbalanced equation gives off the impression that while the league may be located in the USA, it may not necessarily be happening for the USA.
Amid reminders of Neil Armstrong's historic walk on the moon, the ability for current or former overseas stars to cash in some American greenbacks on the T20 circuit took a giant leap for cricketkind on Sunday night. Yet, a much smaller step was taken to advance vital cricket playing ambitions and opportunities for the 'local' man.
Peter Della Penna is ESPNcricinfo's USA correspondent @PeterDellaPenna
(With Inputs from ESPN)

#local #cricketer #MLC