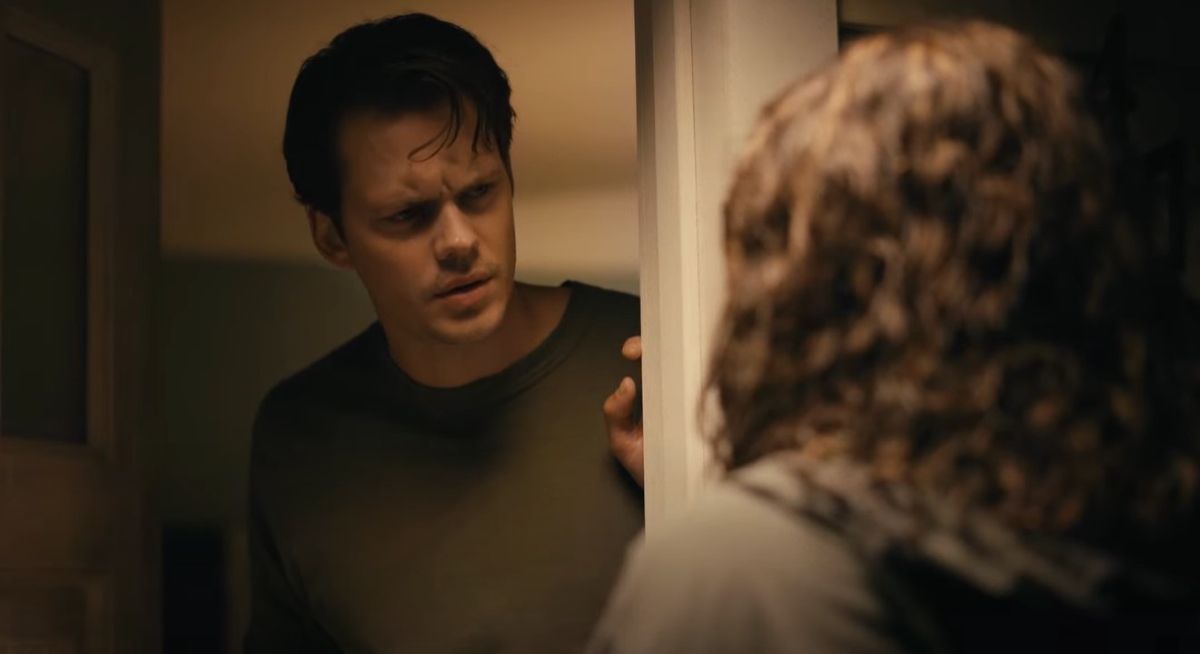 Bill Skarsgård is returning to the horror genre with his latest film, Barbarian. In the preview, we see a young woman, played by Georgina Campbell, attempting to locate her rental home as she travels to Detroit. However, she's greeted at the door by Skarsgård in an unexpected turn of events. From there, the duo will share the home for a night, where mysterious and disturbing events occur with Skarsgård's character leaving Campbell in immediate danger.
Related: Can the Crow Reboot Work With Bill Skarsgård?
The trailer doesn't give much away aside from the glaring issues that the night presents and the inevitable conflict the pair will share throughout their stay. We don't know what exactly is going on with Skarsgård; however, he clearly will leave his short-term roommate with quite the scare. The trailer for Barbarian can be found below:
The official synopsis for the film gives us an idea of the direction in which Barbarian is headed:
A young woman traveling to Detroit for a job interview books a rental home. But when she arrives late at night, she discovers that the house is double booked, and a strange man is already staying there. Against her better judgement, she decides to spend the evening, but soon discovers that there's a lot more to fear than just an unexpected house guest.
Barbarian stars Georgina Campbell, Bill Skarsgård, Justin Long, Matthew Patrick Davis, Richard Brake, Kurt Braunohler, and Jaymes Butler. The film is written and directed by Zach Cregger, with Arnon Milchan, Roy Lee, Raphael Margules, and J.D. Lifshitz producing. Bill Skarsgård will executive produce, along with Michael Shaefer, Natalie Lehmann, Danny Chan, and Alex Lebovici.
Barbarian comes from 20th Century Studios and New Regency and arrives in theaters this summer on Aug. 31st. Take a look at the official poster for the film, provided by the 20th Century Studios Horror Twitter account.
Bill Skarsgård is Headed Back to Horror
Bill Skarsgård has essentially mastered the art of horror movies, appearing as Pennywise the Clown in the It franchise for two films. Although the movies received mostly positive reviews from critics and audiences, Skarsgård's performance is regarded as one of the most iconic in the genre. He embodied the demonic clown with perfection, with Stephen King calling his performance "just amazing, it's balletic, it's so good," in an interview with Yahoo following the release of It Chapter Two.
Related: Netflix's Clark Teaser Introduces Bill Skarsgård as Notorious Gangster Clark Olofsson
The actor will hope to replicate an equally terrifying role in Barbarian. However, it will be a monumental task to try and surpass the menacing Pennywise. Once again, audiences won't have to wait much longer to see how Skarsgård fairs as a new, frightening villain in the film, with Barbarian hitting theaters on Aug. 31st.


#Watch #Trailer #Upcoming #Thriller #Barbarian

( With inputs from movieweb )