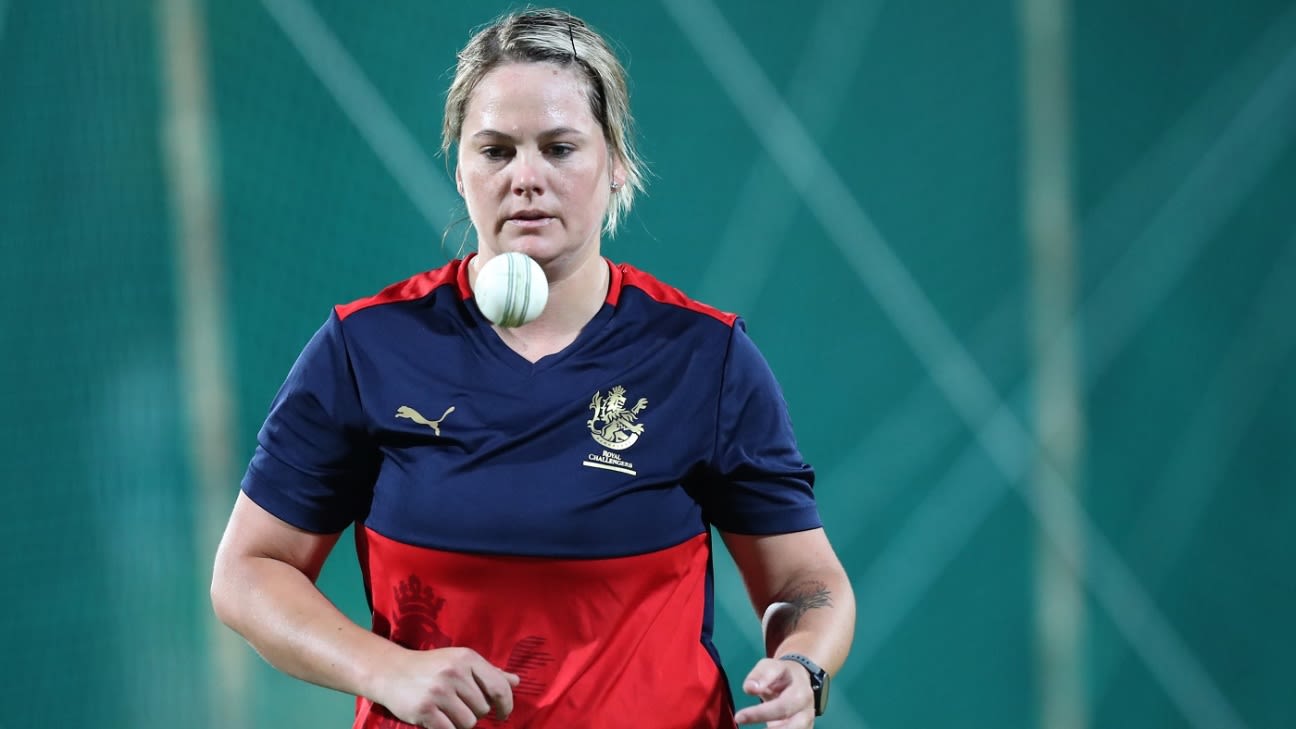 Dane van Niekerk
has the chance to get back to playing competitive cricket after a lengthy layoff, and all she wants is to "find the Dane" she might have lost in an emotional rollercoaster of a journey over the past year.
"I just want to get back into it," van Niekerk told ESPNcricinfo on the sidelines of the Women's Premier League, where she is a part of the Royal Challengers Bangalore set-up. "I haven't played competitive cricket for such a long time, I just want to find the Dane that I've lost along the way with all the ups and the downs. And there were a lot more downs than ups, so it's about finding that Dane, finding that edge again, the fearlessness.
"When you go through these tiring times, you don't like the game as much. As a cricketer, everyone says if you don't enjoy it it's probably time to call it [off]. I'm not there yet. But I want to find that love and that fun factor again, find the Dane that I missed, to be honest."
Just when van Niekerk recovered from a broken ankle she suffered in January 2022 and was all set to make her return to international cricket earlier this year, she was
left out of South Africa's T20 World Cup squad
for failing to meet one of the board's fitness requirements: a two-kilometre run in nine-and-a-half minutes, which she overshot by 18 seconds. She instead
served as a commentator
during the World Cup, held at home. The last international match she played before the layoff was an
ODI against West Indies
in September 2021. Since then, she has played three matches in the women's Hundred and a couple of games at CSA's Provincial T20 competition.
She did not play Royal Challengers' opening fixture –
a loss to Delhi Capitals
– and said she did not want to put pressure on herself when her turn finally came.
"I think I'm at the right place to do just that [play without fear]; the management has been incredible – you know everyone has been incredible, the RCB setup has been incredible – and they understand where I'm coming from and understand where I've been. So I'm just feeling very valued within their environment, knowing that I haven't played that much international cricket goes a long way.
"You don't have to put any pressure on yourself, I'm not here to show everyone or anyone that I should have played the World Cup or I should have done this – the should have, would have, could have. At the end of the day, I want to find myself, enjoy cricket again."
Van Niekerk: 'Women's cricket is going in the right direction in South Africa'
South Africa might have lost to Australia in
the T20 World Cup final
, but they did have a few things to cheer about. It was the first time a South Africa team – men's or women's – had reached the final of a senior World Cup.
The final in Newlands
had a record turnout of 12,782 people, the highest for a women's match in the country.
Van Niekerk hoped for her cricket board to capitalise on the rising interest in women's cricket in the country and wanted them to start focusing on improving domestic cricket.
"I think I'd like to pick her brain. When I was that age, I didn't look at the game that way. She's definitely somebody I'd like to get to know better to see how she thinks and how she feels about it"

Dane van Niekerk on playing under Smriti Mandhana
"This South African team reaching the final – the timing was so good," she said. "The hype around women's cricket in South Africa, then the WPL… the interest was obviously created. The exciting part is that South Africa now watch women's cricket. Now it's the WPL, I hope the demand for a domestic league back in South Africa will come shortly. We still have a lot of work to do, but women's cricket is going in the right direction in our country and hopefully this can strengthen the demand for women's cricket and a professional league, and push to professionalise all parts of our domestic cricket in South Africa."
"I'm just excited to see them [her three compatriots] here, excited to see how they go and I wish them all the best," van Niekerk said. "I hope they take off from where they left off in the World Cup and may this be the start for many South Africans to get into the WPL. May this grow South African cricket and its strength as well."
One of the most experienced players in the Royal Challengers set-up, van Niekerk was keen to get to know captain
Smriti Mandhana
better.
"At such a young age she's so composed when she bats, she's achieved so much. She's still young," van Niekerk said. "You think she's young, but the way she goes about it, I think I'd like to pick her brain. When I was that age, I didn't look at the game that way. She's definitely somebody I'd like to get to know better to see how she thinks and how she feels about it."
Sruthi Ravindranath is a sub-editor at ESPNcricinfo
(With Inputs from ESPN)

#Van #Niekerk #find #Dane #missed #emotional #twists #turns