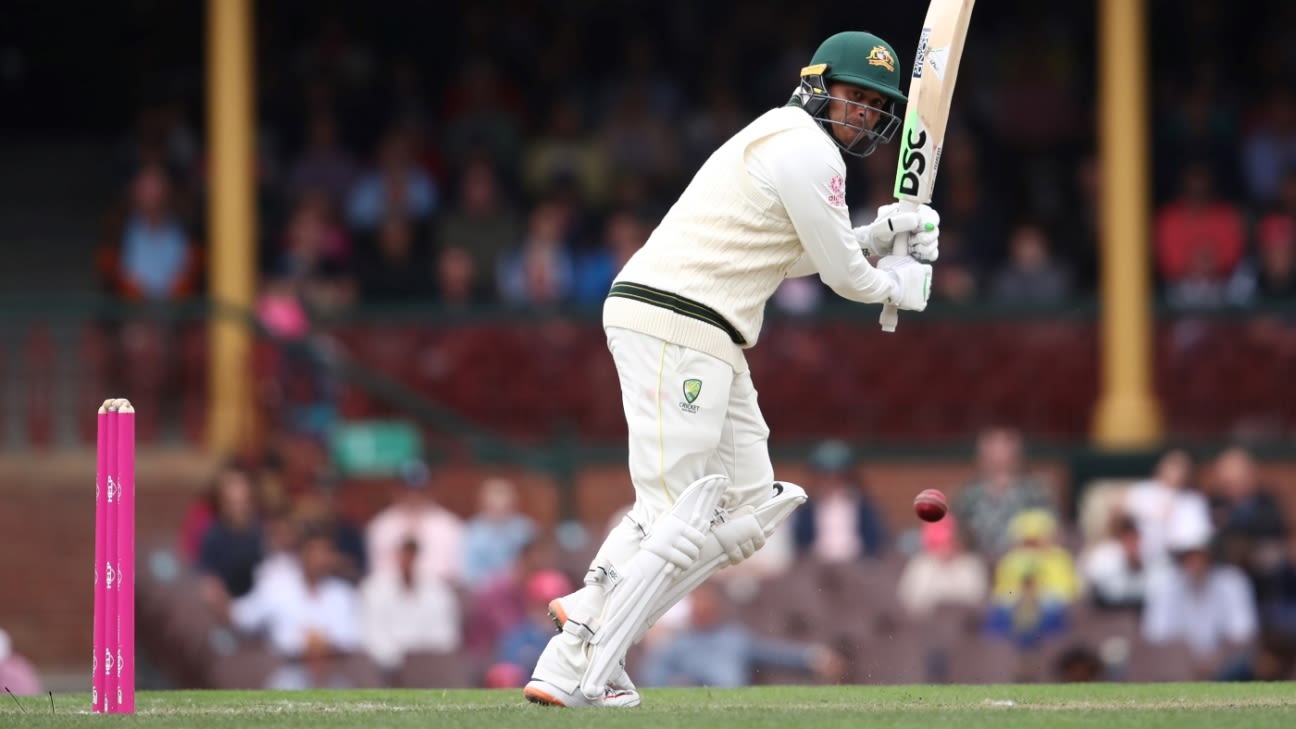 For the
third time in three
Test innings
Usman Khawaja
was able to celebrate a century
at the SCG
and, though he will have spent two nights unbeaten 195 and hoping for the chance for a maiden double-ton, he was relieved to convert into three figures in a frustrating season.
Khawaja had made consistent contributions for both Queensland in the Sheffield Shield and then
against West Indies
, but had not been able to turn one of his five half-centuries into something more substantial. However, he still ended 2022 with more than 1000 runs in Test cricket and has now cashed in at the start of the new year.
"I've played some really good cricket this year and haven't cracked a hundred," he said. "Got three 50s in the Shield in consecutive games then got a couple of 50s at the start of the Test tour. Then a diabolical wicket
at the Gabba
and we won which was fine, [and] missed out
last game
. More of a personal battle when I got to fifty, continuing the process and see how long I can continue for. To get that reward was a nice feeling, I feel like I'm doing all the right things."
It was difficult for Khawaja to compare the experience this year with his
comeback centuries against England
because that opportunity had been so unexpected. However, he continues to be in a sweet spot in the latter stages of his career where he is batting serenely and is savouring the environment of the Test side created by coach
Andrew McDonald
and captain
Pat Cummins
.
"Best environment I've been in," he said. "I haven't done a warm-up in about seven Test matches. Nothing hurts you more than a warm-up. Think it's added two more years to my career, 100%. Ron's [McDonald] been great about that, so has Patty. It's those small things that has really helped the environment. I used to find it really intense and it used to take a lot of mental energy, all the, I call it the fluff, the box ticking. Since I've been back there really hasn't been any of that. It has really opened up a lot of space in the mind."
After glancing skywards on bringing up his hundred, Khawaja brought out another of the dance-move celebrations that he unfurled against England. "Religion is a big part of my life…my family and religion the two most important things in my life," he said. "I keep the religion thing pretty private and do my own thing. The celebrations after it, I always enjoying bringing a bit of colour to Test cricket, both figuratively and literally."
He is looking forward to next month's tour of India, believing he's playing "as well as ever" against spin, although was cautious about linking conditions at the SCG – which have been tempered by the rain – to what Australia will face on that trip. His success
in Pakistan last year
, the runs he scored on the
2019 one-day tour
where he was Player of the Series and for Australia A leave him with plenty of good memories to draw on.
"There's no guarantee in cricket, I could get eight ducks in a row, but I know a process that works for me," he said.
Regardless of whether Khawaja gets the chance to cross 200 – the odds suggest he will get the opportunity as Australia look to extend the follow-on target unless day four is further delayed by rain, which could be the case – South Africa face a big task to bat for the best part of two days to save the game given they have
passed 200 once in their last eight innings
. However, they have been urged to take a leaf out of Khawaja's book.
"You can easily go into that mindset of just trying to survive…in comparison to still being in a positive mindset, that doesn't mean you need to be reckless," batting coach Justin Sammons said. "What Khawaja has done so well is to stay in his game plan. He was positive, but scored within his game plan, think that will be key for us. We've still got this game then two against West Indies to finish our season and we want to take as much confidence going into that series as we can."
(With Inputs from ESPN)

#Usman #Khawaja #happy #hit #triple #digits #trouble #converting