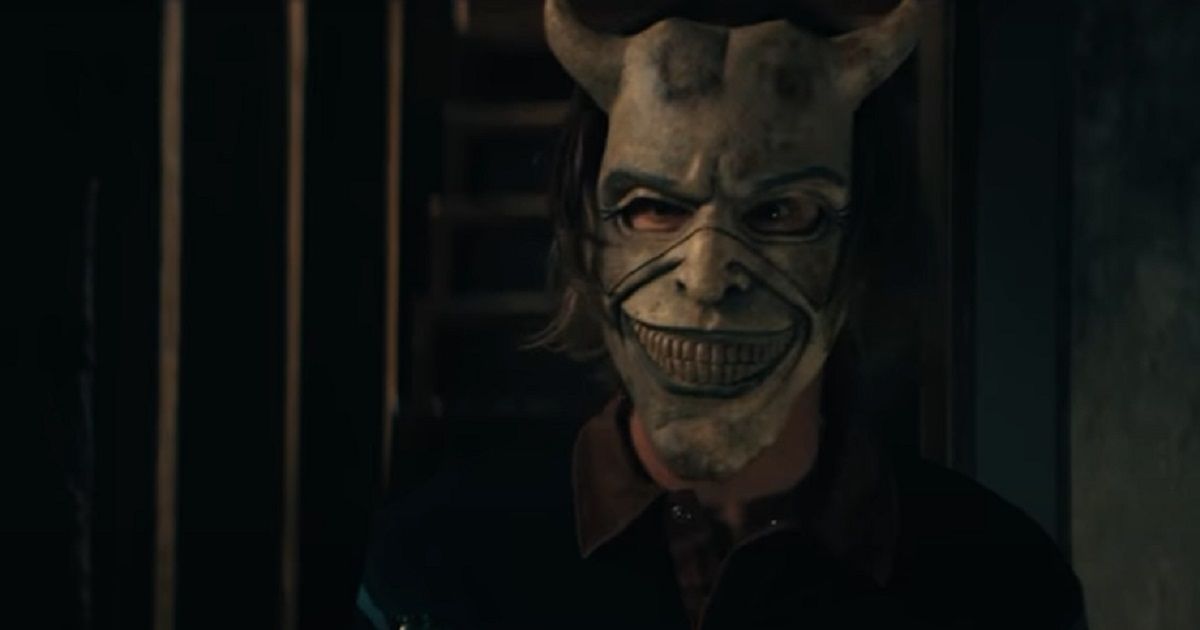 A long-dead phone is mysteriously ringing in the latest trailer for Universal Pictures' upcoming horror outing, The Black Phone. Had things worked out how they should, audiences would have answered The Black Phone earlier this year. Instead, horror movie fans will have to continue to wait a few more months before seeing Ethan Hawke terrify as The Grabber. Check out the latest trailer for The Black Phone below.
Coming courtesy of director Scott Derrickson (Sinister, Doctor Strange) and the celebrated studio Blumhouse Productions, The Black Phone begins with Finney Shaw, a shy but clever 13-year-old boy abducted by a sadistic killer and trapped in a soundproof basement where screaming is of little use. When a disconnected phone on the wall begins to ring, Finney discovers that he can hear the voices of the killer's previous victims. And they are dead set on making sure that what happened to them doesn't happen to Finney.
Having left the world of the Marvel Cinematic Universe behind, at least for now, filmmaker Scott Derrickson returns to his horror and terror roots and partners again with the foremost brand in the genre, Blumhouse, with the new thriller The Black Phone. Derrickson has written the movie's screenplay alongside C. Robert Cargill. The Black Phone is based on the award-winning short story by Joe Hill from his New York Times bestseller 20th Century Ghosts.
The Black Phone is produced by Derrickson & Cargill's Crooked Highway and presented by Universal and Blumhouse. Jason Blum, Scott Derrickson and C. Robert Cargill are producers on the film, which is executive produced by Ryan Turek and Christopher H. Warner.
The Black Phone Was Met with a Positive Response From Critics When it Premiered Last Year
The Black Phone stars four-time Oscar® nominee Ethan Hawke in the most terrifying role of his career and introduces Mason Thames in his first-ever big-screen role. Hawke will slip on a sinister, smiling mask as the villain of the piece, The Grabber, with Mason Thames to lead the horror outing as Finney Shaw. The supporting cast of The Black Phone includes the likes of Madeleine McGraw as Gwen Shaw, Jeremy Davies as Mr. Shaw, and James Ransone as Max.
The Black Phone had its world premiere at Fantastic Fest back on September 25, 2021, and was met with positive reviews from critics, currently sitting at a perfect 100% on Rotten Tomatoes. One person who thinks very highly of the horror movie is Blumhouse Productions founder Jason Blum, who called The Black Phone "definitely one of the creepiest movies we've ever done. Scott thinks it is his best movie. I'm such a fan of Scott's…I really like all of his movies. I loved Sinister but I will certainly say it is one of his best movies. Maybe the best movie he has ever made."
After being scheduled for a January 2022 release, before being pushed back to February, The Black Phone recently suffered further delays and is now scheduled to be theatrically released by Universal Pictures on June 24, 2022.
The Black Phone Trailer Arrives, Ethan Hawke Is Sadistic Killer 'The Grabber'
Read Next
About The Author


#Black #Phone #Trailer #Teases #Ethan #Hawkes #Sinister #Smiling #Kidnapper

( With inputs from movieweb )