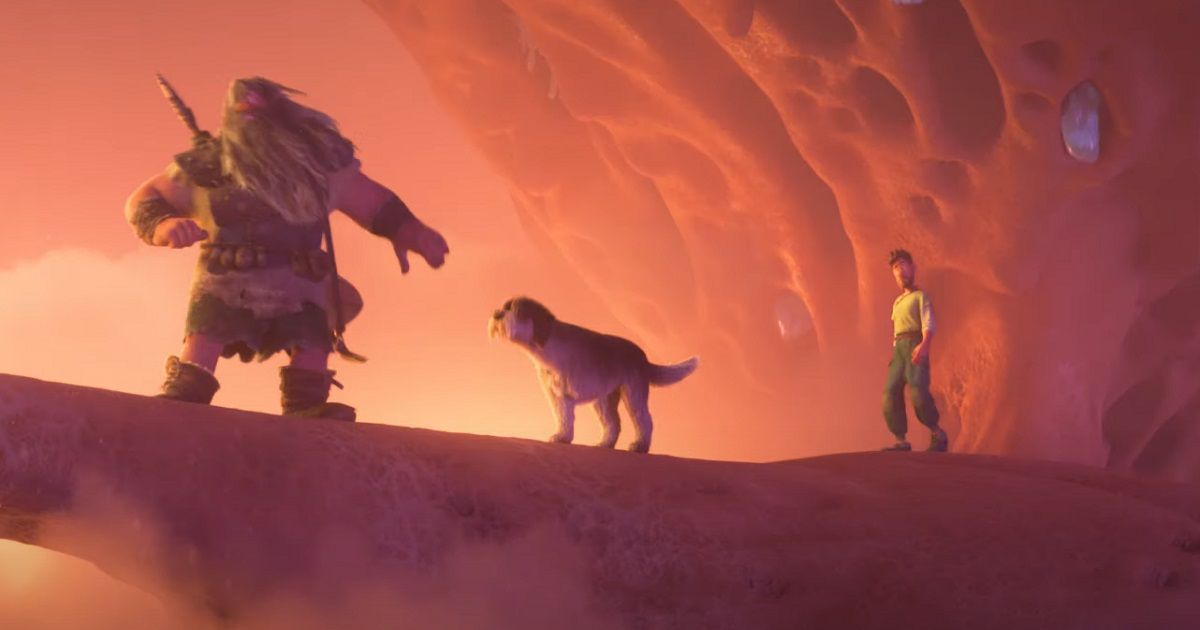 Explore the adventures beyond our world in the latest trailer for Strange World from Walt Disney Animation Studios. Released courtesy of the official YouTube channel for Walt Disney Animation Studios, Strange World features the voices of Jake Gyllenhaal, Dennis Quaid, Jaboukie Young-White, and Gabrielle Union as the legendary Clades, and will follow the family on an adventure into an uncharted and treacherous land. You can check out the new trailer for Strange World below.
A new poster for Strange World has also been released alongside the latest trailer, and finds the main cast of characters caught in what is sure to be just one of many dangerous situations. Situations which, judging by the poster and footage, some will enjoy while others will not.
Strange World introduces a legendary family of explorers, the Clades, as they attempt to navigate an uncharted, treacherous land alongside a motley crew that includes a mischievous blob, a three-legged dog and a slew of ravenous creatures. Strange World is "Inspired by classic adventure stories," according to director Don Hall who adds, "'Strange World' is an original animated adventure/comedy about three generations of the Clade family who overcome their differences while exploring a strange, wondrous and oftentimes hostile world."
The voice cast behind Strange World includes Jake Gyllenhaal as Searcher Clade, a family man who finds himself out of his element on an unpredictable mission; Dennis Quaid as Searcher's larger-than-life explorer father, Jaeger; Jaboukie Young-White as Searcher's 16-year-old son, Ethan, who longs for adventure; Gabrielle Union as Meridian Clade, an accomplished pilot and Searcher's partner in all things; and Lucy Liu as Callisto Mal, Avalonia's fearless leader who spearheads the exploration into the strange world.
Strange World is helmed by Don Hall, who is best known for the Oscar-winning Big Hero 6 and Raya and the Last Dragon, and co-director/writer Qui Nguyen, the co-writer behind Raya and the Last Dragon. Strange World is produced by Roy Conli (Big Hero 6, Tangled).
Strange World is Just One of Several Magical Offerings from Disney
Strange World is just one of several offerings coming courtesy of Disney over the next few years. The studio recently announced its upcoming slate at D23, with the studio bringing other animated adventures such as Elemental, Wish, Elio, and Inside Out 2 to theaters over 2022, 2023, and 2024.
Disney will also continue to bring several of their classic animated outings into live action, with the likes of The Little Mermaid next in line to get the live-action treatment. Starring Halle Bailey as Ariel and directed by Rob Marshall, The Little Mermaid is set for release on May 26, 2023. An adaptation of Snow White will follow, and sees West Side Story star Rachel Zegler take the lead as the titular Snow White, with the movie due to land in theaters on March 22, 2024. Finally, director Barry Jenkins will helm a sequel to The Lion King, Mufasa: The Lion King, which is set for release on July 5, 2024.
As for Strange World, the old-school adventure flick is scheduled to be released on November 23, 2022, by Walt Disney Studios Motion Pictures.


#Strange #World #Trailer #Poster #Tease #Classic #Adventure #Jake #Gyllenhaal #Family

( With inputs from movieweb )