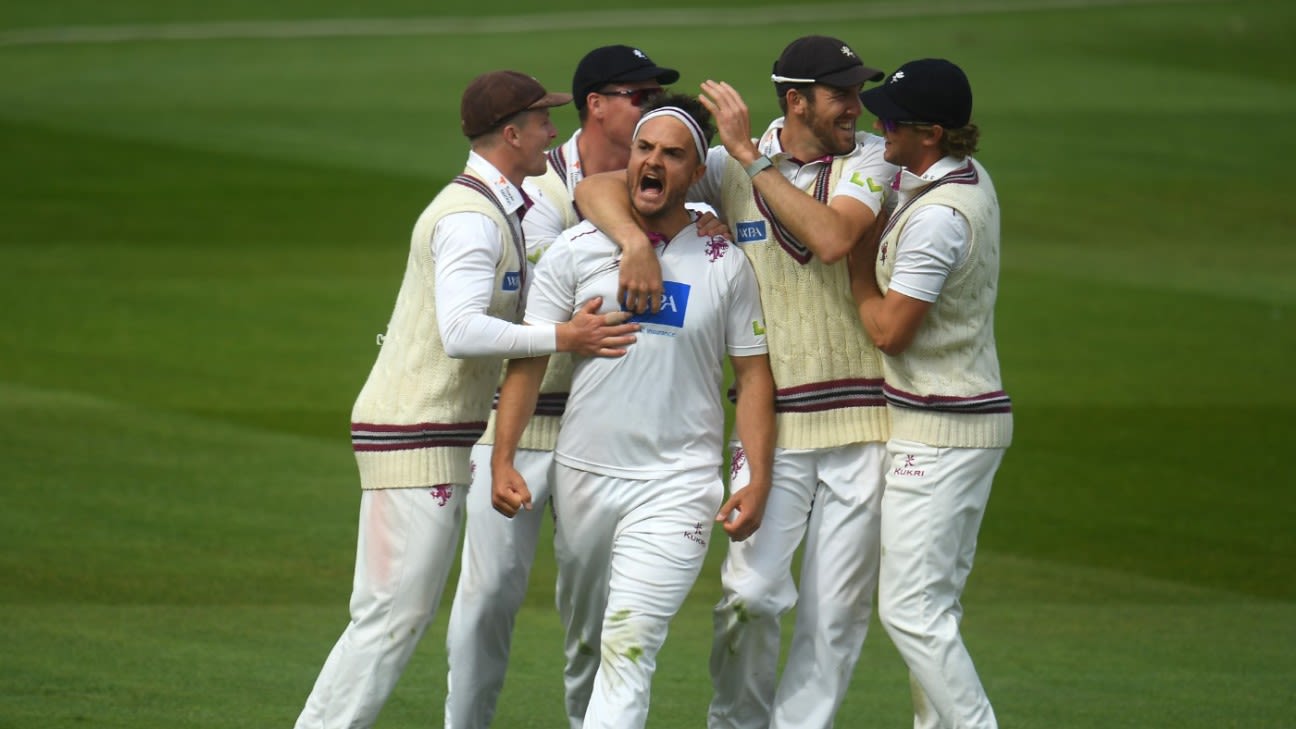 Somerset 458 (Renshaw 129, Abell 70, Banton 57, Lammonby 56, Hannon-Dalby 5-89) beat Warwickshire 209 (Hain 54, Davey 3-30) and 167 (Brooks 4-44) by an innings and 82 runs
Jack Brooks
played six first-class matches for Somerset last year and took 12 wickets at 41.58 apiece. They are not impressive statistics but some context is required. The former Northamptonshire and Yorkshire bowler was recovering from torn ligaments in his thumb and double operations on his Achilles tendons that had left him, as he put it "with one working limb". On the bad days last summer the 37-year-old might well have doubted how much first-class cricket was left in him.
So unless one was a Warwickshire supporter, it was one of the most heartening sights of this callow season to see Brooks hurtle off towards The Somerset Stand this afternoon as his three wickets in 18 balls confirmed his side's utter dominance of this game and made it almost certain matters would be settled this evening. And after Nathan McAndrew had been caught at second slip by
Matt Renshaw
to leave Warwickshire on 121 for 8, Brooks ended his sprint of supremacy with a triumphant pose that could have been borrowed from Cristiano Ronaldo. He was, in short, milking it.
Nobody minded. The crowd, many of whom were youngsters, had been whipped up by Tom Banton and the slip cordon, whose rhythmic clapping had been copied by the spectators and had even been heard from the stands when Brooks was running up to bowl. Warwickshire's players and coaches, though, are far too honest a bunch to claim their performance was hampered by such antics. They will know they have been stuffed out of sight in this game. Their bowling was poor on the first day, their batting was mediocre on the second and some of their shots on the third were wildly at variance with the requirements of a side that had conceded a deficit of 249 runs.
Michael Burgess's waft to a wide ball from Brooks was a perfect example of such shortcomings. Steve Davies took the catch and also did the necessary two balls later when a far better delivery caught the edge of Danny Briggs' bat. Four overs later, McAndrew was gone and although Warwickshire batters prolonged the game until after tea, Craig Overton and Jack Leach had taken care of business by five o'clock. It is Somerset's first win of the season; it is the champions' first defeat; and before anyone murmurs doubts, it was a three-day finish on a four-day pitch that Mark Robinson, the Warwickshire coach, praised warmly.
Brooks' ability to coax life from such a surface with a ball that was 54 overs old when he began his match-settling spell this afternoon is one of the reasons why he still has a contract at Taunton. But his contribution to cricket in the county extends far beyond the first team. For example, whenever Somerset are asked to provide players to support community projects, Brooks is one of those who volunteers very willingly. Just as valuably, when Somerset fielded an inexperienced side in last season's Royal London Cup, Brooks encouraged the players who were making their debuts and nursed them through one of the biggest days of their careers.
Like hundreds of other professional cricketers, he knows very well that a county club is about far more than a first-team squad and their coaches. When players and spectators shared a minute's applause for the NHS before the start of play this morning, Brooks and his colleagues understood very well why health service employees had been given free admission to the day's cricket. They have long realised that a Somerset CCC has many roles in its community and that they extend beyond sporting excellence.
Excellence, though, is still part of it, and after seven successive first-class defeats Tom Abell's players will be exhilarated by this result. Warwickshire's, of course, will be hurting, but they have little time to nurse their wounds before they go to Emirates Old Trafford on Thursday. Instead, they might contemplate why, when they needed a solid start after being asked to follow on this morning, they made an even worse fist of things than they had managed 24 hours earlier. Admittedly, this was on a Taunton pitch whose pace and bounce have been skilfully exploited by Abell's new-ball attack but it was still a shock to see three wickets go down for 21 runs inside 16 overs.
Alex Davies, though, will probably 'scape whipping. The former Lancashire played forward defensively to a fine ball from Josh Davey and nicked a low catch to Overton at third slip. There is a limit to how far forward a 5ft 8ins batsman can get and at least Davies was less culpable than Dominic Sibley, whose backward-defensive shot to Overton was plainly skew-whiff. Abell pouched the chance at fourth slip.
Just over half an hour later Rob Yates played the grimmest stroke of all when he tried to pull a ball from Brooks that was nowhere short enough and top-edged to Tom Lammonby at mid-on. Speaking on the county's live stream, Peter Trego observed that had Justin Langer been Yates' coach, the batsman would not have been wise to return to the pavilion for some time. Fortunately, Will Rhodes and Sam Hain guided their side to lunch without further alarm.
Similar tranquility informed the first hour of the afternoon session and some spectators began to get nervous that the match might extend into Sunday, for which the weather forecast is poor. However, their anxiety was calmed, first when Rhodes played no shot to a ball from Leach that turned and brushed the off stump, and again when Hain obligingly steered a short ball from Lewis Gregory straight to Overton, who had been placed at leg gully for just such an indiscretion. The rest of the day belonged to Brooks. It is his bowling and Renshaw's batting that Somerset supporters will remember most warmly from these three days.
But perhaps they should share the honours with the vigilant steward who marked his first day in his post by asking a stranger to leave one of the hospitality suites in the Marcus Trescothick Pavilion. The slight problem was that the shameless freeloader was actually Marcus Trescothick, whose face adorns more or less every wall of the building named in his honour and does so in dimensions that George Orwell's Big Brother would have envied. Given those circumstances, the steward's explanation that "he had no ID, it could have been anyone" was exquisitely inappropriate but it barely needs saying he's kept his job and everyone's enjoyed the rich humour of it all. They will still be chortling in October.
Paul Edwards is a freelance cricket writer. He has written for the Times, ESPNcricinfo, Wisden, Southport Visiter and other publications
(With Inputs from ESPN)

#Spirited #Jack #Brooks #spell #leads #Somerset #innings #triumph