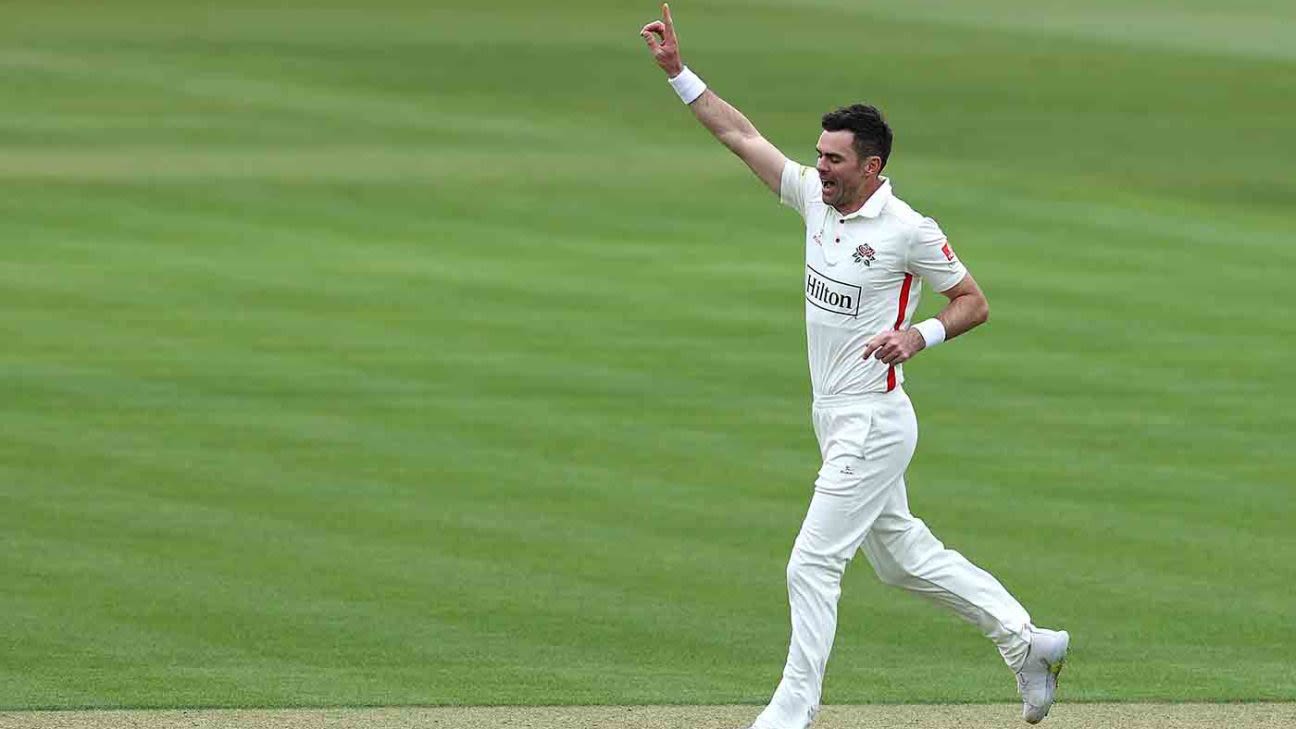 Somerset 109 for 4 (Lammonby 34*, Rew 20*, Anderson 2-16) vs Lancashire
There has often been a tinge of Old Testament suffering about
James Anderson
's cricket career. For a man who has now taken 1099 first-class wickets, he often has the air of someone bleakly reconciled to the swipe of fate's callous paw. Fellow seamers, on the other hand, might feel Anderson's pain, especially so on mornings like this when he saw two slip chances go down in his first eight balls. On both occasions, Anderson turned resignedly on his heel and began his lugubrious trudge back to his mark, the woes of the ages resting on his slight shoulders. One thought of Henry White's hymn: "Oft in danger, oft in woe, / Onward, Christians, onward go; / Bear the toil, maintain the strife".
However, by the time a heavy non-moving shower arrived at Emirates Old Trafford in mid-afternoon, the toil and the strife had been shared by Somerset's batters, who had scrapped their way to 109 for 4 in cloudy conditions and on a slightly grassier pitch than had been offered for the Surrey game a month ago.
It had never been easy. Having been dropped by Luke Wells and Tom Hartley, 22-year-old
Tom Lammonby
quickly adopted the old pro's view that Anderson was best faced from the non-striker's end. Thus he fairly skedaddled to that safer vantage point when a single was available and left Steve Davies to edge England's finest bowler to Hartley, who took the straightforward catch with a colossal sigh of relief.
Six overs later, Tom Abell was leg before to Anderson for a single and the next over George Bartlett departed similarly to Will Williams for a four-ball nought. Bartlett is a talented cricketer who is trying to establish himself in the side but it is hard to have much sympathy for someone who takes guard on or outside off stump and then tries to work the ball to square leg. In such circumstances a great escape is out of the question.
Emboldened by his century against Northamptonshire last week, Tom Kohler-Cadmore took the attack to the bowlers, forcing Saqib Mahmood off the back foot and driving George Balderson back to the Players and Media Centre. But Kohler-Cadmore crossed the border between aggression and recklessness when he came down the pitch and tried to whip Mahmood over midwicket. His leg stump lay horizontal on the turf in baleful reproach. County Championship matches are rarely decided by bright little twenties.
James Rew and Lammonby then took their side safely to lunch and the ease with which they did so was a portent for the first hour of the afternoon's cricket. Nevertheless, a total of 67 for 4 revealed where the balance of the game lay and one wonders what the schoolchildren invited to Emirates Old Trafford for the day had thought of it. "149 dot balls in that session out of 176 bowled" intoned Chris Rimmer, the Lancashire scorer, and he might think about impersonating Elijah if the notching ever dries up.
Somewhat improbably, though, what turned out to be the final hour of the day belonged to Somerset. Anderson returned without carrying quite the threat he had in the first session and Rew's square drive recalled the century he had made off Lancashire three weeks ago. Indeed, while he is still prone to outbursts of skittish, not to say bonkers, shot-selection, Rew seems to get what batting in a first-class cricket match involves rather more certainly than some of his senior colleagues.
In mid-morning, you could have got good odds on the Somerset innings containing a fifty partnership but Rew and Lammonby brought up that modest landmark just before the rain swept in and declined to sweep out for nearly two hours. By that stage, Lammonby, whose 93-ball 20 not out had been a monument to his concentration in the morning, had added another 14 runs off 52 deliveries.
Bazball it certainly wasn't but then one doesn't recall too many occasions in red-ball cricket when a New Zealand cricketer charged down the pitch to Anderson, his bat whirling like Vishnu's Nandaka. Well, not for long anyhow.
(With Inputs from ESPN)

#Somerset #scrap #James #Anderson #early #inroads