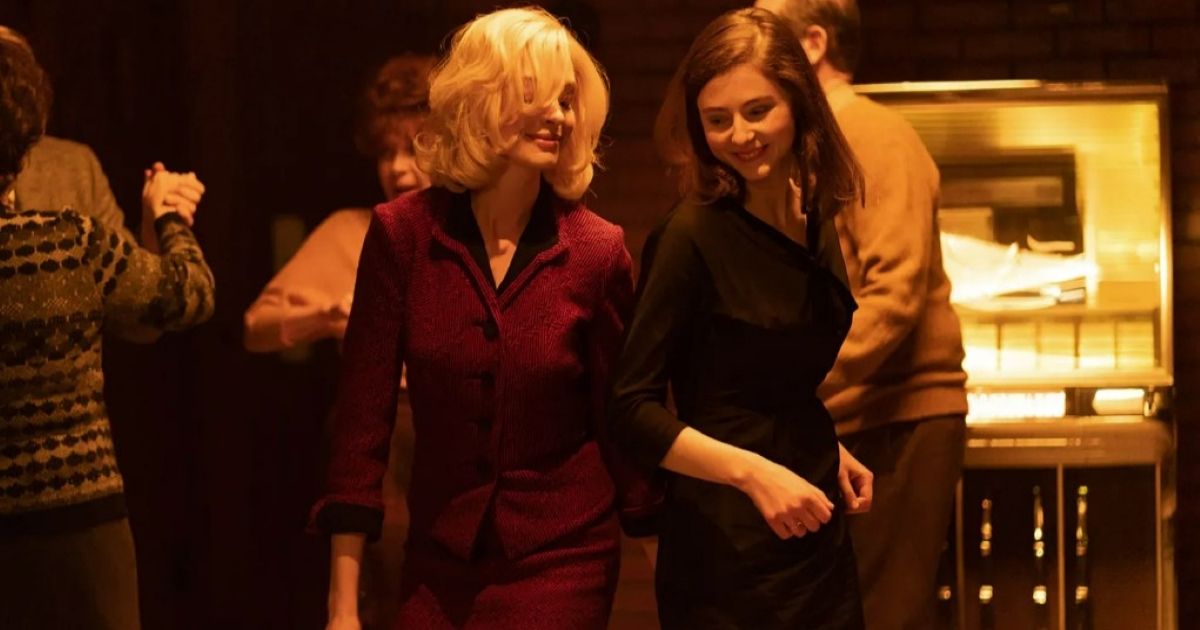 Anne Hathaway and Thomasin McKenzie appear in new images from the upcoming thriller Eileen.
At the 2023 Sundance Film Festival, the anticipated thriller Eileen made its official first premiere. Two new images from the film were released to give the audience a sneak peek of the novel-based movie directed by William Oldroyd. Vanity Fair released two exclusive photographs from the film with more details from the writer of the original novel of the same name, Ottessa Moshfegh, and one of the film's stars Anne Hathaway (Rebecca).
Alongside Hathaway, the movie also stars Thomasin McKenzie as Eileen. Other cast members include Marin Ireland, Shea Whigham, Sam Nivola, and Jefferson White.
In one of the released pictures, McKenzie and Hathaway are seen leaning against the wall in front of a bar with a fence in front of them and snow on the ground. Eileen and Rebecca seem to be conversing in an alleyway at night. In the other image, Eileen is wearing a black dress, and Rebecca is in a dark red outfit. They are leaning against one another, dancing with big smiles. A few people appear behind them, dancing in a dimly lit room.
The film revolves around Eileen's friendship with her co-worker Rebecca at a prison facility in 1960s New England. Eileen and Rebecca's friendship turns twisted when a dark secret is revealed, taking Eileen on a sinister path.
In her Interview with Vanity Fair, Hathaway talks more about the script. She says:
"As you can imagine, over the course of the past however many decades, I've read a number of scripts, But I had to sit with this one. I had to go back to it. I had to walk away from it. It kept revealing itself to me."
More on Eileen: The Novel
Eileen, the novel, was shortlisted for the Booker Prize in 2015. However, it is not the only book that took Moshfegh to literary fame. Her next book, My Year of Rest and Relaxation, was a critical favorite and a New York Times bestseller.
When it comes to novel-based films, it is always a concern whether the film is faithful to the book on which it is based. Of course, like all films, some cuts and detours of the storyline must be made to adapt a story for the screen, but for the most part, the movie remains faithful to the book, according to Vanity Fair.
Moshfegh produced and wrote the script herself, along with her husband, Luke Goebel. The official release date of the drama/mystery film is not clear yet, but it is expected to launch this year.
#Sneak #Peek #Thriller #Eileen #Features #Anne #Hathaway #Thomasin #McKenzie

( With inputs from movieweb )