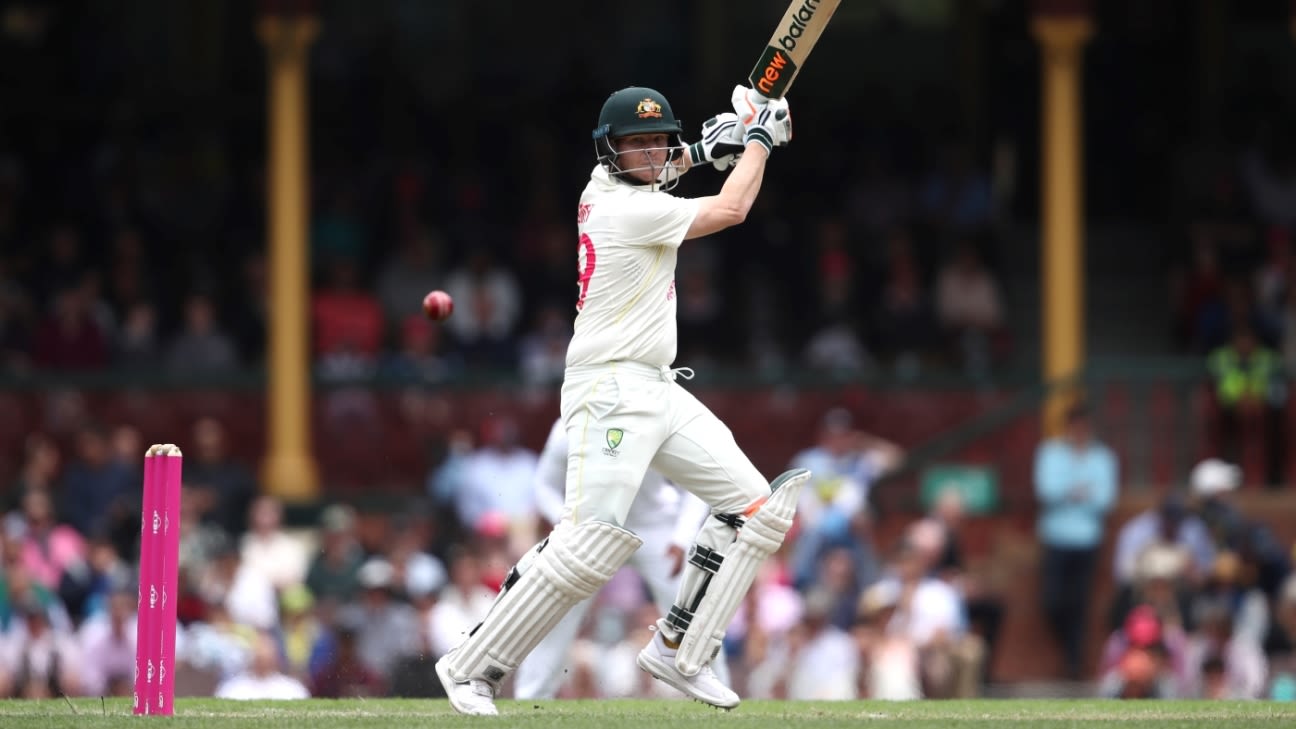 On the day
Steven Smith
went
past Don Bradman
with his 30th Test century, he admitted to being uncertain about how long his international career will continue.
Smith's 104
in Sydney
was just his second hundred against South Africa
in 12 matches
– for an opponent he has played more than twice he holds his lowest average against them – yet it ended in frustration as he missed out on "happy hour" by giving Keshav Maharaj a return catch.
While there is no doubt Smith will be in Australia's plans for their upcoming series against India and England during the first half of this year, he said he was taking his career in small stages now.
"I don't know, we'll see," he said when asked about his future. "I'm enjoying it at the moment. I really can't say how long I'll play for, I'm not sure. Take it one tour at a time, enjoy it, enjoy training and trying to get better. Whilst I'm doing that I'm happy playing, but don't know how long it will last."
While personal success remains a major driver for Smith, he is equally motivated to help Australia's next generation for when he and David Warner are no longer around –
which may be sooner rather than later
.
"It's [about] trying to get better, help the team win games of cricket," he said. "Think we've played some really good cricket the last 12 months…we've got two really big hurdles in front of us with India and the Ashes. For me, it is trying to get better and trying to help some of the other batters coming through.
"I still try to help Marnus [Labuschagne] as much as possible, [Travis] Head, Cameron Green, Matty Renshaw, Marcus Harris…try to impart as much knowledge of conditions and ways to go about. If I can say something and you see that lightbulb go on and someone figures something out I get a big thrill out of that. I'll try and help them as much as I can."
Smith's personal drive to improve has been evident in the last 12 months as he has
re-engineered his technique
back to an earlier model where he moves less in the crease. This century followed the double he made against West Indies
in Perth
, although it was not an entirely fluent affair and after 55 balls he had 12 runs.
"It's not going to be perfect every time," he said. "So when you aren't feeling as good as you'd like you just try to grind it out, get through that initial period then hopefully things get easier. I didn't feel great my first 60-70 balls, I reckon, then things started to click and feel a lot better. Pleased I was able to get through that initial period."
Yet, even within the innings itself Smith was making adjustments, reverting to the jump across the crease when facing Marco Jansen's reverse swing from around the wicket. "Went back to my old set-up, [or] my old, old set-up," he joked.
"I didn't feel overly threatened on the outside of the bat," he added. "I was getting back and across just to cover the ball coming back in at me. I'd rather do it out there…rather than come back in the sheds and wonder why I didn't do that. Felt I could still get my weight back through the ball."
After a cheeky celebration involving a chainsaw aimed at Labuschagne, Smith was ready to reset himself but fell three balls later to a leading edge. Disappointment was writ large over his face which he later explained was the frustration at missing out on a chance to experiment with some more aggressive strokeplay with an eye on the India tour.
"I just missed out on happy hour, was time to go playing some shots as Heady just did," he said. "Was time to have some fun. I was actually going to start practicing a few things, potentially like sweeping and things like that, with our upcoming Indian tour. I know that sounds bad in a way, but felt like it was an opportunity to do that against some good spinners."
For Smith that tour represents one of the pinnacles to reach this year. How much more there is to follow for him, only time will tell.
Andrew McGlashan is a deputy editor at ESPNcricinfo
(With Inputs from ESPN)

#Smith #future #long #Ill #play