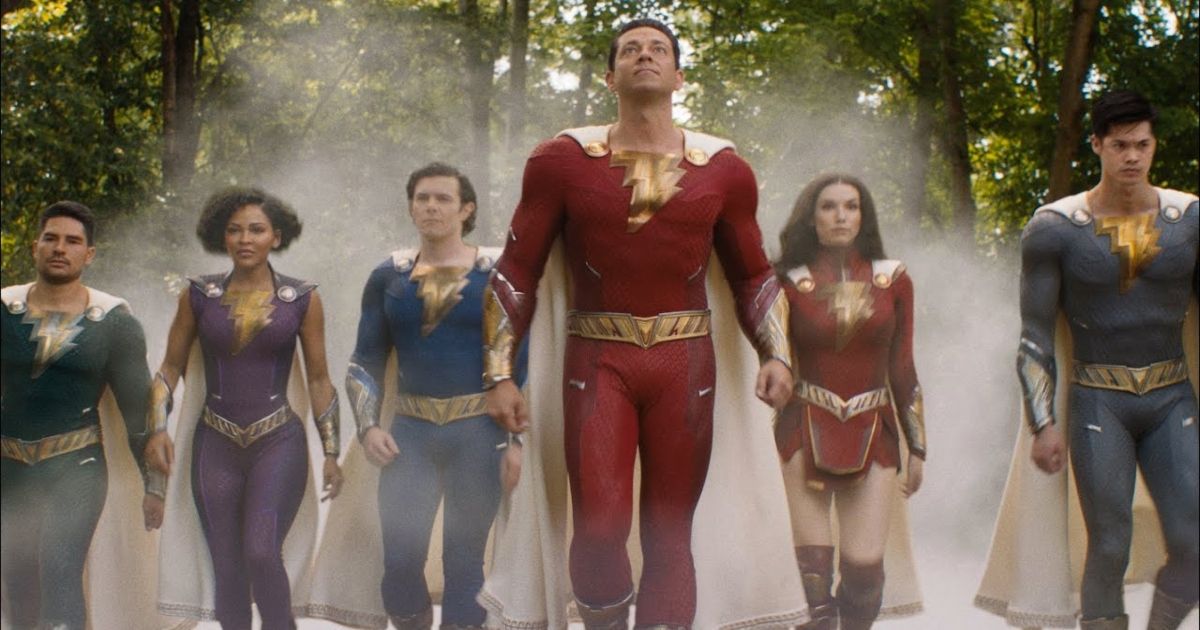 The DCU is currently still in a state of flux, but the new Shazam! Fury of the Gods trailer reminds fans the old regime still has something to give.
The Black Adam debacle cast doubt over a number of future DC projects, and Zachary Levi's Shazam was caught up in the middle of it thanks to Dwayne Johnson's declaration that the two franchises would cross over at some point. While the future of Shazam is yet to be clarified by James Gunn, the trailer for his new outing, Shazam! Fury of the Gods has finally arrived to give fans their best look yet at what to expect from the return of the DC hero. Check out the trailer below.
Shazam! Fury of the Gods is once again directed by David F. Sandberg and brings back Levi's title character and also sees the return of many of the original movie's cast and plenty of new additions. The cast roster includes Asher Angel, Jack Dylan Grazer, Djimon Hounsou, Rachel Zegler, Helen Mirren, Lucy Liu, Faithe Herman, Adam Brody, Meagan Good, Grace Fulton, Ian Chen, and Ross Butler. New DC Studios co-CEO Peter Safran produces with Geoff Johns.
Appearing at last year's San Diego Comic-Con, Zachary Levi teased exactly what fans can expect from the new installment and where exactly the story sits in relation to 2019's Shazam! He said:
"Now, it's a couple years on, and we've all been flying around doing various missions, trying to help the city of Philadelphia and the world at large, but, again, we're all still kind of learning how to do that. Lots of growing pains. Not just in our own powers, but also figuring out our own identity between the two. Is it regular self, or super self? Super family comes with super problems, super drama. So, there's all the little family tiffs and things we're trying to figure out."
Related: Zachary Levi Teases He's Still Not Done With Shazam
Will Shazam Continue to Feature in the DCU's Future Plans?
How exactly Shazam's future will look in the coming years is something that James Gunn has not addressed yet in his many conversations via Twitter. With the DC Studios head continuing to tease new plans being revealed this month, whether Shazam's next appearance will be part of that is unknown. Still, there seem to be some higher priorities on the cards, namely the future of Superman and Jason Momoa's possible Lobos project.
However, with Peter Safran being a producer on the Shazam franchise, it would potentially mean the Zachary Levi-led movies are one of the safest projects in the DCU. While the arrival of Black Adam seemed to signal a cross-over event being on the cards, the collapse of that particular path means that there is no way of knowing what direction Shazam will take if a third movie does get the green light.
For now, fans are more than happy to take Shazam! Fury of the Gods and hope that this will not be the last we see of the Shazam family. Levi has already hinted that he doesn't believe he is done with the character, which can only bode well for his continued presence in the DCU.
#Shazam #Fury #Gods #Trailer #Arrives #Kick #2023s #Slate

( With inputs from movieweb )