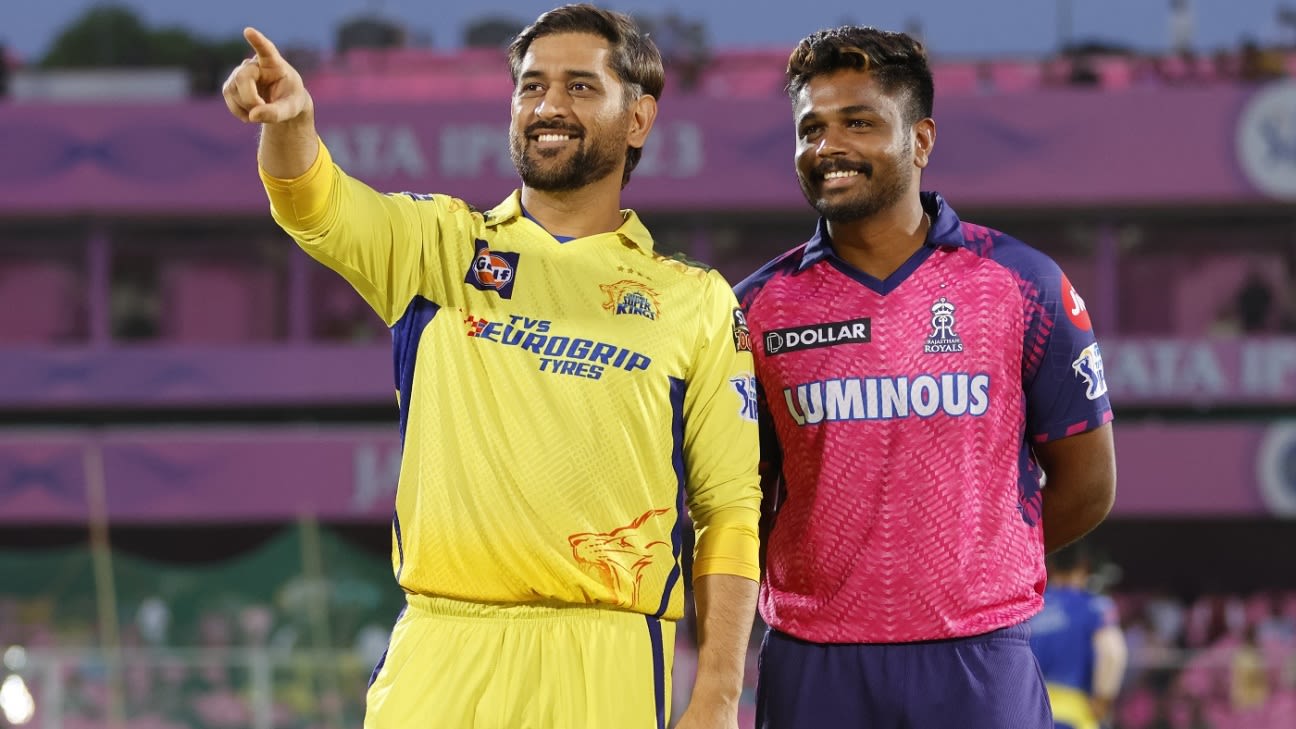 Rajasthan Royals
Played 12, Points 12, NRR 0.633
Rem mat: RCB (h), PBKS (a)
Rajasthan Royals returned to winning ways with a spectacular performance
against Kolkata Knight Riders
after five defeats in their previous six games, but they have little room to relax. If they lose to Royal Challengers Bangalore on Sunday, the maximum points they can finish on is 14, which will leave them depending on several results going in their favour to qualify for the playoffs.
Though they can still make it with 14 without the help of net run rates (NRR), it is also possible for five other teams to finish on 15 or more points, thus knocking out Royals. Royals have an excellent NRR of 0.633 though – second only to that of Gujarat Titans at present – so that could come in handy if things get tight on points.
On the other hand, if they win both games then Royals will almost certainly qualify. That is because their two games are against teams who also need to win all their matches to finish on 16. It is possible that Royals and Mumbai Indians might fight for the fourth spot if Titans, Chennai Super Kings and Lucknow Super Giants finish on more than 16, but in that case Royals' NRR will certainly trump Mumbai Indians' (they are currently on -0.117).
Royal Challengers Bangalore
Played 11, Points 10, NRR -0.345
Rem mat: RR (a), SRH (a), GT (h)
Royal Challengers are in a similar position as Royals in that they need to win all games to finish on 16, but there are a couple of crucial differences: they need to win three on the trot, not two; and their NRR is languishing at -0.345.
If Royal Challengers lose on Sunday, they will almost certainly be out even if they win their last two and end up on 14 points. That's because three teams – Titans, Super Kings, and at least one of Super Giants or Mumbai Indians – will finish on more than 14 points, and Royals' NRR will ensure they are placed higher too.
Even if Royal Challengers win all three, it could still come down to NRRs as six teams – Titans, Super Kings, Super Giants, Mumbai Indians, Royal Challengers and Punjab Kings – could all finish on 16 or more points.
Chennai Super Kings
Played 12, Points 15, NRR 0.493
Rem mat: KKR (h), DC (a)
A win against Knight Riders will ensure that Chennai Super Kings enter the playoffs, but it won't yet confirm a top-two finish, as Gujarat Titans, Mumbai Indians and Lucknow Super Giants can get to 17 or more points.
Even if they lose on Sunday, Super Kings will get another chance to get to 17 when they play their last game, against Delhi Capitals in Delhi on May 20. However, if they lose both these matches, then they will be at the mercy of other results as four teams can finish on 16 or more points.
Kolkata Knight Riders
Played 12, Points 10, NRR -0.357
Rem mat: CSK (a), LSG (h)
Wins in their two remaining games will take Knight Riders to 14, which will still leave them relying on other results. Their best case would be for Titans to win their last two, Royal Challengers to beat Royals and then lose their last two, Super Giants and Royals to lose their last two, and Punjab Kings to lose to Delhi Capitals in their return game on Wednesday. Then Titans, Super Kings and Mumbai Indians will qualify, leaving Knight Riders and Punjab Kings to fight for the fourth spot on 14 points. There isn't much to choose between their NRRs at the moment (-0.357 for KKR and -0.268 for Punjab Kings) which means Knight Riders will still have to win handsomely to lift their NRR.
S Rajesh is stats editor of ESPNcricinfo. @rajeshstats
(With Inputs from ESPN)

#Scenarios #Royals #RCB #CSK #KKR #playoffs