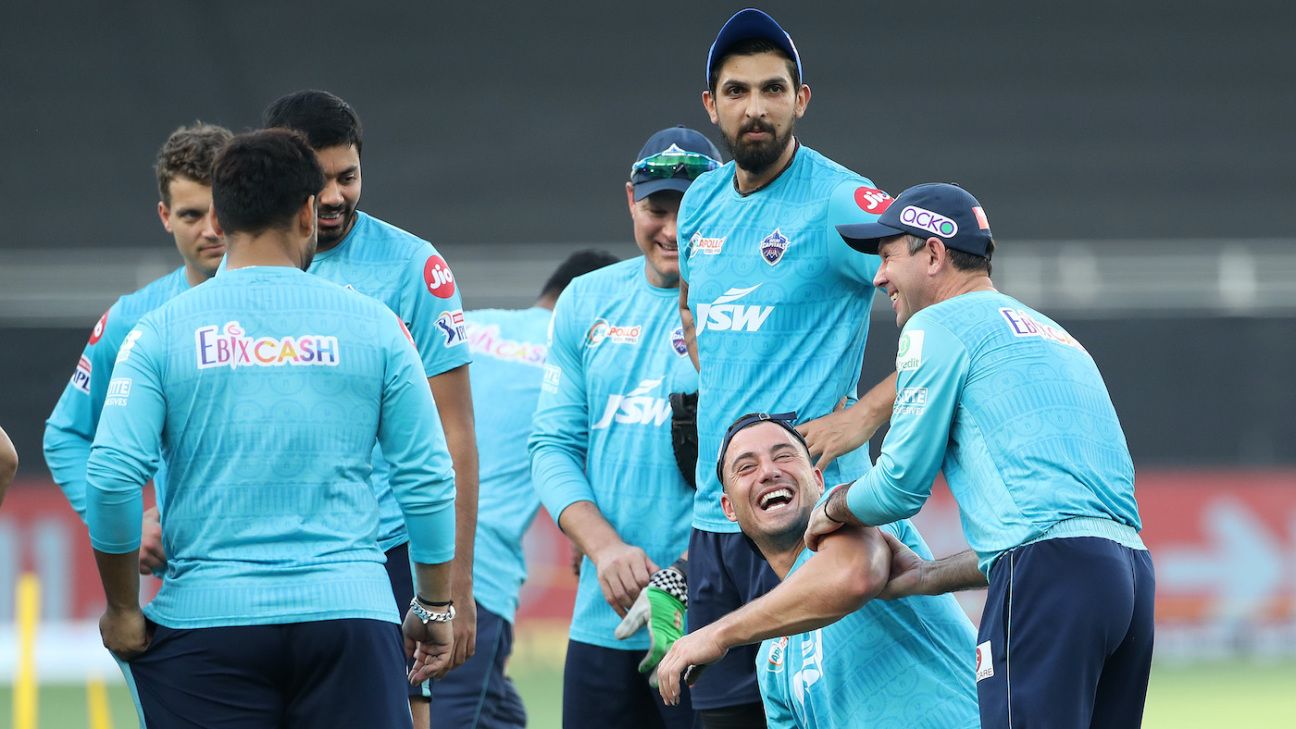 The new
Impact Player rule
at IPL 2023 could well mean curtains for "bits and pieces allrounders". This is the view of Delhi Capitals head coach
Ricky Ponting
, who spoke of the several possibilities this could open up in terms of team combination and strategy. As things stand, the Impact Player can only be an Indian unless there are fewer than four overseas players in the starting XI.
"It [usage of Impact Player] depends if you bat or bowl first," Ponting said at an event in New Delhi. "So at the toss, we will be putting in a bowling-first team and a batting-first team. And obviously if you bat first, you're probably going to sub in a batter. Or if you bat first and lose an early wicket, you might want to bring in a batter straight on top of that. So there are a number of different ways to use it.
"It actually almost negates the role of allrounders in the game now. So unless they're absolutely world-class and they're getting picked either as a batsman or as a bowler, not sort of a bits and pieces guy, then I don't think you'll see many, many teams this year actually use the guy that might bat at seven and maybe bowling over or two. Because you don't need those guys anymore."
The one allrounder who Capitals will definitely be keeping an eye out for, though, is
Mitchell Marsh
. He has just finished an ODI series in India, which Australia won 2-1, where he played as a specialist batter due to his ongoing recovery from a
keyhole surgery on his left ankle
. Come the IPL, he is expected to ease himself back to full tilt.
Marsh had a decent IPL 2022 at the top of the order, scoring
251 runs in eight games
at a strike rate of 132.80. He only bowled sporadically, though; his
12 overs fetching four wickets
at an economy of 8.50. Ponting is confident Marsh will have a bigger role to play this season.
"He's had three or four months off in Australia; he's recovered from an ankle surgery that he had, I think back in November," Ponting said. "He hasn't bowled in the games yet, but he's been bowling for the last five or six weeks. So by the time he gets here with us, his role in our team will be to bowl some overs as well. He knows that and understands that.
"And I think we saw in this one-day series [against India] how destructive he can be [at the top of the order]. But we also saw on a couple of occasions last year for DC [Delhi Capitals] at the No. 3 slot he played some match-winning roles there as well. So he's a really important player for us. World-class international allrounders are not easy to come across and not easy to find. So are hoping that he has his best IPL season till date as well."
They have just one frontline option at the moment in England's
Phil Salt
, but are readying a couple of makeshift options in India's Manish Pandey and Sarfaraz Khan. Both players are being put through the paces, should the need arise.
In addition, they have also called up four uncapped Indian wicketkeepers – Luvnith Sisodia, Sheldon Jackson, Abishek Porel and Vivek Singh – to their training camp. It's likely one of them will be signed as a replacement shortly. All said, Ponting believes it will take multiple players to fill the hole Pant has left behind.
"So when we are talking about losing some power in middle-order,
Aman Khan
, Rovman Powell and someone like Axar Patel, whose batting has improved a lot in last 12 months, we will find ways to cover for Rishabh, but we will not get same quality player," Ponting said. "Aman Khan is one that has really impressed us and we traded Shardul (Thakur) with KKR [Kolkata Knight Riders] to get him in and he has been ultra-impressive and I don't know how much you have seen of him and his last couple of days at training has been pretty special."
(With Inputs from ESPN)

#Ponting #Impact #Player #rule #negates #role #allrounders