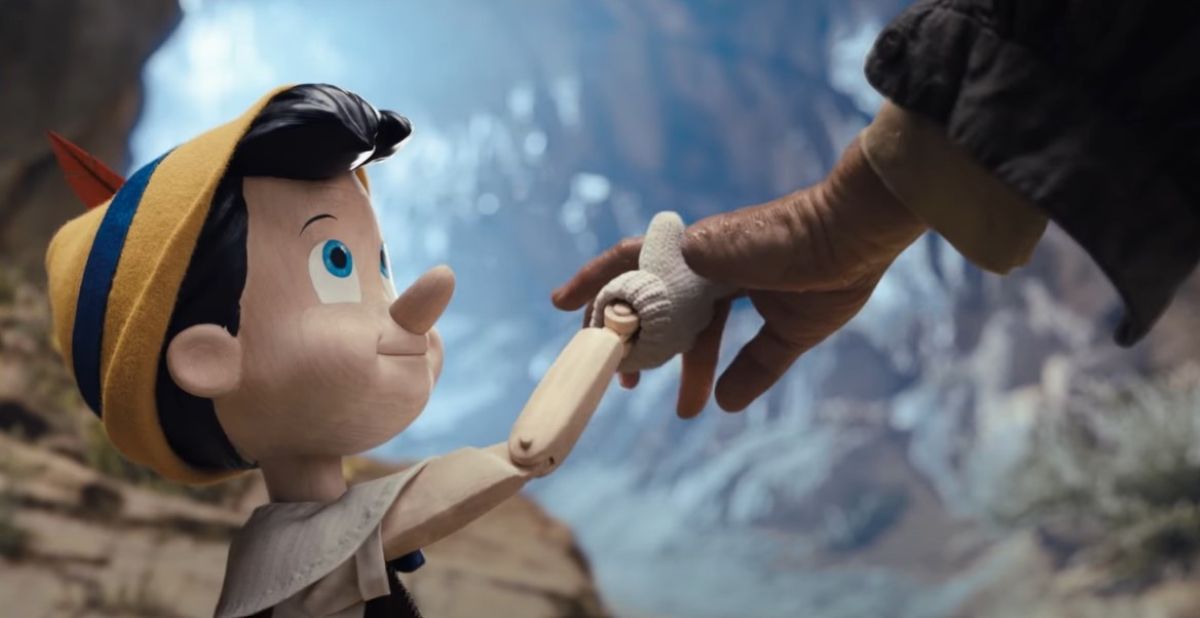 Pinocchio will be making its way to audiences, once again, later next month. The live-action remake, starring Tom Hanks and Benjamin Evan Ainsworth, premieres exclusively on Disney+ on Sept. 8, and a new trailer was just released. We get extended looks at the wooden puppet who dreamed of becoming a real boy and his creator, Geppetto.
"Ladies and gentlemen, I present to you the eighth wonder of the world. The one and only Pinocchio!" A computer-generated recreation of the beloved animated character will throw audiences in a loop. However, if the film manages to justify its own existence, fans may be in for a treat.
Related: Pinocchio vs. Pinocchio: How Zemeckis and Del Toro's Visions Will Differ
Pinocchio is full of talent, with Joseph Gordon-Levitt playing Jiminy Cricket, Lorraine Bracco as Sofia the Seagull, and Luke Evans as The Coachman. In addition, Keegan-Michael Key plays Honest John, Cynthia Erivo is Blue Fairy, and Giuseppe Battiston is Stromboli. The latest trailer, which premiered earlier today, Aug. 24, can be found below.
Robert Zemeckis is helming Pinocchio and partially writing the screenplay. He's a celebrated filmmaker in Hollywood, behind movies such as Back to the Future, Forrest Gump, Cast Away, The Polar Express, and Flight. In addition, Zemeckis is a frequent collaborator with Tom Hanks, and hopefully, their relationship will shine through in the film. Everything points to Pinocchio being a great film; however, fans will wonder whether yet another adaptation of the classic fairy tale was needed.
Earlier this year, Pinocchio: A True Story was released, starring Jon Heder, Tom Kenny, and Pauly Shore. The film received awful reviews; however, it was a low-budget production and adaptation of a Russian story. This December, Guillermo del Toro's Pinocchio is set to release on Netflix, a stop-motion recreation of the classic tale. In total, there are three separate Pinocchio films in 2022, which may be overkill.
Disney Loves Live-Action Remakes
In 2015, Disney released Cinderella starring Lily James in the titular role, and this would be one of many live-action, cash-grab remakes from the studio. In 2017, Beauty and the Beast was released, starring Emma Watson and Dan Stevens, which became one of the more well-received remakes.
Related: Pinocchio Remake Image Reveals First Look at Disney's Title Character
Two years later, Donald Glover and Beyoncé starred in The Lion King, another computer-generated/live-action remake that received mixed reviews. That same year, in 2019, Dumbo was released to mediocre reviews, with the film starring Colin Farrell, Michael Keaton, Danny Devito, and Eva Green.
Mulan, Aladdin, and Cruella would also see a revitalization in live-action with star-studded casts. Unfortunately, the movies didn't hit the mark with audiences, with Cruella arguably being the most well received. Disney has managed to obtain the highest level of talent for its remakes; however, that hasn't always translated to critical success. The massive studio will continue to pump out more projects as long as the movies make money, so don't expect Disney to stop anytime soon. You can find their latest adaptation, Pinocchio, arriving on Disney+ next month, Sept. 8.
#Pinocchio #Watch #Robert #Zemeckis #Classic #Tale #Live #Action

( With inputs from movieweb )