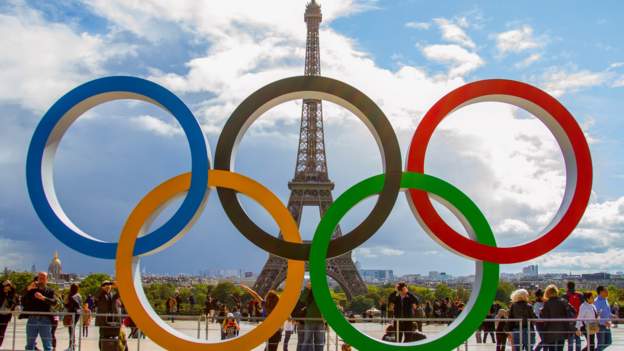 The International Olympic Committee says the Games "can inspire us to solve problems by building bridges" amid calls to uphold the ban on Russian and Belarusian athletes for Paris 2024.
The IOC said the Olympics "can open the door to dialogue and peace-building".
It is almost one year since Russia's invasion began on 24 February 2022.
IOC president Thomas Bach has insisted that the organisation is not on the wrong side of history following criticism over the potential inclusion of Russian and Belarusian athletes at the 2024 Paris Olympics.
But UK culture secretary Lucy Frazer said the IOC's plans were "not credible" after hosting representatives from countries including France, Germany, Poland, the United States and Canada at a summit earlier this month.
Ukraine, which was not part of the summit, has threatened to boycott the next Games if the IOC allows Russian athletes to compete.
In its statement on what it described as a "grim anniversary", the IOC said it "reaffirms its unwavering solidarity with the Ukrainian athletes", adding: "We all want to see a strong team from the National Olympic Committee of Ukraine at the Olympic Games Paris 2024 and the Olympic Winter Games Milano Cortina 2026".
"The Olympic Games cannot prevent wars and conflicts. Nor can they address all the political and social challenges in our world. This is the realm of politics," the IOC said.
"But the Olympic Games can set an example for a world where everyone respects the same rules and one another. They can inspire us to solve problems by building bridges, leading to better understanding among people.
"They can open the door to dialogue and peace-building in ways that exclusion and division do not."
The IOC called on federations to exclude athletes from Russia and Belarus following the invasion of Ukraine and banned the nations from the Winter Paralympics in March 2022 – though athletes were allowed to compete under a neutral flag.
However, Ukraine president Volodymr Zelensky said Russian participation at the Olympics "cannot be covered up with pretend neutrality or a white flag" – adding the nation has "no place at sports and Olympic competitions" while the invasion continues.
The mayor of Paris, Anne Hidalgo, does not want Russia to compete at the 2024 Games.
The IOC has urged Ukraine to drop threats of a boycott and pointed to previous examples of "peaceful competition" including athletes from South and North Korea, Israel and Palestine, Armenia and Azerbaijan.
"With the war now raging for over a year, the entire Olympic Movement remains steadfast in its commitment to help the Ukrainian athletes in every way possible," the IOC said.
"Our mission has always been to promote peace through sport. Peace-building efforts need dialogue. A competition with athletes who respect the Olympic Charter can serve as a catalyst for dialogue, which is always a first step to achieving peace.
"On this painful one-year mark, the entire Olympic Movement reiterates the call we made one year ago to all the political leaders of the world: "Give Peace a Chance."


#Paris #Olympics #inspire #peacebuilding #IOC

(With Inputs from BBC)