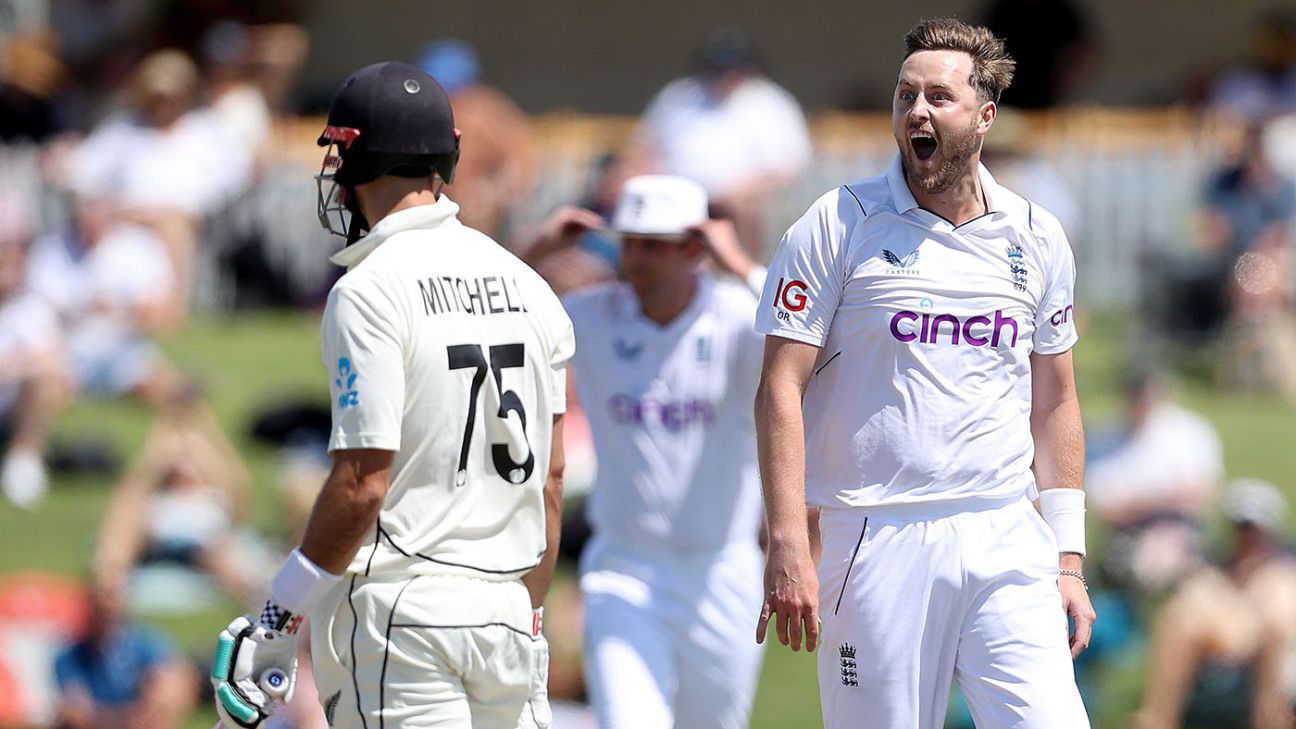 Robinson is far from off-broadway, already on equal billing with two active legends as he showcased with 4 for 51 on day two at Bay Oval. It was a haul that takes him to 64 dismissals after just 28 innings, keeping his average under 20 (19.60) in his 16th Test. And more importantly, his efforts kept New Zealand behind after their first innings before England were able to extend their lead from 19 to 98 by stumps.
It is clear Anderson and Broad see something special in Robinson. Beyond making their jobs a little easier, the speed with which he has become ingrained into their company and conversations speaks of a recognition that he is on their level.
As such, Robinson carries the air of the anointed one, assume the roles of Anderson and Broad once they are done combining or adding to their individual tallies which sit at 679 and 567 wickets, respectively. And it speaks of his confidence in his ability that he is not daunted by the idea of inheriting their mantles.
"They've been very open and honest with me since I've come into the environment, which has been amazing for me. Hopefully I can be a worthy bearer of the baton, if you like."
The 29-year-old made inroads at crucial times: Tom Latham under lights on the first day after England declared on 325 for 9 before following up with Daryl Mitchell and lower-order hitters Scott Kuggeleijn and Tim Southee. Ever since his first cap at the start of the 2021 summer – against New Zealand, no less – he has earned a reputation of dismissing key batters, something which Brendon McCullum has urged him to carry forward.
"Baz is always saying to me try and be that partnership-breaker," he said. "When the game's drifting along, try and be that guy to break the partnership so it was important for me to do that and kept the game in our favour."
The removal of Mitchell was the icing on the cake for a couple of reasons. Back in 2022, Mitchell averaged 107.60 in England thanks to hundreds in each of the three Tests. Here, he was sent on his way with a 10-ball duck – the first of his Test career – leaving a ball that jagged in and clipped him on the front pad. Mitchell opted against a review and replays showed a predicted impact right into the top of off stump. Since Robinson's debut, he has dismissed seven batters through misjudged leaves on their part, more than any other bowler in the world.
"It's the one I'm trying to bowl, yeah," he says of the ball that nips back into the right-hander off the straight. "It doesn't always move. I learnt it off Jimmy a little bit, tilting the seam slightly differently to how you would hold a conventional outswinger. It's a bit of luck though, really. I'm just trying to get any seam movement that I can, bowl some more wobbles and go from there really.
"I'm trying to present it as an outswinger and get it to wobble back in or hold. I've naturally always brought the ball back in, I think I've just grown with it a little bit, got more accurate with it and more skilful with it."
As he says, it is a trick he has had in his armoury for some time, undoing batters in the County Championship while playing for Sussex long before the high profile occurrences, notably castling Pakistan's Babar Azam in Multan in December.
That he was able to translate that from the red to a less willing pink ball is a testament to his talent. There is, however, a new edge to it which he credits to England's new four-figure double act.
"I think a big thing for me is use of the crease that I've learnt from Jimmy and Broady, probably more than anything coming to England," Robinson said. "In county cricket you sort of run up and bowl from mid-crease – it's quite generic – whereas in international cricket, the batters are that much better you have to be more on it and use the crease and use your skills to get more out of it."
Vithushan Ehantharajah is an associate editor at ESPNcricinfo
(With Inputs from ESPN)

#Ollie #Robinson #aiming #worthy #successor #Broad #Anderson