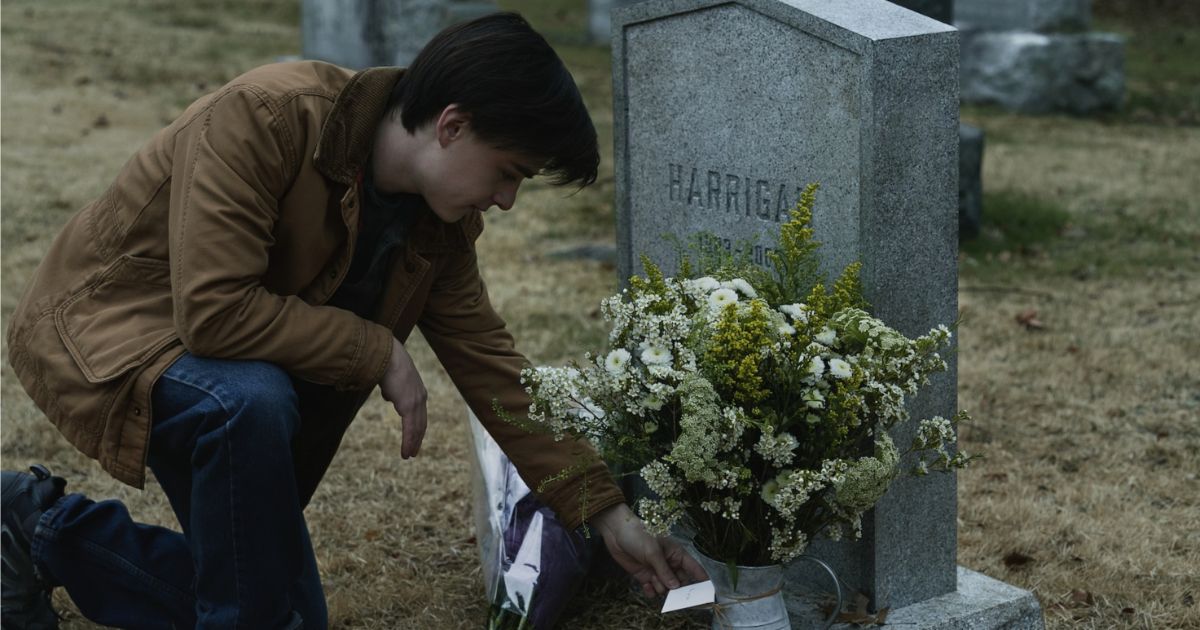 Netflix has released the official trailer for Mr. Harrigan's Phone. Based on the short story by Stephen King, the feature film, starring Jaeden Martell and Donald Sutherland, is set to premiere on Netflix on Wednesday, Oct. 5. Ahead of its release, you can catch a sneak peek by watching the brand new trailer below.
The official synopsis for Mr. Harrigan's Phone is as follows:
When Craig, a young boy living in a small town (Jaeden Martell) befriends Mr. Harrigan, an older, reclusive billionaire (Donald Sutherland), the two begin to form an unlikely bond over their love of books and reading. But when Mr. Harrigan sadly passes away, Craig discovers that not everything is dead and gone and strangely finds himself able to communicate with his friend from the grave through the iPhone in this supernatural coming-of-age story that shows that certain connections are never lost.
Along with Martell and Sutherland, Mr. Harrigan's Phone stars Kirby Howell-Baptiste, Joe Tippett, Colin O'Brien, Cyrus Arnold, Thomas Francis Murphy, and Peggy J. Scott. The film is written and directed by John Lee Hancock. Ryan Murphy, Jason Blum, and Carla Hacken produced.
Related: The Best Miniseries Based on Stephen King's Books, Ranked
Stephen King Recommends Netflix's Mr. Harrigan's Phone Adaptation
Mr. Harrigan's Phone is a short story featured in a collection of novellas called If It Bleeds from Stephen King. The book was a No. 1 New York Times bestseller. King himself also recommends the Netflix adaptation. In August, King took to Twitter to reveal that he'd seen a nearly-finished cut of the film and felt that it was "brilliant." That's a good sign coming from the literary genius that penned the original story.
"I have seen a close-to-finished cut of MR. HARRIGAN'S PHONE, written and directed by John Lee Hancock, and it's nothing short of brilliant. Donald Sutherland, Jaeden Martell. Netflix. This fall," King said in the tweet.
"You finish a script and you realize you've got to send it to Stephen, and you're going to get a thumbs up or a thumbs down," writer-director John Lee Hancock later said of having King approve the screenplay, via TUDUM. "You go, 'Oh my God, Stephen King's reading my script. I hope he likes it.'"
Teasing that this is not your typical spooky story from King, Hancock added, "More than anything, it's about an odd relationship between a billionaire in his 80s and a [young man] and the bonds of friendship, and how far will you go for a friend? It's also not the horror story you might expect. Do you like Shawshank Redemption, do you like Stand By Me, do you like Green Mile, do you like a ton of other Stephen King? My take on it was, it's in the fashion of Brothers Grimm. It's a cautionary fairy tale in a way."
Mr. Harrigan's Phone will start streaming on Netflix on Wednesday, Oct. 5, 2022.
#Harrigans #Phone #Trailer #Brings #Stephen #King #Story #Life #Netflix

( With inputs from movieweb )