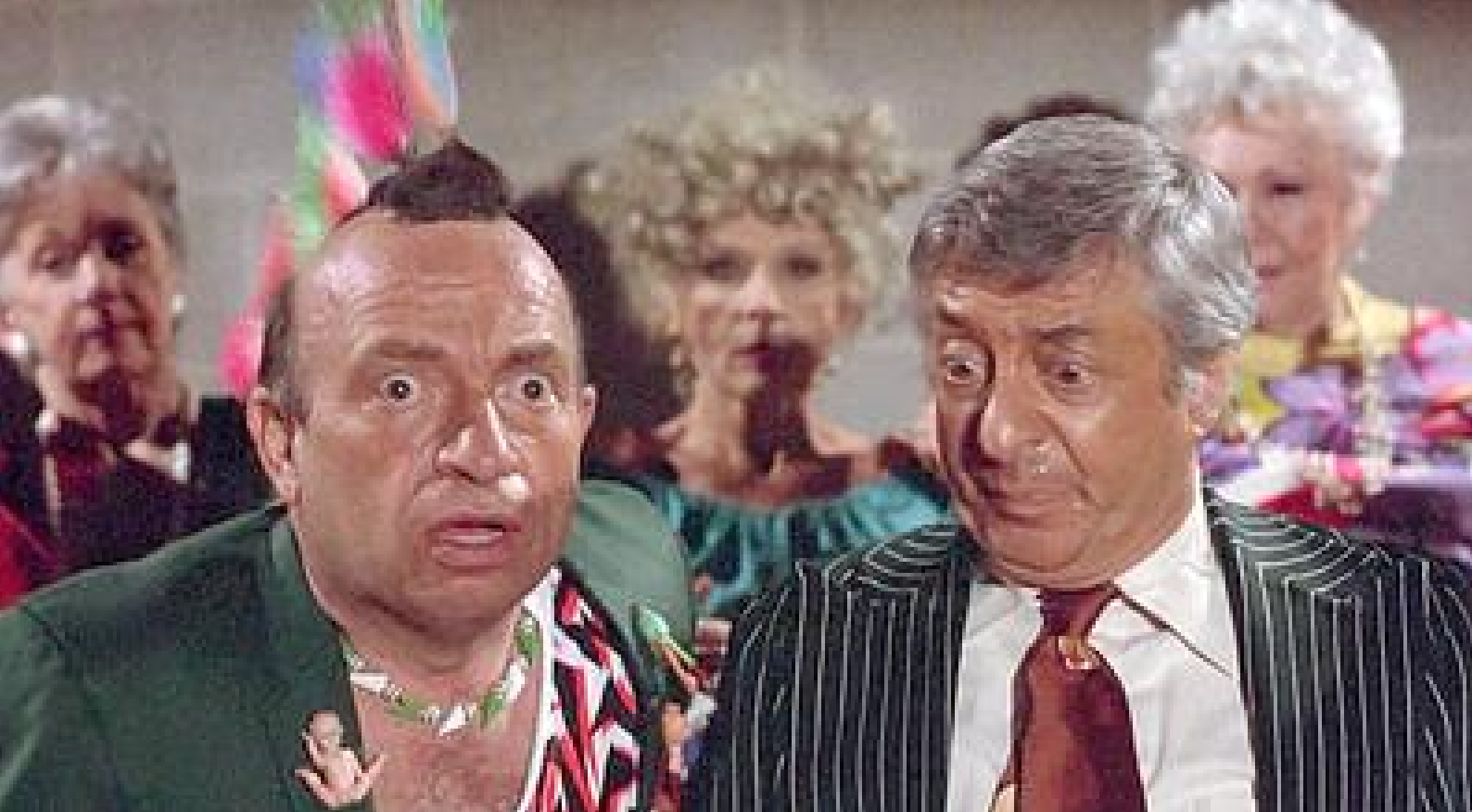 Another sad report that a much loved actor has passed away came to us today with the news that Lou Cutell, who appeared as Amazing Larry in Pee-wee's Big Adventure, has died at the age of 91. The actor had a fifty year career in film, television and theater with over 100 credits to his name. The news of his passing was shared on Facebook by friend Mark Furman who wrote, "After 91 years, and a great life, my friend Lou Cutell went home. A film, theater and character actor. Big Larry in Pee Wee's Big Adventure, Ass Man in Seinfeld, Abe in Grey's Anatomy S12,E4. He took me to Lucille Ball's house in 1986. Rest in peace Lou."
The star was born in New York City in 1930, the son of Sicilian parents, who moved their family to Los Angeles where Cutell earned his bachelor's degree. He did not make his career debut until 1961 on Broadway in the play The Young Abe Lincoln, and three years later made his first television appearance as a guest star in The Dick Van Dyke Show in the role of Vinnie. From there on that became the actor's signature, making unexpected guest appearances in TV series and films across multiple decades.
From the 1970s onwards, Cutell made memorable appearances in Seinfeld, The Love Boat, Honey, I Shrunk the Kids, Alice, The Bob Newhart Show, Rhinoceros, The World's Greatest Lover, The Wild Wild West, The Black Marble, The Odd Couple II , My Mom's a Werewolf and Bridget Loves Bernie. When it comes to his Seinfeld appearance, Cutell's appearance as Dr. Cooperman, who owns the vanity license plate reading "ASSMAN", is often cited as one of the best episodes of the entire series.
Like most of his roles, his appearance as Amazing Larry in the Tim Burton movie Pee-wee's Big Adventure is a fleeting one. Sporting a flamboyant rainbow colored mohawk hairdo, his character is knocked down a peg or two by Pee-wee after interrupting to ask about the whereabouts of his bike. The joke is that the mohawk is never mention at all, and after the scene neither is the character of Larry, but it is still one of those roles that sticks in the mind long after watching the movie.
Heading into the 2000's, Cutell wrote and appeared in stage plays including Sicilian Bachelor and Viagara Falls, but also continued his frequent TV and movie appearances as he headed into his 70s and 80s. He appeared in the movies Laurel Canyon and Wedding Crashers, and on TV had one off appearances in Curb Your Enthusiasm, How I Met Your Mother, Betty White's Off Their Rockers in which he played various characters, and his final on screen appearance was in 2015 in an episode of Grey's Anatomy.
Despite having not appeared on screen for six years, the news of his death is another sad loss to the industry, and our thoughts go out to his friends, fans and family at this sad time. May he rest in peace. The news was brought to us by Deadline.
Mother/Android Trailer Has a Pregnant Chloë Grace Moretz Battling an A.I. War on Hulu
Hulu's new trailer for Mother/Android takes us on a sci-fi thrill ride to escape the deadly A.I. apocalypse.
Read Next
About The Author
#Lou #Cutell #Dies #Peewees #Big #Adventure #Star

( With inputs from movieweb )