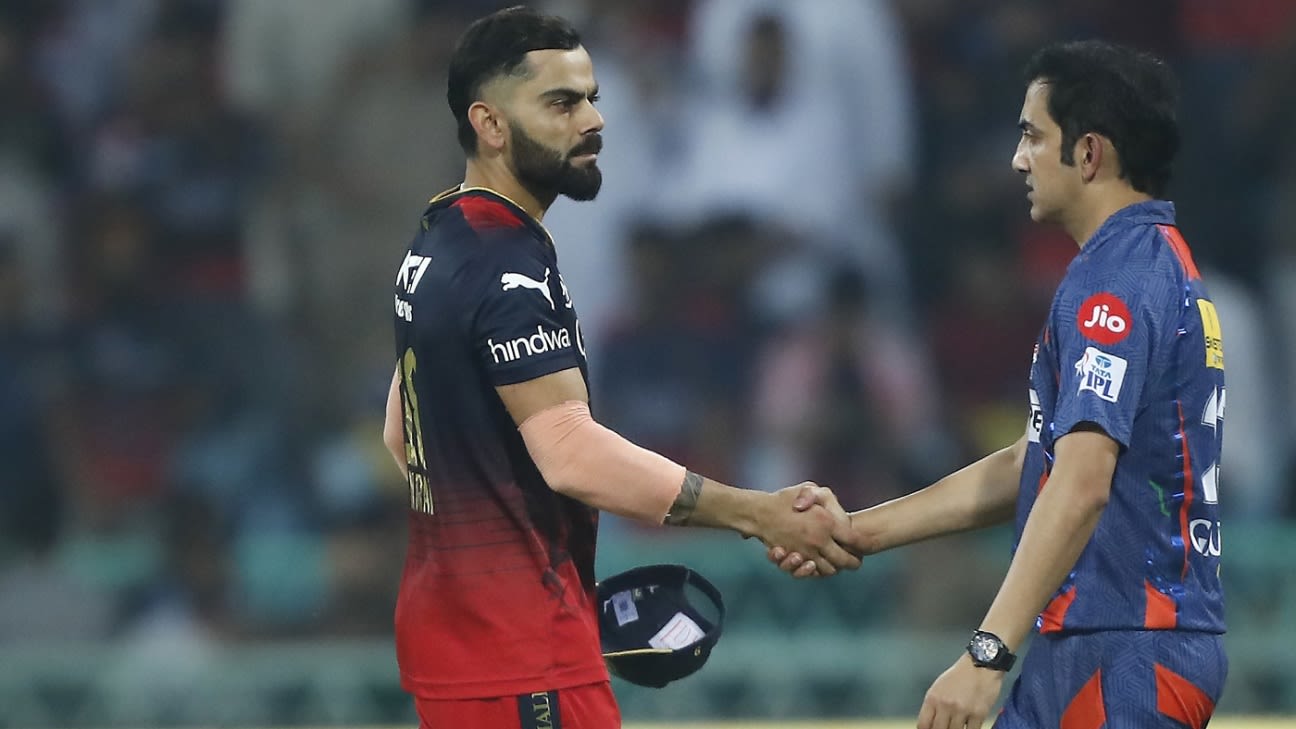 Virat Kohli
and
Gautam Gambhir
are not IPL captains anymore, but they were still involved in a heated exchange after Royal Challengers Bangalore
beat Lucknow Super Giants
by 18 runs. It was over 10 years after their altercation in the IPL during RCB's match
against Kolkata Knight Riders
in Bengaluru. Kohli now plays for RCB as a specialist batter, and Gambhir is retired and works as the global mentor at LSG.
While the players were shaking hands after the game, there seemed to be words exchanged between LSG bowler
Naveen-ul-Haq
and Kohli. This was followed by Gambhir pulling away his side's opening batter Kyle Mayers from a chat with Kohli.
Seconds later, Gambhir was seen approaching Kohli aggressively with his players, including the injured captain
KL Rahul
, restraining him. Once the two got in each other's faces, Kohli seemed to be trying to pacify Gambhir with his hand on Gambhir's shoulder, but the chat soon turned hostile and veteran spinner Amit Mishra stepped in between the two to separate them from each other.
Kohli had seemed extra animated throughout the fielding innings as RCB successfully defended 126 in an away match that had more crowd support for the visitors than the hosts. He shushed the crowd after taking a catch to dismiss Krunal Pandya, which might possibly have been a response to Gambhir shushing the Bengaluru crowd after
a last-ball win
in the earlier fixture between the two sides. He even had a heated exchange with Naveen during the 17th over of the chase when the game was all but over. Mishra and an umpire had to intervene then.
The match certainly seemed to have the air of a grudge match, which spilled onto the social media of both the sides. An RCB team insider immediately retweeted LSG's tweet from after the last match that said, "Ladies and gentlemen, this how you… PLAY BOLD." It seemed to be a mockery of RCB's catchphrase. After this win, RCB's official handle tweeted Kohli's photo shushing the crowd with the caption: "What goes around comes around."
After this altercation, Kohli was seen having a long chat with Rahul, who had earlier
injured his hip flexor
badly. He also had amicable chats with LSG allrounder Marcus Stoinis.
(With Inputs from ESPN)

#KohliGambhir #altercation #takes #sheen #RCB #win #LSG