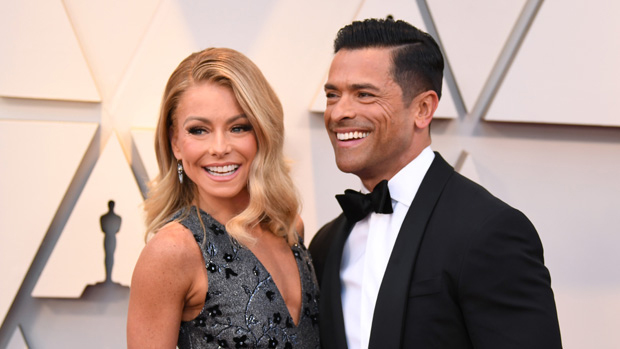 Mark Consuelos dipped his wife and co-host Kelly Ripa a bit too hard when they were dancing on Live! on Tuesday, accidentally causing her dress to rip. Mark and Kelly — who began co-hosting Live! together on Monday, April 17 after former co-host Ryan Seacrest left the show after six years — experienced the wardrobe malfunction as Dancing With The Stars pros Val Chmerkovskiy and Jenna Johnson Chmerkovskiy taught them how to jive while on air. The process appeared to be going well, until Mark, 52, dipped Kelly, also 52. On her way back to a standing position, she exclaimed, "Did my entire back of my dress rip open?"
"Just a little bit," Mark answered. "It's just a breakaway dress!" Kelly responded with a smile on her face. The Riverdale alum then assured his wife that her dress was mostly intact by showing her the small piece of string that had ripped off the back. "Who cares?" Kelly said, seemingly rolling with the punches. They then got back to business and completed the routine beautifully.
The fun dance and small mishap took place on Mark's second day of officially hosting Live! With Kelly and Mark. Ryan, 48, officially handed the job over to Mark on Friday, April 14 after looking back at some of his best moments on the show, which was followed by a sweet and emotional tribute from Kelly. "This has, without question, been the fastest six years of my life," Kelly began. "Although you and I have been friends for decades and decades, I feel like I've gained, through this process, a younger brother slash oldest son. That's how I feel about you. I'm so grateful that our success together on this show has led to us developing an even closer, yet also co-dependent relationship."
She then complimented his skills as a host and gushed that it was so nice to watch him bring his talent to the show every day. "I always jokingly refer to you as an onion with all these layers," the mom of three continued. "But really, you're a blooming onion, because you're layers upon layers of goodness, of charm, of brilliance, of authenticity and generosity. Your generosity is unmatched." Kelly didn't let Ryan leave without some jabs, though, and promised to troll him online forever after she made fun of his fancy "satin sheets" and "home-brewed" coffee.
"From the bottom of my heart, from the bottom of all of our hearts, we just want to thank you for being wonderful," she said, wrapping up her farewell to Ryan. "For being an original, authentic addition to this show. YOu are forever our family. We will never say goodbye to you. We will only say see you soon. And I love you!"
Mark was announced as the new co-host of Live! in February. "The only person that I can think of that is capable of holding your torch the way you have held it is my husband, Mark Consuelos," Kelly said to Ryan after he revealed his impending departure.
Meanwhile, Mark raved about his excitement to join his wife at work in PEOPLE's May cover story. "I had filled in so many times and had a blast every single time," he said during their joint interview. "Some people would die to have this opportunity. No one does it like she does… I can't think of anybody that I feel more safe with, and protected by, than Kelly."
Click to Subscribe to Get Our Free HollywoodLife Daily Newsletter to get the hottest celeb news.


#Kelly #Ripas #Dress #Rips #Live #Husband #Mark #Consuelos #Dips

(With Inputs from hollywoodlife)