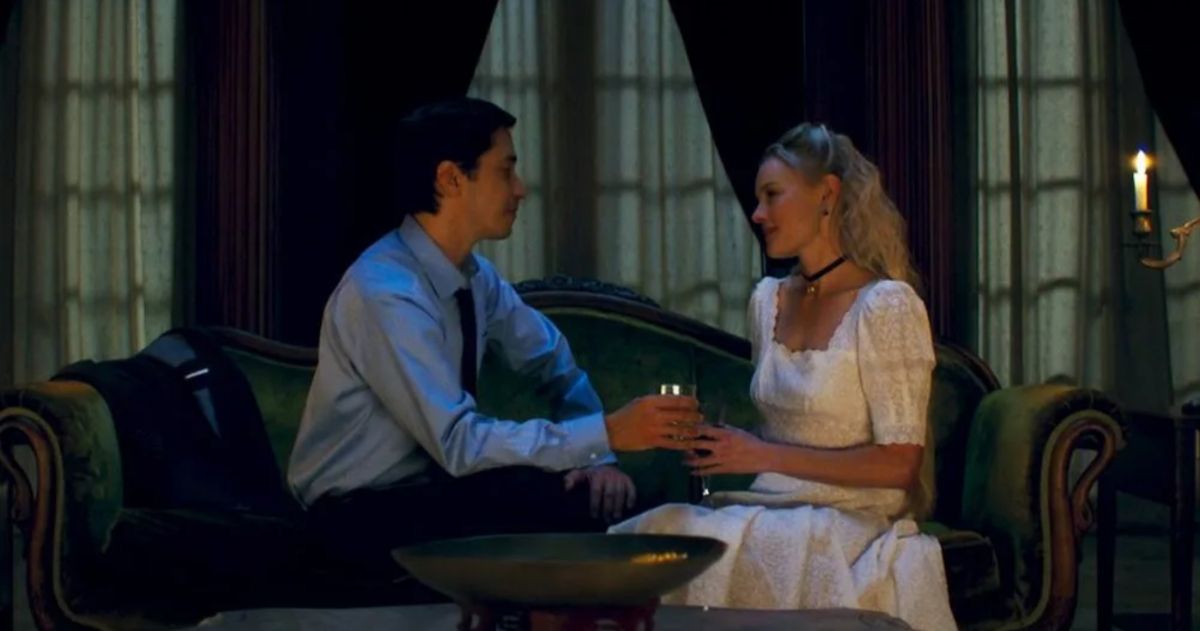 The poster and trailer for a new horror film starring Justin Long and Kate Bosworth have been released. Written and directed by Neil LaBute, the film has been entitled House of Darkness. It will premiere in select theaters on September 9th before becoming available On Demand and digital on September 13th. The premise of the film is as follows:
"Driving home to her secluded estate after meeting at a local bar, a player out to score thinks his beautiful, mysterious date will be another casual hook-up. While getting acquainted, their flirtation turns playful, sexy, and sinister. Hoping to get lucky, his luck may have just run out."
Regarding genre content, LaBute has previously written and directed The Wicker Man remake starring Nicolas Cage, though some might contest that film's status as a horror movie. He also directed the thriller movie Lakeview Terrace, starring Samuel L. Jackson, Patrick Wilson, and Kerry Washington. On television, he also created the post-apocalyptic TV show Van Helsing, which recently ended its five-season run on June 18th, 2021.
Long has previously appeared in Jeepers Creepers, directed by Victor Salva, which was about a brother and sister being stalked by a mysterious, truck-driving figure. Then he was in Drag Me to Hell, directed by Sam Raimi, playing a guy whose girlfriend is about to be dragged into hell. He was also in Tusk, directed by Kevin Smith, where he plays a man who gets turned into a giant walrus by a crazy old man.
Bosworth was in the 2011 version of Straw Dogs, based on the 1971 film of the same name starring Dustin Hoffman. She was also in The Domestics, directed by Mike P. Nelson, about a husband and wife traveling through a post-apocalyptic landscape. Before that, Bosworth also appeared in Before I Wake, directed by Mike Flanagan, which concerned a boy whose dreams and nightmares can become real.
Related: The Wave Trailer Has Justin Long Caught in a Psychedelic Sci-Fi Head Trip
I Wonder What It Could Mean
The trailer calls it "a reimagining of Bram Stoker's timeless tale." So clearly, this must be another adaptation of The Lair of the White Worm, which was previously made into a movie in 1988 with a very young Hugh Grant and Peter Capaldi. Or maybe it'll be a new version of The Jewel of Seven Stars, which was also adapted to film by Hammer under the title Blood from the Mummy's Tomb.
Yeah, no. Though Stoker did write other novels, only one of them has proven to be timeless. Interestingly, the indications that vampires are afoot in House of Darkness are kept relatively subtle. Sure, the clues are there. A giant mansion. Three different women, two blondes and a brunette, one in a white, gothic dress, and another named Lucy. But not anything explicitly vampiric, such as fangs.
Even on the poster, if you didn't know what to look for, you might see the woman before you see the fangs. Or not notice that the woman has blood dripping from her mouth. This trailer might be another instance of the trailer giving away too much of the movie, like Terminator: Genysis. Or House of Darkness could be hiding a bigger plot twist similar to Nope. Many predicted the presence of aliens, but no one anticipated just how that was the tip of the iceberg.
#Justin #Long #Falls #Prey #Kate #Bosworth #House #Darkness #Trailer

( With inputs from movieweb )