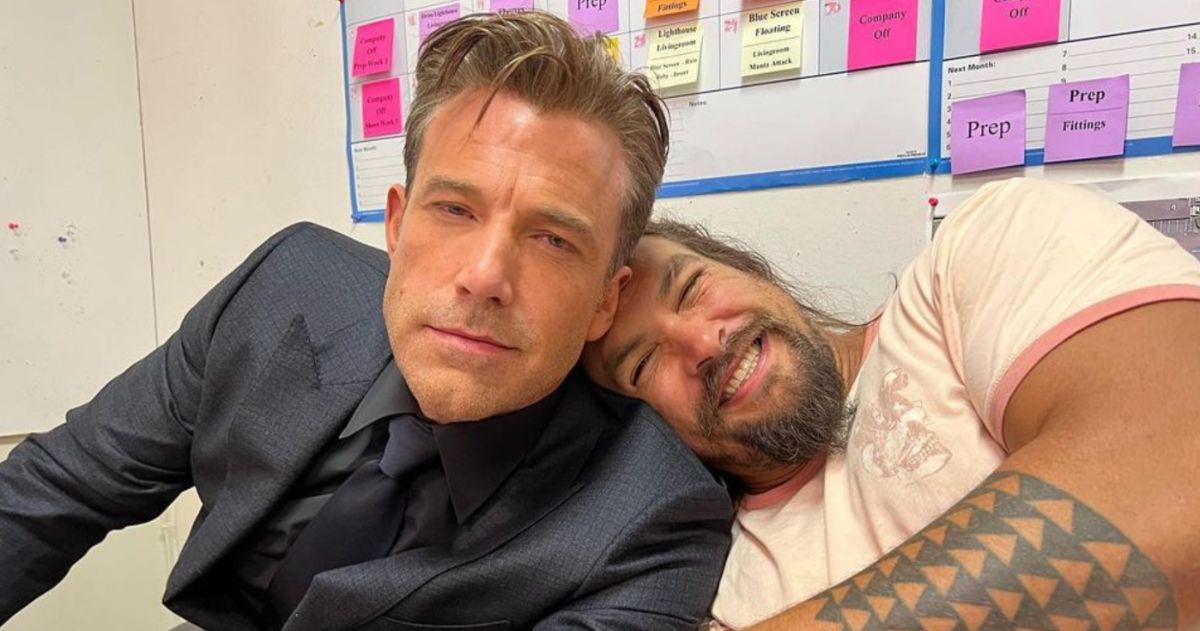 Well, the bat is apparently out of the bag: Ben Affleck will be back as Batman in Aquaman and the Lost Kingdom. As Affleck had seemingly departed from his take on the role with one last performance in the upcoming film The Flash, the news comes as a big surprise as there hadn't been any indication that Batman would be involved with Aquaman 2. Jason Momoa personally broke the news with a pair of photos along with a video clip posted to Instagram, revealing Affleck on location where he's been taking part in Aquaman 2 reshoots.
In the caption, Momoa wites, "REUNITED bruce and arthur. love u and miss u Ben WB studio tours just explored the backlot alright. busted on set all great things coming AQUAMAN 2 all my aloha."
The video clip shared by Momoa seemingly reveals why the actor let it slip that Affleck will be joining him in Aquaman 2. With Momoa and Affleck outside, they just happened to be passed by a tour bus with excited fans taking photos and videos with their cell phones. At that point, Momoa most likely realized that word of Affleck on set with Momoa would soon be spreading throughout social media, so maybe he just figured it was best to get ahead of it and drop that information himself.
"Well, it's not a f***ing secret anymore, is it," Momoa says in jest. "That's what happens, Warner Bros., when you walk out of your set, and there's our fans."
Taking a peek directly into Affleck's trailer with the actor sitting inside, Momoa added, "Well, we tried to keep it a secret."
Related: Amber Heard in Aquaman: Is Mera Important to the Movies?
Aquaman and the Lost Kingdom Brings Back Batfleck
Ben Affleck first began playing Bruce Wayne in Zack Snyder's crossover film Batman v Superman: Dawn of Justice before reprising the role in Justice League and its four-hour director's cut, Zack Snyder's Justice League. There had been plans for him to direct and star in The Batman to further explore his character, but Affleck ultimately dropped out of the project before it was retooled by Matt Reeves into the version released this year with Robert Pattinson as the caped crusader.
But we knew that Affleck would be back at least one more time for another appearance as Batman. It had been confirmed that he will be in The Flash alongside Michael Keaton who also reprises his own version of Batman. In a previous interview with The Herald Sun, Affleck suggested that the footage he'd shot in character for The Flash had actually been his proudest work in the role of Batman, lamenting how he had just finally figured out the role at a time when he was seemingly finished with it.
"I have never said this — this is hot off the presses — but maybe my favorite scenes in terms of Batman and the interpretation of Batman that I have done, were in the Flash movie," he said. "I hope they maintain the integrity of what we did because I thought it was great and really interesting — different, but not in a way that is incongruent with the character. Who knows? Maybe they will decide that it doesn't work, but when I went and did it, it was really fun and really, really satisfying and encouraging and I thought, 'Wow — I think I have finally figured it out.'"
Aquaman and the Lost Kingdom will be released in movie theaters on March 17, 2023.
#Jason #Momoa #Announces #Ben #Afflecks #Return #Batman #Aquaman

( With inputs from movieweb )