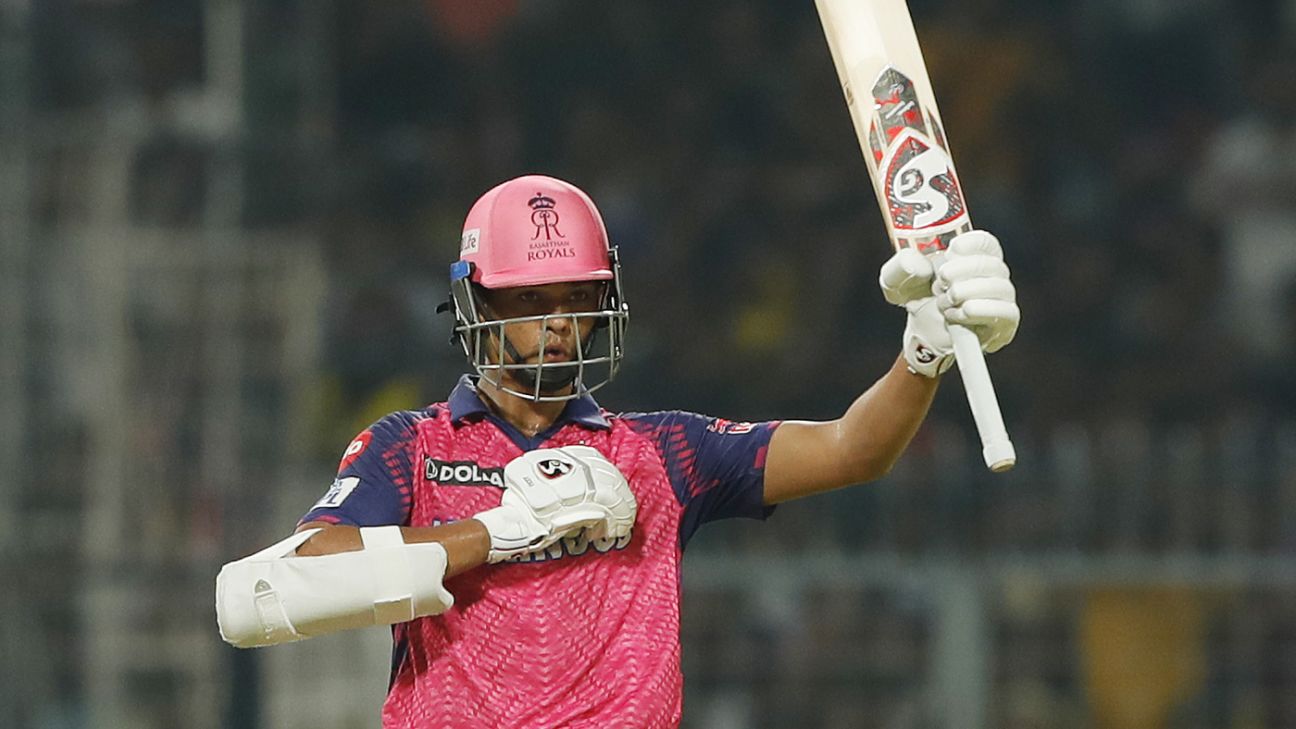 Rajasthan Royals 151 for 1 (Jaiswal 98*, Samson 48*) beat Kolkata Knight Riders 149 for 8 (Venkatesh 57, Chahal 4-25, Boult 2-15) by nine wickets
Having restricted KKR to 149 for 8 after choosing to bowl, Royals chased down their target in just 13.1 overs, lifting their net run rate from an already healthy 0.388 to 0.633, the
second best in the league
behind table-toppers Gujarat Titans. It should hold Royals in good stead if they get into an NRR battle for playoffs qualification. They are now third on the table with 12 points from 12 games, above Mumbai Indians who have the same points total with a game in hand.
Royals' catching sets the tone
Trent Boult was back for Royals after missing their
heartbreaking loss to Sunrisers Hyderabad
, and he immediately made an impact with wickets in his first two overs. He usually takes early wickets by defeating top-order batters with new-ball swing – on this occasion he took them with some help from the fielders. Shimron Hetmyer sent Jason Roy back with a sprinting, jumping grab at deep square leg, while Sandeep Sharma ended Rahmanullah Gurbaz's stay at the crease with a diving catch to his right at mid-off.
Venkatesh's innings of two halves

On a pitch where the odd ball was stopping on the batter, Venkatesh Iyer and Nitish Rana made a ponderous start to their third-wicket partnership. The first 30 balls after Gurbaz's dismissal brought KKR just 30 runs, with just the one boundary, and Venkatesh endured a particularly difficult struggle while moving to 11 off 20 balls.
But he started finding the boundary regularly from that point. He hit R Ashwin – who had conceded just eight runs in his first two overs – for a pair of sixes in an 18-run ninth over, and then hit Chahal for two sixes and a four in the 13th over. He was eventually dismissed at the start of the 17th over, for 57 off 42 balls.
Chahal runs through KKR
Venkatesh's dismissal was a classic death-overs wicket from Chahal – a loopy delivery hung wide outside off stump after angling across the left-hander, inviting the big hit that was miscued to a fielder inside the circle.
Chahal had already gotten among the wickets before that, having Nitish caught at deep backward square leg in the 11th over to go past Dwayne Bravo and
become the IPL's top wicket-taker
.
There would be two more on the night: Shardul Thakur lbw while missing a sweep in a double-wicket 16th over, and Rinku Singh caught at long-off in a three-run 19th.
Jaiswal takes Nitish apart
If you bowl the first over for your team, Jaiswal is the last batter you want to bowl to. Coming into this game, Jaiswal had hit more fours (13) and more sixes (two) in the first over than any other batter in IPL 2023. It was interesting, then, that Nitish brought himself on to bowl the first over of Royals' chase.
Nitish is better than part-time, but he hasn't bowled regularly this season. He may have thought his offspin would match up nicely against Jaiswal's left-handedness, or he may have gambled on buying a wicket if either opener went after him too hard.
In the event, Jaiswal tore into Nitish, going 6, 6, 4, 4, 2, 4 in the second-most expensive first over in IPL history, falling one run short of the record of 27, set by Royal Challengers Bangalore – Chris Gayle, mostly – against Mumbai's Abu Nechim in Qualifier 2 in 2011.
Jaiswal shrugs off Buttler run-out in record-breaking display
A mix-up in the second over cost Jos Buttler his wicket, but that did nothing to slow Jaiswal down. He picked up a lucky four later in the over thanks to overthrows, and then hooked Harshit Rana for six. Then he went 4, 4, 4 off Shardul Thakur in the third over, driving and pulling and finding gaps as if there were no fielders on the 30-yard circle. Having thus moved to 49 off 12, Jaiswal tucked a single off his hip to bring up the IPL's fastest fifty, going one ball better than KL Rahul and Pat Cummins.
Jaiswal and Samson finish in a hurry
Jaiswal's masterful timing and placement suggested this pitch may have eased up, but Samson showed it still wasn't straightforward to bat on, moving to 21 off 21 balls at the other end while having a skied return catch dropped by Sunil Narine.
Then he joined the party with three clean, straight sixes off Anukul Roy in the 11th over, and the end was nigh. All that remained to see was whether Jaiswal could get to his hundred, and it was still possible when the 14th over began with Jaiswal on 94 and Royals three runs from victory. A six would do it, but Jaiswal was going to get the winning runs as quickly as he could, however they came. He shuffled across to a wide full-toss from Thakur, and swiped it behind square for four, to finish on 98 off 47.
Karthik Krishnaswamy is an assistant editor at ESPNcricinfo
(With Inputs from ESPN)

#Jaiswal #Chahal #smash #records #KKR