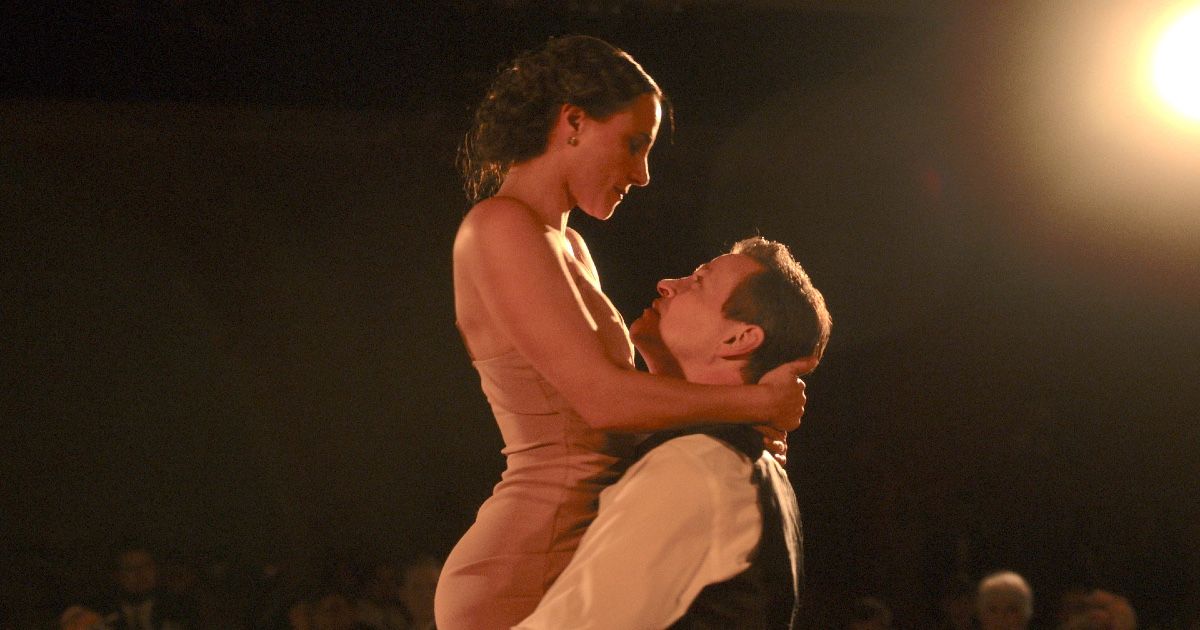 "You need chaos in your soul to give birth to a dancing star." It's not every day Friedrich Nietzsche works for a trailer announcement. But when the trailer is about the high-stakes world of love and ballroom, then a quote from the philosopher is a perfect choice (after all, if you've ever stepped into your local Arthur Murray Dance Center to prep for an upcoming dance competition or a wedding, you've probably seen the quote on the wall). Haven't been able to strap into a Ladies Latin Smooth shoe for a while? Well, have no fear because Electric Entertainment's new romantic dance comedy Ask Me to Dance is bringing the ballroom to you. The new film will release in theaters nationwide on October 7, 2022.
Directed and written by Tom Malloy (Love N' Dancing), the film Ask Me to Dance is about Jack, played by Malloy, and Jill, played by Briana Evigan (Step Up 2: The Streets, Step Up All In), two people whoseparately meet a fortune teller on a starry night.
The fortune-teller predicts they will meet the love of their life before the end of the year, which happens to be only five days away. As the countdown begins, Jack and Jill go on a series of horrible and hilarious dates, each worse than the next. With a string of missed encounters and New Year's Eve approaching, will the prophecy come true? Will Jack fall down and break his crown? And will Jill come tumbling after? Are these swing dance-obsessed singles destined to meet and fall in love?
Ask Me to Dance Arrives in Theaters on October 7
In addition to Malloy, Evigan, Ask Me to Dance stars Mario Cantone (Sex and the City), Catherine Mary Stewart (Weekend At Bernie's), Joyce DeWitt (Three's Company), Kurt Angle (Olympic Gold Medalist, WWF and WCW Champion), Courtney Warner, Jason Chambers (As The World Turns), and Luciana Faulhaber (The Influencers). The film also stars Edward Popil, who is best known as Mrs. Kasha Davis on Ru Paul's Drag Race: Season 7. Since appearing in Season 7, Mrs. Kasha Davis regularly performs on tour with long-time collaborators and fellow RuPaul's Drag Race alums Pandora Boxx and Darienne Lake.
Produced by Malloy, Charlie Shrem, Sean King, and Ron Newcomb, Ask Me to Dance arrives in select theaters nationwide on October 7, 2022. Check out the trailer below:
#Jack #Jill #Finally #Find #Rhythm #Love #Dance #Trailer

( With inputs from movieweb )