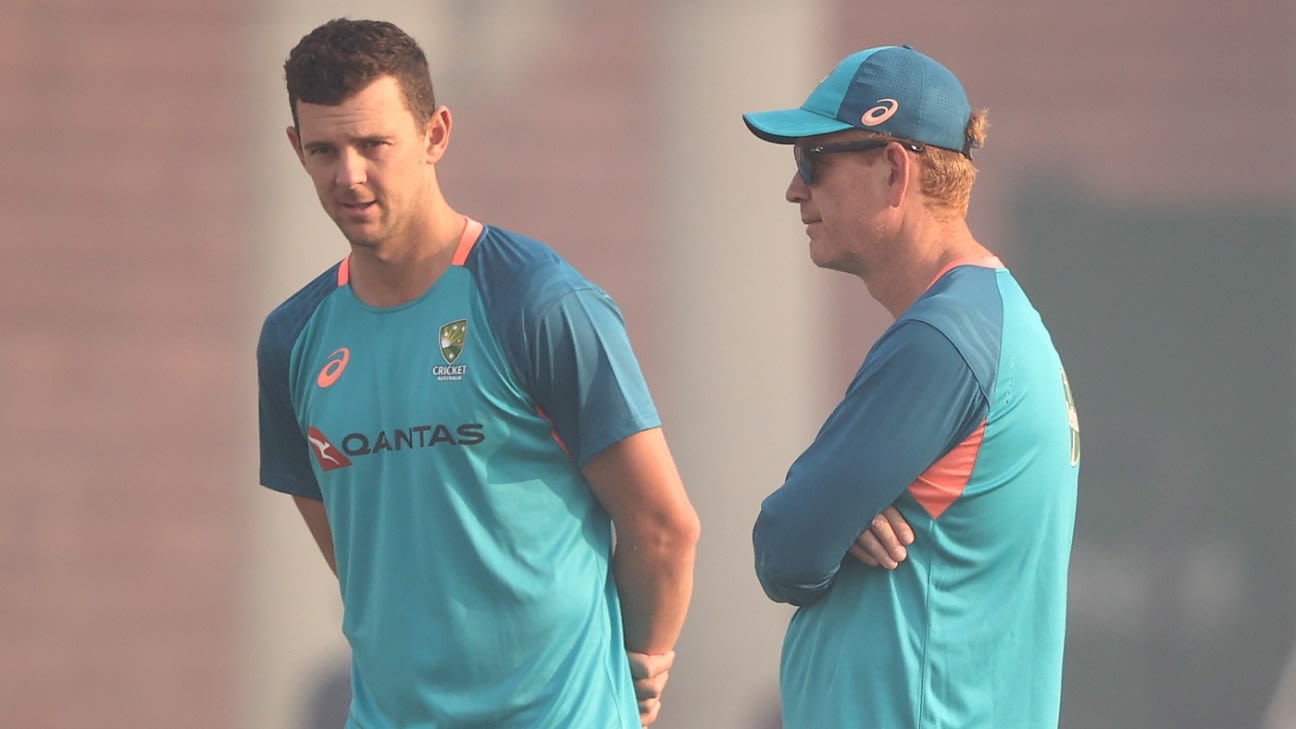 Australia quick
Josh Hazlewood
will fly home after being ruled out of the final two Tests of the Border-Gavaskar series while doubts remain about
David Warner
's fitness for the remaining matches as Australia mull further changes to the squad following their
disastrous loss in Delhi.
Hazlewood was unavailable for the first two Tests due to Achilles tendonitis. He was replaced by Scott Boland in the first Test in Nagpur before Australia chose three spinners and just one pace bowler in Delhi. Meanwhile, Warner was
substituted out
of the Delhi Test with concussion but he also suffered a hairline fracture in his left elbow from separate blows while facing India's Mohammed Siraj.
Australia coach
Andrew McDonald
confirmed that Hazlewood would head home to continue his recovery of the Achilles issue while Warner will be closely monitored over the coming days. There are hopes he can play in the last two matches but a decision will be made by the medical staff.
"Josh Hazlewood out, he'll be going home," McDonald said on Monday.
"[Warner]'s still sore at the moment. We had a meeting just before discussing through this. We're in no rush to make any decisions at this point in time around Davey. Just seeing how that settles, how functional that is.
"It will be basically how sore and how functional it is as to what decision we make with him and then the length of the injury. There's some talk the length of injury could be anywhere between a week plus depending how that settles down. There's a bit of unknown there. I'll leave that to the medical team and they'll inform me once they know."
There are fewer concerns about his concussion as there are nine days to recover before the third Test, which should be enough time for Warner to pass the mandatory protocols.
If Warner's elbow isn't fit then Travis Head is likely to open in Indore having made an excellent 43 in the second innings in Delhi. If Warner is fit then Australia's selectors have some tough decisions to make.
"If Dave's unavailable it would make perfect sense," McDonald said. "We did discuss before coming over here that if we were to lose an opening batter that Trav would be one we'd look to put up there. We feel in the subcontinental conditions that he can get off to the fast starts which he showed.
"We don't see [Head] as an opener in all conditions, more subcontinental and in other conditions back to the middle order."
McDonald revealed that there could be further changes to the squad but they are unlikely to fly anyone in unless Warner is ruled out, given they currently have 18 players with the squad in Delhi and a 19th in
Mitchell Swepson
, who will possibly fly back for the third Test, after heading home prior to the second Test for the birth of his first child.
Green, Starc expected to be fit for Indore Test
"He was close," McDonald said. "It's building the confidence. He had the setback in Bangalore, a little setback batting in Bangalore where he had some jarring and there was a fair bit of discomfort in that finger. If he didn't have that, I think the second Test was real. But it probably just delayed it those few days. And we contemplated him as a concussion sub as well. So that was another discussion. But we felt like if he wasn't right to go at the start then what was a couple of days. We're better off loading up for the third Test match and in a good frame of mind."
Mitchell Starc is also set to be fit for the third Test having been available to play in Delhi. Like Green, it was only doubt on the recovery on his finger tendon injury and the decision to pick three specialist spinners that meant Starc didn't play. Starc's lower-order batting is also a consideration as McDonald conceded India's lower-order batting has been the difference in the series so far.
Agar, Morris might be sent home
Without naming Agar or Morris specifically, McDonald confirmed there was a chance one or two players could return to Australia to play some domestic cricket with Green and Starc becoming available to play.
"We're working through that. It won't be form as such but there's cricket going on back home," McDonald said. "And with a few players now becoming fit and available, are we carrying too many? That's probably a question. So we've got to be clear on what we want to achieve in the next two Test matches in terms of the structure of the team. Once we get our heads around that, there's an opportunity for players to be playing cricket back home and we value that."
Maxwell unlikely to be called up for India Tests
"He's played one game," McDonald said. "What did he get, 5? He played club cricket and got 61. We'll see how we go. We've got the one-day squad that we'll announce, if he gets through everything that he needs to then he'll be a starter for that one-day series. Anything forward of that will be discussed."
Alex Malcolm is an Associate Editor at ESPNcricinfo
(With Inputs from ESPN)

#Injured #Hazlewood #rest #India #tour #Warner #doubtful #Australia #mull