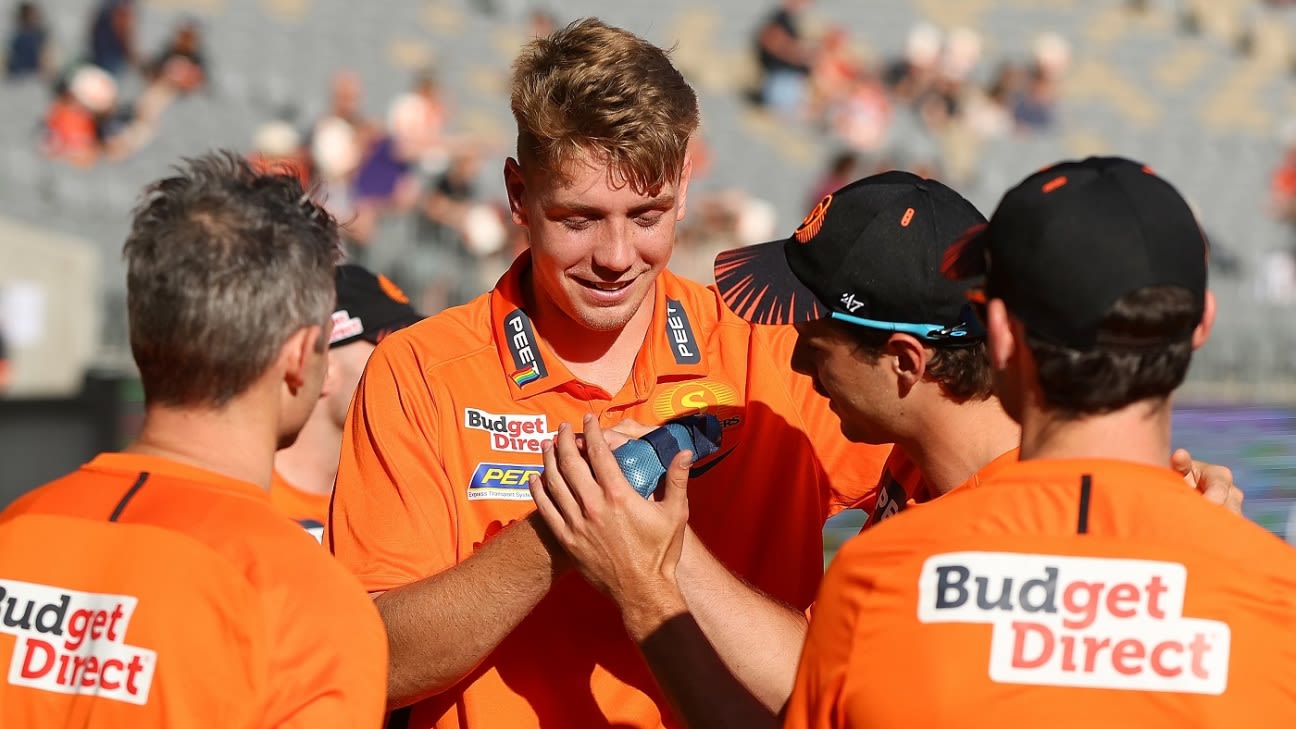 Cameron Green
faces a race against time to be ready for the
opening Test against India
on February 9 with a build-up of his bowling workloads the biggest challenge as he recovers from the broken finger suffered against South Africa at the MCG.
Green has been part of the Australia training camp in Sydney over the last two days and is making steady progress, but the opening match of the series in Nagpur may come too soon. He is due to see the surgeon again on Monday which will mark a month since the injury occurred with the hope that he will be told the bone has healed.
In the early stages of Green's career, it has become clear he is a cricketer who benefits from the rhythm of playing long-form regularly. In both last year's Ashes and this season's Tests, he has got better as the summer has gone on; he
took five wickets
against South Africa in Melbourne before breaking his finger, then still managed an unbeaten fifty.
"Where he's positioned at the moment, his biggest challenge is bowling," Australia head coach
Andrew McDonald
said. "There is a lack of loading there, and one of the key reasons around us getting into this camp early is to make sure that we're ready to go for the rigours of what the bowling unit [is] going to encompass.
"Building confidence is the main thing, setting him up to succeed in that first Test match, having enough time, that will be the critical question."
However, if Green's bowling does not quite come up, he would be considered as a specialist batter. He showed his ability to learn quickly on the subcontinent last year with important half-centuries
in Lahore
and
particularly Galle
, where he was Player of the Match on a spiteful surface.
"We value his batting first and foremost really, he's a batter in our top six and we value that, his bowling is a bonus. A very nice bonus," McDonald said.
But Green is vital in balancing Australia's side. If he is unable to bowl (or play) the selectors will have to decide whether to go with a two-quick two-spinner balance – as they did
at the SCG
against South Africa – or back their traditional strength in pace with an extra quick. While Green is unable to bowl, McDonald all but ruled out playing three specialist spinners.
"We see him [Handscomb] as an important right-hand option," McDonald said. "We've got a lot of left handers. If there were to be any late changes, or Cameron Green doesn't make that first Test, we feel we have some good options."
Starc also suffered a finger injury at the MCG and is still bowling with protection at training, which he won't be allowed to do in a match. He is almost back to top pace which McDonald termed as "staggering" although there remains a fixed time scale to his recovery. However, unlike Green he is able to get his workloads up at training.
"The guard needs to stay on. Really protecting against the knock that would then re-injure that ligament," McDonald said. "That's why it's a clear cut deadline to mitigate against any of that risk.
"We can't accelerate that to be honest. It's probably frustrating for Mitch that he feels that good. But the good thing is when he does get out of the splint all his workloads are going to be up to speed and it will be pretty much into that second Test, which is good news to us."
"I think any time a player expresses that at any point of time, that's fair and reasonable," he said. "If he's feeling tired and fatigued, there's an obvious reason for that.
"Our challenge will be to manage him into that first Test match, no different to any other series where you'll have players come in at different stages in term of fatigue."
(With Inputs from ESPN)

#Injured #Greens #biggest #challenge #bowling #Australia #coach #McDonald