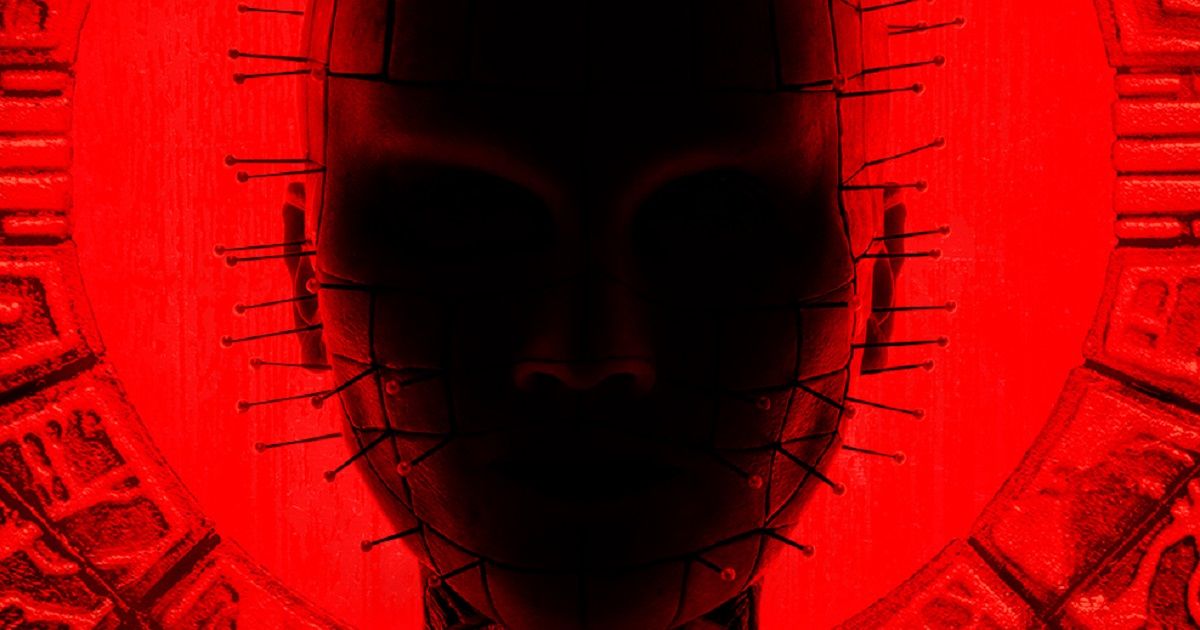 Following the first trailer for the upcoming revival of the horror classic, Hellraiser, a new poster offers another haunting look at the return of Pinhead. Released courtesy of the official Hulu Twitter account, Hellraiser comes from the master of horror Clive Barker and will once again tempt audiences to open the puzzle box.
This year's Hellraiser will act as a new adaptation of the 1986 novella The Hellbound Heart by Clive Barker. First published in 1986, the story was used as inspiration for the movie Hellraiser in 1987, which tells the story of a mystical puzzle box that summons the Cenobites, a group of extra-dimensional, sadomasochistic beings who cannot differentiate between pain and pleasure.
In Hellraiser, a young woman struggling with addiction comes into possession of an ancient puzzle box, unaware that its purpose is to summon the Cenobites, a group of sadistic supernatural beings from another dimension.
The ensemble cast behind Hellraiser includes Odessa A'zion (Fam, Grand Army), Jamie Clayton (The L Word: Generation Q, Sense8), Adam Faison (Everything's Gonna Be Okay, Yes Day), Drew Starkey (Outer Banks, The Devil All the Time), Brandon Flynn (Ratched, 13 Reasons Why), Aoife Hinds (The Long Call, Normal People), Jason Liles (Stereoscope, Rampage), Yinka Olorunnife (The Transporter), Selina Lo (Boss Level, Q8 Unleashed), Zachary Hing (Halo), Kit Clarke (Leonardo), with Goran Visnjic (The Boys, Timeless) and Hiam Abbass (Succession, Blade Runner 2049).
A Hulu Original, in association with Spyglass Media Group, the film reunites director David Bruckner, screenwriters Ben Collins & Luke Piotrowski, writer/producer David S. Goyer and producer Keith Levine, all of whom were teamed on 2020's The Night House, along with producers Clive Barker and Marc Toberoff and executive producers Gary Barber, Peter Oillataguerre and Todd Williams. Chris Stone serves as co-producer.
Jamie Clayton Will Bring the New Iteration of Pinhead to Life
The Hellraiser revival (it's not a remake as was first thought, assures director David Bruckner who has called the project "a new story in the Hellraiser universe") will resurrect the iconic monster movie, Pinhead, played famously by Doug Bradley throughout the original series of films. This time around, the spiky-faced character will be portrayed by Sense8 and Roswell, New Mexico star Jamie Clayton, with many wondering how this latest iteration will compare to what has come before.
"We say 'female Pinhead' like we know what that means, but there are a million shades of femininity," original Hellraiser director Doug Bradley said of the casting. "Where exactly are they going to go with that? Everything about Hellraiser has always been transgressive. Everything, always, from start to finish. It's not a new idea in that sense, but I'm intrigued. I'm in the same position as all the rest of you, I guess, to see where that goes."
Based on the footage and images released so far, it certainly looks like Clayton will cut a suitably creepy, celestial presence as Pinhead as the leader of the Cenobites returns in need of a blood sacrifice.
Hellraiser is scheduled to be released by Disney Platform Distribution (yes, you read that right) via streaming exclusively on Hulu as a Hulu original film on October 7, 2022.


#Hellraiser #Poster #Centers #Jamie #Clayton #Pinhead

( With inputs from movieweb )