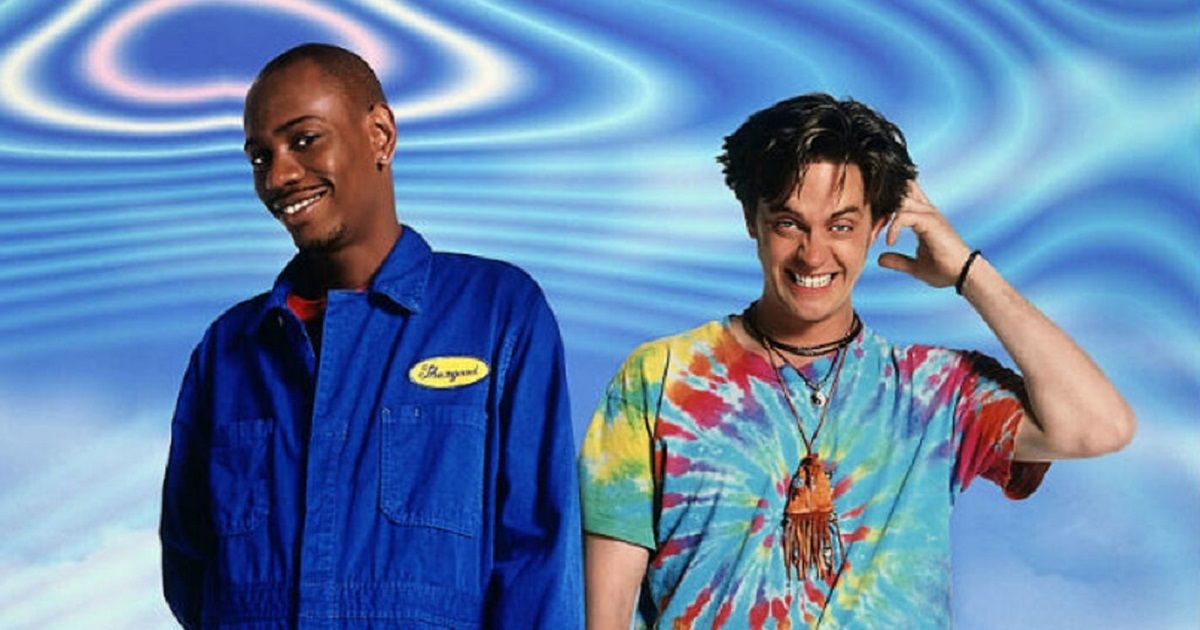 The long-awaited sequel to the 1998 stoner comedy cult hit Half Baked has at last been given an official title alongside an R rating. According to Filmratings.com, Half Baked 2 will go by the full title Half Baked: Totally High and has been rated R for "for drug use throughout, sexual content, language, graphic nudity and some violence." So pretty much exactly what you'd expect from a follow-up to the Dave Chappelle and Jim Breuer-led comedy. Apart from the maybe the violence…
First announced back in 2019, Half Baked: Totally High will be something of a legacy sequel to the beloved stoner outing. Rather than bringing back original stars Dave Chappelle and Jim Breuer as Thurgood Jenkins aka Sir Smoka Lot and Brian respectively, Half Baked: Totally High will instead follow the exploits of Sir Smoka Lot's son, JR, and his best friends Miles and Cori. This new gang are trying to figure out how to get the money to bury their friend Bruce, who died from smoking the most powerful joint in the world.
Directed by Michael Tiddes (Sextuplets, A Haunted House) and written by Justin Hires (Dean's List), Half Baked: Totally High is set to star The Maze Runner actor Dexter Darden as JR alongside Moses Storm (Arrested Development, Unfriended) as Miles, Ramona Young (Never Have I Ever, Blockers) as Cori, and Joel Courtney (Jesus Revolution, The Empty Man) as Bruce. The rest of the supporting cast includes Ash Santos (True Story), David Koechner (Anchorman: The Legend of Ron Burgundy), Rafael Castillo (Mo, BMF), and Justin Miles (The Crazies), with Malcolm in the Middle star Frankie Muniz and comedian Jeff Ross set to feature in special appearances.
While the Half Baked sequel will not bring back either Dave Chappelle or Jim Breuer, it will see the return of original stars Harland Williams and Rachel True as Kenny Davis and Mary Jane.
RELATED: Exclusive: Dexter Darden Gives Inside Scoop on Half Baked 2 and Playing Dave Chappelle's Son
Half Baked Has Become a Cult Comedy Hit
Released in 1998 and starring Dave Chappelle, Jim Breuer, Harland Williams, and Guillermo Díaz, the first Half Baked follows a trio of slackers who must come up with a scheme in order to get their friend out of jail after his is arrested for killing a New York City police horse by feeding it junk food. Despite being met with negative reviews upon release, Half Baked has since become a cult comedy hit, with many wondering if they would ever have the pleasure of watching a sequel through a haze of smoke.
"We are thrilled to announce the next chapter in Half Baked, with new characters and a hilarious story that is sure to satisfy followers of the original film while attracting a whole new generation of fans," Glenn Ross, General Manager and Executive Vice President of Universal 1440 Entertainment, said of the project. "The sequel features a talented young cast alongside Rachel True reprising her role as the fan-favorite 'Mary Jane.' We can't wait to show audiences where the story goes from here."
Half Baked: Totally High wrapped filming in November last year and is aiming for a release date later this year.
#Baked #Official #Title #Rating #Aiming #Release

( With inputs from movieweb )