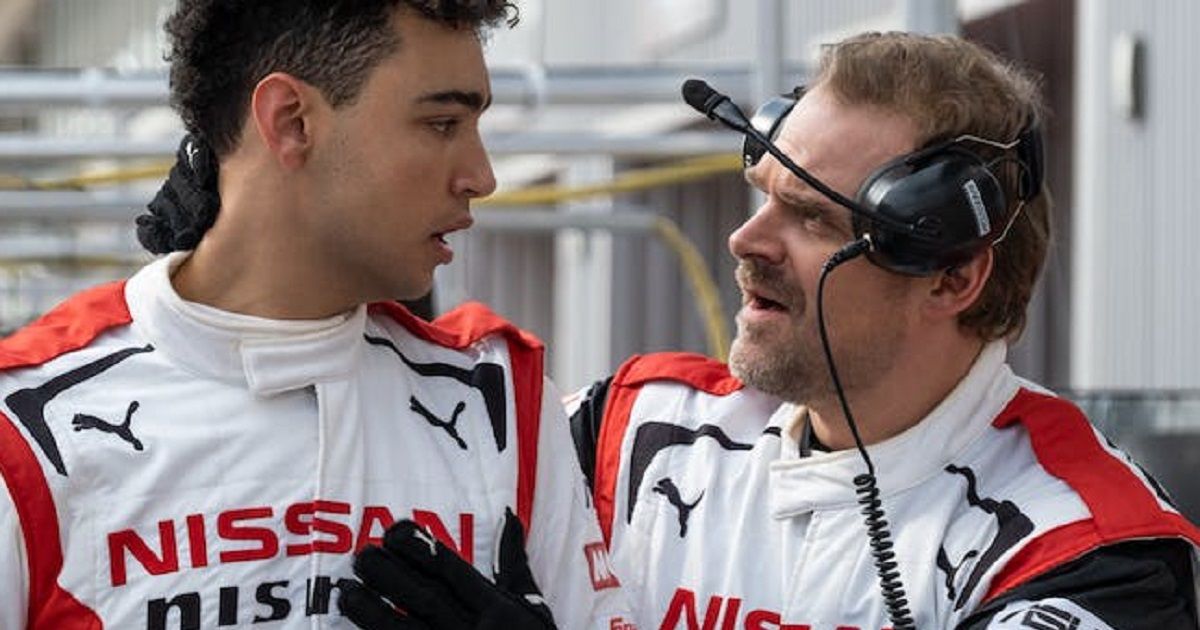 The first trailer for the upcoming video game adaptation, Gran Turismo, teases director Neill Blomkamp's inspiring vision for bringing the series to the big screen. Released courtesy of Sony Pictures Releasing, the footage offers a glimpse at the kind of intense, white-knuckle races that you would expect, while also teasing the somewhat unexpected human drama that will anchor the adaptation. Check out the trailer for Gran Turismo below.
Rather than somehow simply transform the popular racing game into live action, Gran Turismo will instead be based on the inspiring true story of an impossible dream. As well as bringing the PlayStation series of racing simulation video games to life, Gran Turismo will also tell the true story of a teenage Gran Turismo player named Jann Mardenborough, whose gaming skills won a series of Nissan competitions to become an actual professional race car driver.
The Gran Turismo movie is directed by District 9 and Elysium filmmaker Neill Blomkamp from a screenplay by Jason Hall and Zach Baylin, and stars Midsommar and See star Archie Madekwe as Jann Mardenborough, the aspiring teenage driver given the opportunity of a lifetime. The supporting cast includes Stranger Things star David Harbour as Jack Salter, Jann's trainer; Pirates of the Caribbean and The Lord of the Rings star Orlando Bloom as Danny Moore, a hotshot motorsport marketing executive; Never Have I Ever star Darren Barnet as Matty Davis, a top GT Academy driver threatened by Jann's success; with Shazam! Fury of the Gods star Djimon Hounsou and Spice Girl Geri Halliwell starring as Jann's father and mother, respectively.
Gran Turismo is also set to feature Daniel Puig (Naomi), Josha Stradowski (The Wheel of Time), Thomas Kretschmann (King Kong, Avengers: Age of Ultron), Maeve Courtier-Lilley (The Outpost), Richard Cambridge (Golden Years), and Emelia Hartford (A California Christmas: City Lights).
RELATED: Best Video Game Movie Adaptations, Ranked
Gran Turismo Marks a Change of Pace for Director Neill Blomkamp
Developed by Polyphony Digital and produced by Kazunori Yamauchi, the origins of Gran Turismo can be tracked all the way back to 1992. Designed to emulate both the appearance and performance of a wide selection of racing vehicles, as well as putting players in the driving seat, a number of installments in the Gran Turismo have been released across every version of the PlayStation with the video game now the highest selling video game franchise under the PlayStation brand.
Bringing the video game and true story to life marks a real change of pace for director Neill Blomkamp, who has become largely known for topical sci-fi outings such as District 9 and Chappie. Star David Harbour though has praised the filmmaker saying, "Neill is so cool and such a good director that it's really been a joy to work on this movie, and this movie's going to be… Talk about not what you expect, with him at the helm there's a visceralness to this movie, to this video game world that is so cool. I can't wait for you to see this movie."
Gran Turismo is set to be released on August 11, 2023 by Sony Pictures Releasing.
#Gran #Turismo #Trailer #Teases #Neill #Blomkamps #Video #Game #Adaptation

( With inputs from movieweb )