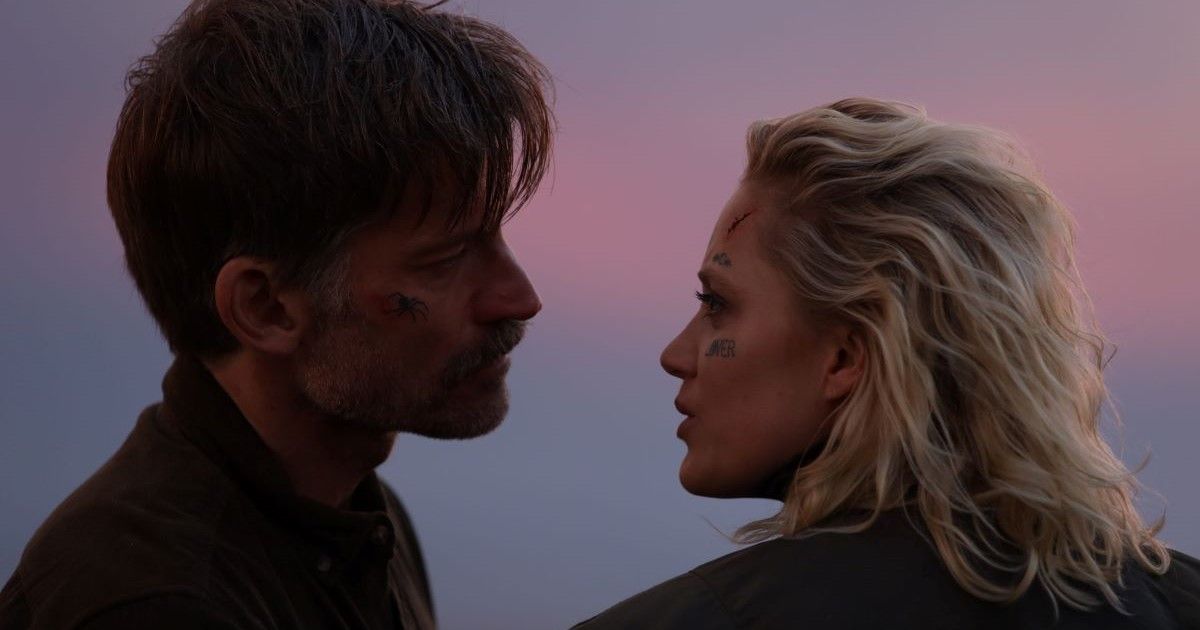 The trailer for God Is a Bullet, Nick Cassavetes' latest film, has just dropped. Inspired by actual events and based on the 2002 novel of the same name by Boston Teran, the film follows a detective (Nikolaj Coster-Waldau) on the hunt for his missing daughter. Following the murder of his ex-wife and his daughter's kidnapping, detective Bob Hightower looks to infiltrate a Satanic cult to save his daughter. The detective links up with a cult escapee, portrayed by a tattooed Maika Monroe, who attempts to aid him in his efforts. The action-packed trailer, which you can watch below, teases a savage ride.
With a slight spoiler alert, the trailer reveals that Detective Hightower does eventually find his daughter alive, who asks her father to "kill them, kill all of them." Complete chaos ensues with weapons, explosions, and a screaming, maniacal cult leader.
According to God Is a Bullet's official synopsis, "The film follows detective Bob Hightower (Nikolaj Coster-Waldau), who finds his ex-wife murdered and his daughter kidnapped by an insidious cult. Bob takes matters into his own hands and infiltrates the secretive cult to try to save his daughter. With the help of the cult's only female victim escapee, Case Hardin (Maika Monroe), Bob and Case go down the rabbit hole with The Ferryman (Jamie Foxx) to save his daughter and find closure for Case from the cult – and its maniacal leader (Glusman) – that took so much away from her."
Related: Best Horror Cult Movies, Ranked
God Is a Bullet Has an Ensemble Cast
God Is a Bullet brings with it a strong cast. Coster-Waldau, Monroe and Foxx are joined by Karl Glusman as Cyrus, the violent cult's leader; January Jones as Maureen Bacon; Ethan Suplee as Gutter; Jonathan Tucker as Errol Grey; Paul Johansson as John Lee; Brendan Sexton III as Granny Boy; David Thornton as Arthur Naci; and Robert Craighead as Trucker.
Cassavetes, known for his work on films like John Q, The Notebook and, most recently, The Other Woman, adapted the book and directed the film. God Is a Bullet is produced by Patriot Pictures and distributed by Wayward Entertainment. Its list of producers includes Michael Mendelsohn, Foxx, Donald V. Allen, Kim H. Winther, Jim Steele, Natalie Perrotta, Paul Johansson, Sidney Kimmel, Chuck Pacheco, Jim Steele, and Santiago García Galván.
Bringing God Is a Bullet to the big screen has been a long time coming for Cassavetes, who previously said he had worked to bring the book to life for over a decade. He said: "It's tough, violent, has two flawed and fantastic characters, and absolutely pulls no punches. I love it! There's nothing else out there like it, not even close!" Previously, another filmmaker was in talks for a big screen adaptation. Ehren Kruger, whose credits include Scream 3 and The Ring, acquired the rights to the book in 2008, but a film never came to fruition.
God is a Bullet hits theatres on June 23, with a digital release following on July 11.
#God #Bullet #Trailer #Shows #Nikolaj #CosterWaldau #Maika #Monroe #Uniting #Violent #Cult

( With inputs from movieweb )