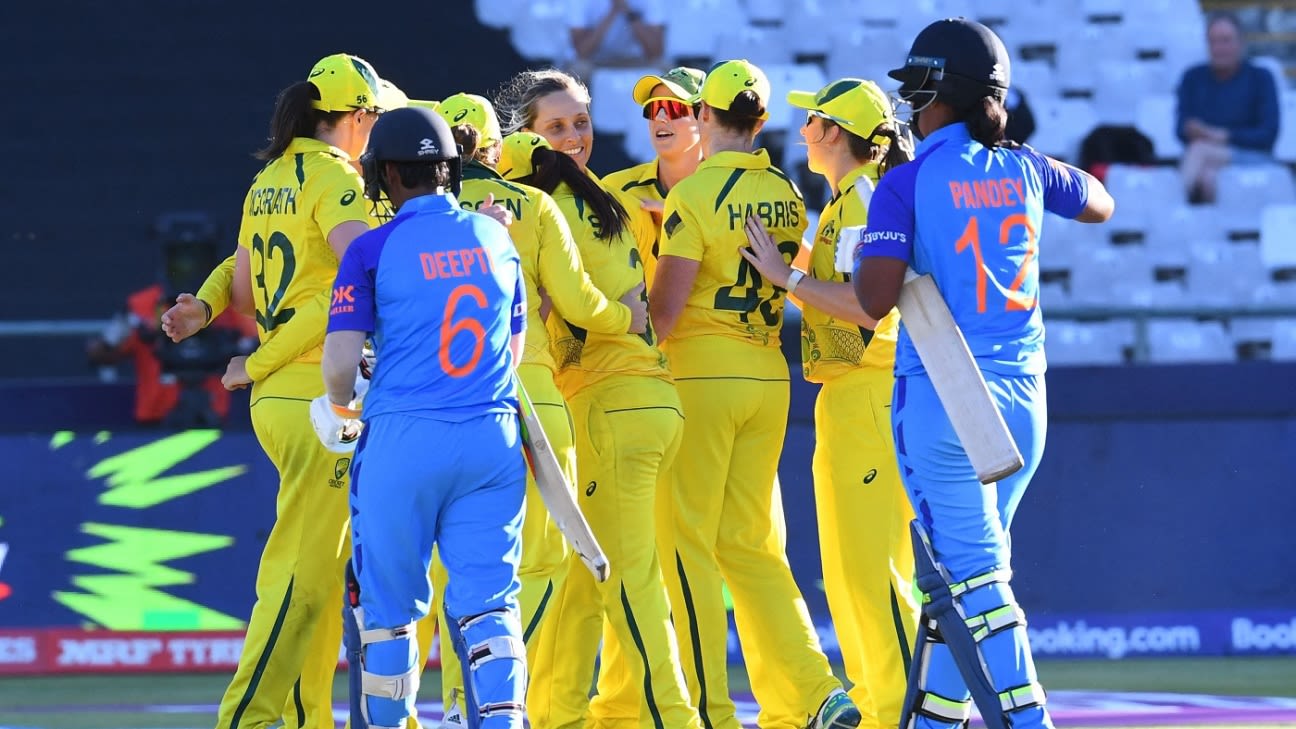 India needed 18 runs off nine balls when
Ellyse Perry
sprinted to her right from deep-backward square leg, threw herself into the air and flicked the ball back before tumbling over the boundary rope to save two runs. That moment epitomised what makes Australia tick. Every piece of effort is given at 100% and forms part of the whole juggernaut, which even when pushed by India in the
T20 World Cup semi-final
prevails by five runs.
At the time, left-arm spinner
Jess Jonassen
– who hadn't played since their opening match as Australia opted for legspinner Alana King for the next three games – was in the middle of executing the perfect 19th over, conceding just four runs when India needed 20 from 12 balls, and pegging Sneh Rana's leg stump back with the last ball.
With India left to get 16 off the last over, the eventual Player of the Match
Ashleigh Gardner
gave away only ten and claimed her second wicket as Perry again held her nerve and settled under a skier, by Radha Yadav, at long-on to allow Australia to snatch a berth in their seventh successive T20 World Cup final.
After the win, Gardner said the victory ranked "pretty high" on Australia's unmatched list of triumphs.
"I think at the ten-over mark in India's batting innings, everyone had probably written us off, but I think that just shows our character within our side and that's why the best teams win in those types of positions," she said.
"What we speak about is when our backs are up against the wall, we always try and find a way, and today we probably had no right to win at one point there. They were cruising and then we found a way to get some wickets and ultimately came out on top."
It was similar to last year's
Commonwealth Games gold-medal match
, which Australia had won by nine runs. That, combined with Thursday's performance at Newlands, suggests the gap might be closing somewhat compared to the 85-run thumping they had dished out to India in the final of the T20 World Cup back
in 2020
.
India, on the other hand, squandered their chances with crucial drops of Beth Mooney and Meg Lanning, Australia's two biggest run-scorers on this occasion, as well as leaking runs through numerous misfields and overthrows.
"We showed our class today in the field and we always speak about as a group being the best fielding team in the world, and I think today really showed that," Gardner said. "Ellyse Perry was elite on the boundary. Whether it's dropped catches, [or] missed opportunities in the field, those ultimately add up to quite a lot of runs and I think we took those moments when we really needed to.
"I certainly think Pez is probably the blueprint for our side going forward – certainly on the boundary. At the end of the day, that could have been the difference between us and them."
Gardner, who had also contributed an excellent 31 off 18 balls with the bat, revealed it was no accident that Australia are so strong in the field.
"We have KPIs and there are markers that show us whether we're positive or negative in the field," she said. "So there's a pretty clear indication of how we've fielded. We just know how to push each other. In our training sessions, there are always really high-pressure situations, and as athletes, we all push each other – whether it's on the field or off the field, whether it's in the gym, running.
"That's something we really pride ourselves on is being fit, being strong, and ultimately that's one of the things that has an impact in the field."
India captain
Harmanpreet Kaur
, who overcame illness to put her side in a winning position before being run out when her bat got stuck in the pitch, acknowledged that the difference in fielding was the key.
"The Australian side, they always field very well; and from our side, we made some mistakes," Harmanpreet said. "But again, we have to just learn [from] whatever mistakes we have made. But obviously, the Australian side is better than us. They always field well, and today also, after I got out, their body language completely changed. The way they stopped two-three boundaries, that also made a huge difference."
"Having such a quality domestic set-up, the WBBL, [and] some of the best international players coming over every year plays a significant part"

Jess Jonassen on what helps Australia compete under pressure
Jemimah Rodrigues
, India's second-highest run-scorer on the day, agreed: "When you lose, you always find a lot of reasons. You can blame anything… but yeah, that is one aspect. As an Indian team, we know that we need to improve our fielding and our running between wickets. Today the running between was really good but I think there's so much to learn from."
Gardner, Jonassen and Mooney all said that competing under pressure in franchise tournaments such as their own WBBL and England's much-newer Hundred had contributed to Australia's strength, which is encouraging for India ahead of their inaugural WPL season, which starts next month.
"It probably comes back to the exposure of those sorts of situations," Jonassen said. "Having such a quality domestic set-up, having the WBBL, having some of the best international players coming over every year – that plays a significant part. Then we're almost primed for those same situations on the international stage.
"We've had a few young players making debuts in different formats this season as well that have come from those competitions, and we're always looking to try and improve, and try and push each other to that next level and try and get the most out of each and every person because ultimately we know if we can gain an extra one or two percent individually, then the team's collectively going to be better off."
And such is Australia's depth that Jonassen jokingly revealed her disbelief when head coach
Shelley Nitschke
told her after training on match eve that she was back in the side.
"I had to get her to repeat it because I had walked about ten laps after training yesterday, sort of getting my head around how I would mentally deal with if I missed out again," Jonassen said. "I've got my partner and my mum who have flown over, so I was pretty disappointed up until today that I wasn't able to play a game in front of them. Hopefully one more and it's another successful one."
One more will mean a contest for the trophy against either hosts South Africa or England. Besides India at this World Cup, only England have looked capable of threatening Australia. Whoever it is will need to do more than just threaten, as India found out.
Valkerie Baynes is a general editor, women's cricket, at ESPNcricinfo
(With Inputs from ESPN)

#Gardner #win #point