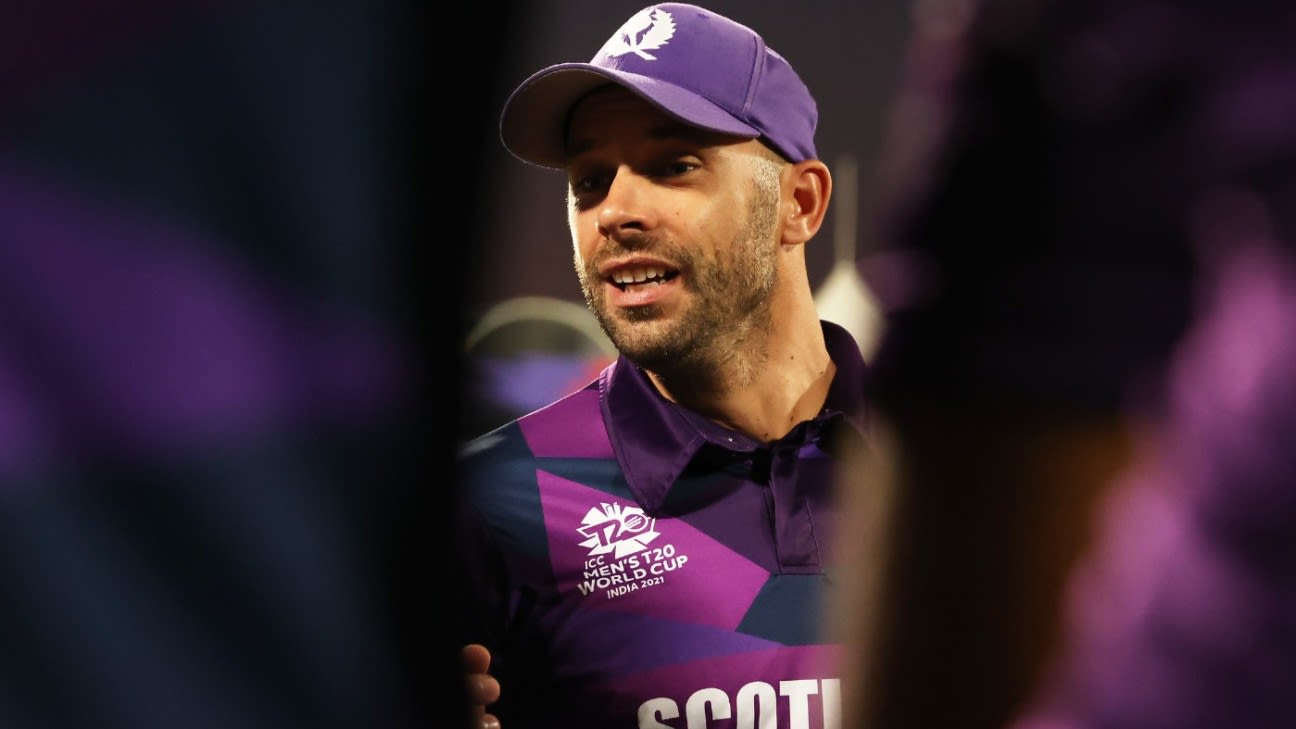 Kyle Coetzer
, the former Scotland captain who led his side to famous victories over No. 1-ranked England in 2018 and into the Super 12 stage of the 2021 T20 World Cup, has announced his retirement from international cricket at the age of 38.
Coetzer, who was born and raised in Aberdeen, had stepped down from the captaincy in May 2022 at the end of Scotland's ODI tour of the USA and also retired from T20Is, but he has now called time in all formats to take up a role as assistant coach with Northern Diamonds in the Women's Hundred.
"I don't ever think there's a perfect time for a decision like this, but I've been considering my options for some time, and an opportunity came up which was too good to turn down," Coetzer said in a retirement announcement through Cricket Scotland. "The balance that the Scotland team need at this time was outweighed by the opportunity for me to move into coaching, and I'm extremely excited about the chance to work with such a high-profile team."
Having come up through Scotland's Under-15 and Under-19 pathway, Coetzer made his initial appearance for Scotland as a 19-year-old in an unofficial UK tour warm-up match for Pakistan at Glasgow in 2003. A year later, he made a full-fledged international debut against Kenya in the Intercontinental Cup, the ICC's first-class competition for Associates, in which
he made an unbeaten 133
in the second innings to help claim enough points in a draw that put Scotland into the final, where they beat Canada a week later to claim the title.
Though the Intercontinental Cup is no more, his performance in that match was a harbinger of things to come in a far more illustrious ODI and T20I career. Coetzer leaves the game as Scotland's all-time leading scorer in ODIs with 3192 runs in 89 matches at an average of 38.92 as well as ending up second overall in T20I runs for Scotland with 1495 runs in 70 matches.
Coetzer's individual ODI zenith came during the 2015 World Cup in Australia when
he made 156 against Bangladesh
, one of five ODI centuries during his career. However, it was another century he made in 2017
in a win against Zimbabwe
during his second stint as captain that left a far bigger imprint on his Scottish cricketing legacy and paved the way for the team to reach even greater heights.
It was their first-ever win over a Full Member and came a year after Scotland had finally broken their World Cup curse by defeating
Hong Kong at the 2016 T20 World Cup
to register their first win at a major ICC global event.
With Coetzer as captain during the coaching tenure of Grant Bradburn, the belief was instilled that those would not be Scotland's last major achievements either. That same summer of 2017, he produced a century in an unofficial one-day win over Sri Lanka ahead of the Champions Trophy. A year later, his 58 off 49 balls as part of a century partnership with Matthew Cross laid the platform for
Scotland to defeat England by six runs
in an epic match at the Grange in Edinburgh.
"I've been so lucky throughout my Scotland career that it's tricky to pick out a highlight," Coetzer said. "Getting our first win in the ICC T20 World Cup against Hong Kong in 2016 was special… but then so was the whole of 2018. The victory against England at The Grange was just amazing. That whole year – Sri Lanka, Zimbabwe, England – just felt like a change of momentum and belief amongst the players about competing against the best teams in the world."
Another feather in Coetzer's cap came in 2021 when he captained Scotland to
three wins from three
in the opening round of the T20 World Cup in the UAE. That included a win over group favourites Bangladesh and helped propel them into the Super 12 stage for the first time.
"Reaching the ICC T20 Super 12s in 2021, having never achieved it before, and being the captain of that squad, will always stay with me," Coetzer added.
His last ODI century came in his penultimate match as captain against the UAE on Scotland's tour of Texas in 2022. His form waned in the final year and a half of his career after relinquishing the captaincy, crossing 50 just once in his last 16 ODI innings while making 315 runs at an average of 22.50, well below his career mark.
Yet his contributions were still significant enough over the last three years to help Scotland finish as the champions of the ICC Cricket World Cup League Two ODI tournament for top-ranked Associates, and in the process helped Scotland clinch a spot in the 2023 ICC World Cup Qualifier later this year in Zimbabwe.
Aside from his lengthy career with Scotland which spanned two decades, Coetzer was also a regular on the county circuit, having started at Durham Academy in the early 2000s before making his senior debut in the County Championship against Glamorgan in 2004. His last match for Durham came in 2011 before a move to Northamptonshire, where he stayed through to the end of the 2015 season, before a brief cameo for three matches in the 2018 T20 Blast.
Between the Intercontinental Cup and his county career, Coetzer made 4404 runs across 94 first-class matches at 30.37 with eight centuries and a best of 219. His decision to take up a role in women's cricket coaching with Northern Diamonds in England follows up his role as a consultant coach with the Scotland Women's team in September 2022 during their ICC Women's T20 World Cup Qualifier tour of the UAE.
His retirement continues the changing of the guard within the Scotland set-up. Fellow batting stalwart
Calum MacLeod
– player of the match in that England victory – announced his retirement in November following the conclusion of the 2022 T20 World Cup in Australia.
Peter Della Penna is ESPNcricinfo's USA correspondent @PeterDellaPenna
(With Inputs from ESPN)

#Scotland #captain #Kyle #Coetzer #announces #retirement