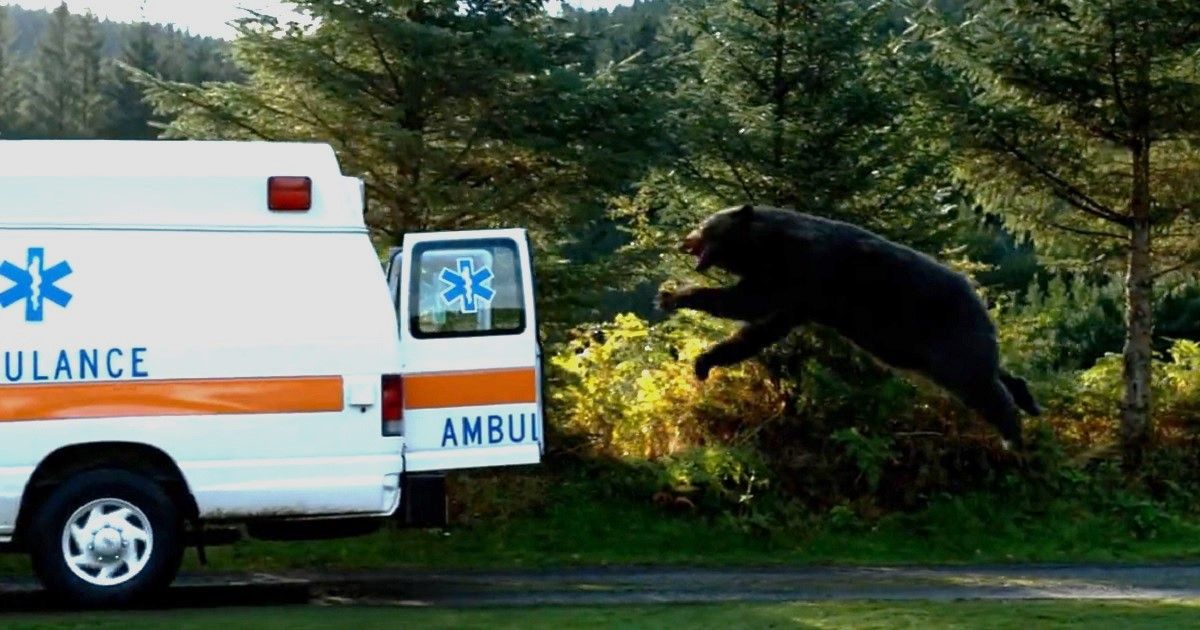 Cocaine Bear will smash his way into theaters later this month.
The dreaded Cocaine Bear has been unleashed in the latest look at the upcoming black-comedy thriller. This latest look at the superbly titled B-movie monster mash has been unveiled in a pair of new clips, with the newly released footage offering another look at the bear whose life is changed when he stumbles across a big bag of booger sugar. Check out the new clips from Cocaine Bear below courtesy of IGN and OneTakeNews.
Directed by Elizabeth Banks, Cocaine Bear is inspired by the 1985 true story of a drug runner's plane crash, missing cocaine, and the black bear that ate it. After ingesting a duffel bag full of cocaine, an American black bear goes on a killing rampage in a small Georgia town where a group of locals and tourists must join forces to survive the attack. This wild thriller finds an oddball group of cops, criminals, tourists and teens running for their lives through the Georgia forest, as the 500-pound apex predator embarks on a coke-fueled rampage for more blow…and blood.
Cocaine Bear has been written by Jimmy Warden, and features an ensemble cast that includes Keri Russell (The Americans, Antlers), O'Shea Jackson Jr. (Straight Outta Compton, Obi-Wan Kenobi), Alden Ehrenreich (Solo: A Star Wars Story), Jesse Tyler Ferguson (Modern Family), Margo Martindale (BoJack Horseman), Kristofer Hivju (Game of Thrones), Brooklyn Prince (Home Before Dark), Christian Convery (Sweet Tooth), Kahyun Kim (American Gods), newcomer Scott Seiss, and the late, great Ray Liotta (Goodfellas, The Many Saints of Newark).
RELATED: Cocaine Bear: Plot, Cast, Release Date, and Everything Else We Know
Cocaine Bear Looks Like the Perfect B-Movie Treat
Playing fast-and-loose with the true story (which ended rather tragically with the bear dying shortly after ingesting the cocaine and then being stuffed and named "Pablo Eskobear") Cocaine Bear promises to be the perfect B-movie treat. "Cocaine Bear is super-entertaining. If you want to let go of everything in your life for 95 minutes, this is a great way to do that," director Elizabeth Banks said of the project, which will not shy away from its horror B-movie trappings. "It's an incredible adventure. There are some really beautiful messages in it. It's been fun to see people relate to the movie. It's terrifying [when a film is finished and out of your hands]. That's my horror movie right there. There's only so much that I can control."
Banks has even approached the story from the perspective of the titular grizzly, who she says just wants his revenge. "I felt a lot of sympathy for the bear. Like, wow, this bear — which, in real life, ended up dead after eating all this coke — ended up being sort of collateral damage in this War on Drugs," the director explained. "And I just thought, Well, then this movie can be a revenge story for the bear. And it just gave me a point of view and a purpose for making it. Like, there's a real message here: We should not f— with nature, nature will win."
Cocaine Bear is scheduled to be released on February 24, 2023, by Universal Pictures.


#Cocaine #Bear #Clips #Unleash #BloodThirsty #Grizzly

( With inputs from movieweb )