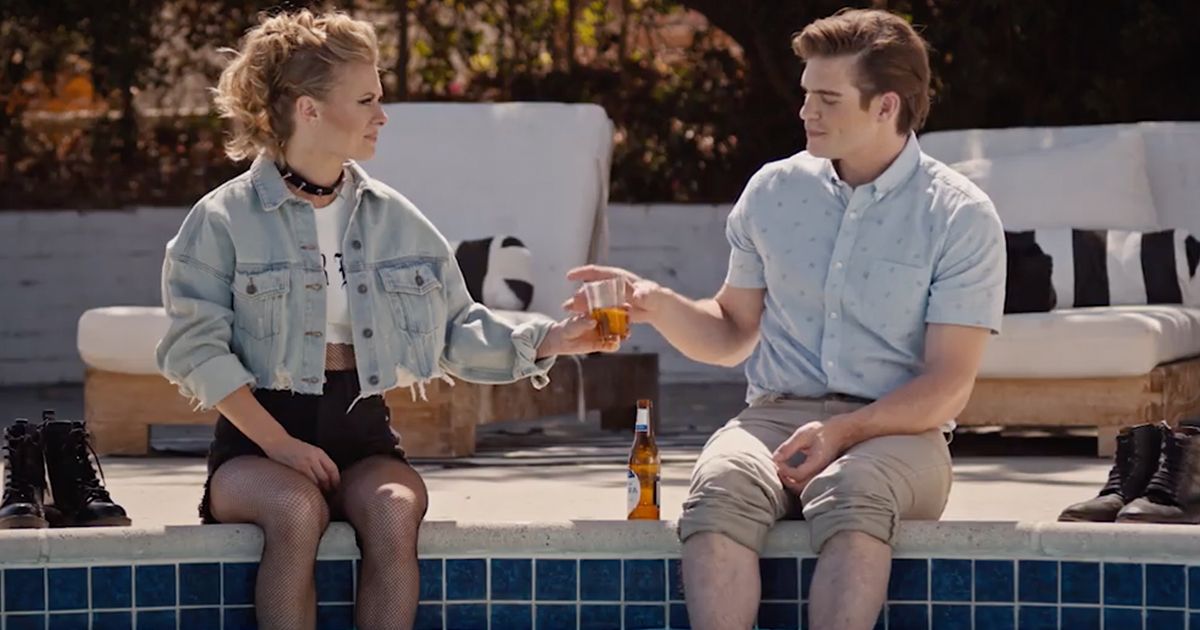 The romantic comedy My Favorite Girlfriend follows Conrad as he meets the girl(s) that's just right. Molly has multiple personalities including Vanessa, Sarah, Silk, and so on. "She legit doesn't remember conversations from when she's someone else," says Conrad in the trailer. "She's like a rollercoaster. There's so much about her I don't know."
In the trailer, we see Conrad working as a chef. The love interests then meet, and we cut to Conrad explaining their situation to his friend at a bar. Love ensues and her friends warn Conrad that things "better not be a game." The trailer continues and Conrad and Molly wake up next to one another in bed, and viewers can see a new personality come to light. Molly isn't entirely clear on who he is, almost as though she had awoken from a one-night stand next to a stranger. "Who are you?" she asks. "Not again." We eventually see that things certainly are not a game to Conrad as he continues explaining to his friend, "I just want to understand her."
She's been hurt before, but Conrad will do anything it takes to win her, and her, and her over. The trailer ends with Conrad's boss telling him, "I don't care how many women you date, they just can't make you late." To which he comically replies, "There are five of them, actually." You can watch the trailer in full below.
'Don't break her heart.' 'She's literally my favorite girlfriend ever'
My Fake Girlfriend Exclusive Trailer
The official synopsis reads, "My Favorite Girlfriend is a sparkling, romantic comedy with a unique twist, starring Tyler Johnson ("Sons of Thunder") and Bonnie Piesse ("Obi-Wan Kenobi") from writer/director Amanda Raymond (You Are My Home). It's complicated for new couple Conrad and Molly. He's a handsome, aspiring chef who leads a perfectly structured life. She's a cute, bubbly social media influencer prone to spontaneity. The attraction is immediate for the mismatched duo and everything is going great until Southern charmer "Vanessa" shows up. Followed by bad-ass rocker "Silk", and more. The woman of Conrad's dreams is actually several of them. Molly has multiple personalities which can switch in a heartbeat. Is he cheating on Molly if he has sex with "Silk?" And can he choose a favorite when he loves them all?"
Related: Exclusive: Bonnie Piesse on Returning to Star Wars in Obi-Wan Kenobi
Piesse plays Molly in My Favorite Girlfriend, opposite Johnson who plays Conrad. Rounding out the cast are Ray Abruzzo, Michael Dibacco, Misty Rosas, Alex Mapa, Michael Nouri, and Keston John. It's written and directed by Amanda Raymond and available in select theaters on August 5, 2022, and on-demand and digital on August 9.
Fans of Piesse can recognize her from previous work in Star Wars: Episode II – Revenge of the Sith and Obi-Wan Kenobi as Beru Lars. Johnson can also be recognized for his roles in Sons of Thunder, The Young and the Restless, and more. Prior to My Favorite Girlfriend, Raymond served as the director for the Netflix movie You Are My Home and has also acted in several projects. The rest of the cast are also no strangers to the screens, as Dibacco can be seen in Law & Order, Abruzzo in The Sopranos, John in The Good Place, Rosas in The Mandalorian, and so on.
Related: Exclusive: The Lost Girls Director Livia De Paolis Talks Peter Pan Influence
Bonnie Piesse Feels Honored to Play Molly
In an interview with Numéro Netherlands, Piesse commented, "I feel so honored to have been a part of My Favorite Girlfriend. It's a love story that's so full of heart, humor, and goodness. My character suffers from dissociative identity disorder, and so I actually played 7 different characters. It was by far the hardest role I've ever done and stretched me to all kinds of places I had no idea I was capable of, but the cast and crew were amazing, and I'm so proud of it. I think it'll bring more awareness to DID and what it's really like for people who suffer from it and the people in their lives. It really humanizes the whole struggle."
My Favorite Girlfriend comes to us from 13 Curves Productions, Mega Life Productions, and Latigo Films, and is distributed by Saban Films.
#Exclusive #Tyler #Johnson #Falls #Love #Multiple #Personalities #Favorite #Girlfriend #Trailer

( With inputs from movieweb )