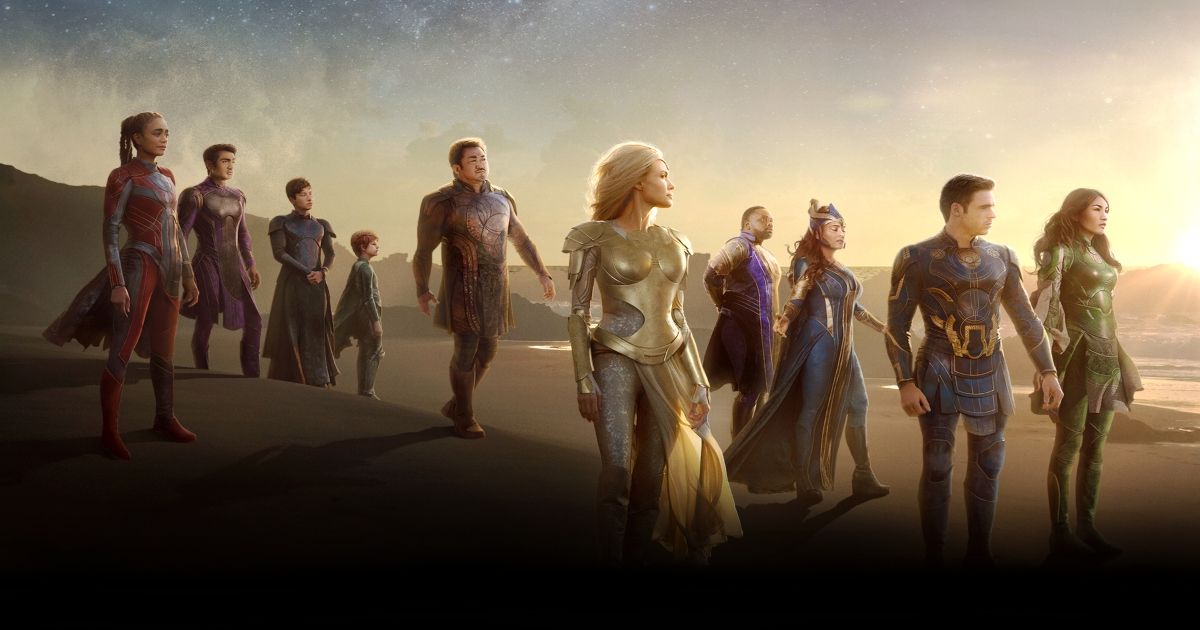 Nielsen's streaming data for 2022 has been unveiled, and it has revealed a surprising title as the most-streamed superhero movie of the year. Only one Marvel Studios film made the list of the top 15 streaming movies according to Nielsen, as Eternals is listed at No. 13 with 4.2 billion minutes viewed. Encanto is at the top of the list with more than 27.4 billion minutes viewed, followed by other animated films like Turning Red, Sing 2, Moana, and Frozen. The Adam Project, Hocus Pocus 2, and Don't Look Up are also on the list, but there are no other superhero movies.
Meanwhile, a superhero show did land on the list of the most-streamed original programs, but it wasn't from Marvel Studios. Last year, the company released Moon Knight, Ms. Marvel, and She-Hulk: Attorney at Law. None of those cracked the top 15, though the bloody superhero satire series The Boys from Prime Video managed to land at No. 11. Netflix's superhero action series The Umbrella Academy also ranked at No. 13.
Eternals standing out as the most-streamed superhero film is a bit surprising given the lukewarm reception that the movie had when it was released the prior year. The film underperformed at the box office and is among the lowest-rated Marvel movies on Rotten Tomatoes. But it would seem that the film has gotten much more attention with its presence on streaming, for what it's worth.
Related: Barry Keoghan Shares His Theory on Why Eternals Had Mixed Reviews
Is the Eternals Sequel Happening?
Chloe Zhao directed Eternals and co-wrote the script with Patrick Burleigh, Ryan Firpo, and Kaz Firpo. The film, which follows a group of immortal beings coming out of hiding after thousands of years in order to protect Earth from a major threat, features an ensemble cast of superheroes. That includes Gemma Chan, Richard Madden, Kumail Nanjiani, Lia McHugh, Brian Tyree Henry, Lauren Ridloff, Barry Keoghan, Don Lee, Kit Harington, Slma Hayek, and Angelina Jolie.
While a sequel hasn't been officially announced by Marvel Studios, there have been many rumors to suggest that Eternals 2 is happening. At one point, Patton Oswalt, who voiced Pip in a post-credit sequence, said that a sequel was in the works. For his part, however, Nanjiani cast doubt on the sequel back in November, stating his belief that Oswalt must have been mistaken, though he was hoping that Eternals 2 really would end up happening.
"I honestly don't know anything. I would love for Kingo to come back. I love playing that character," Nanjiani said on the Bingeworthy podcast. "That one's very fun to play, you're just in a good mood. You do finger guns, you're like a movie star – what's not to love? You're just in a good mood the entire time."
You can join the crowd by streaming Eternals on Disney+.
#Eternals #MostStreamed #Superhero #Movie

( With inputs from movieweb )