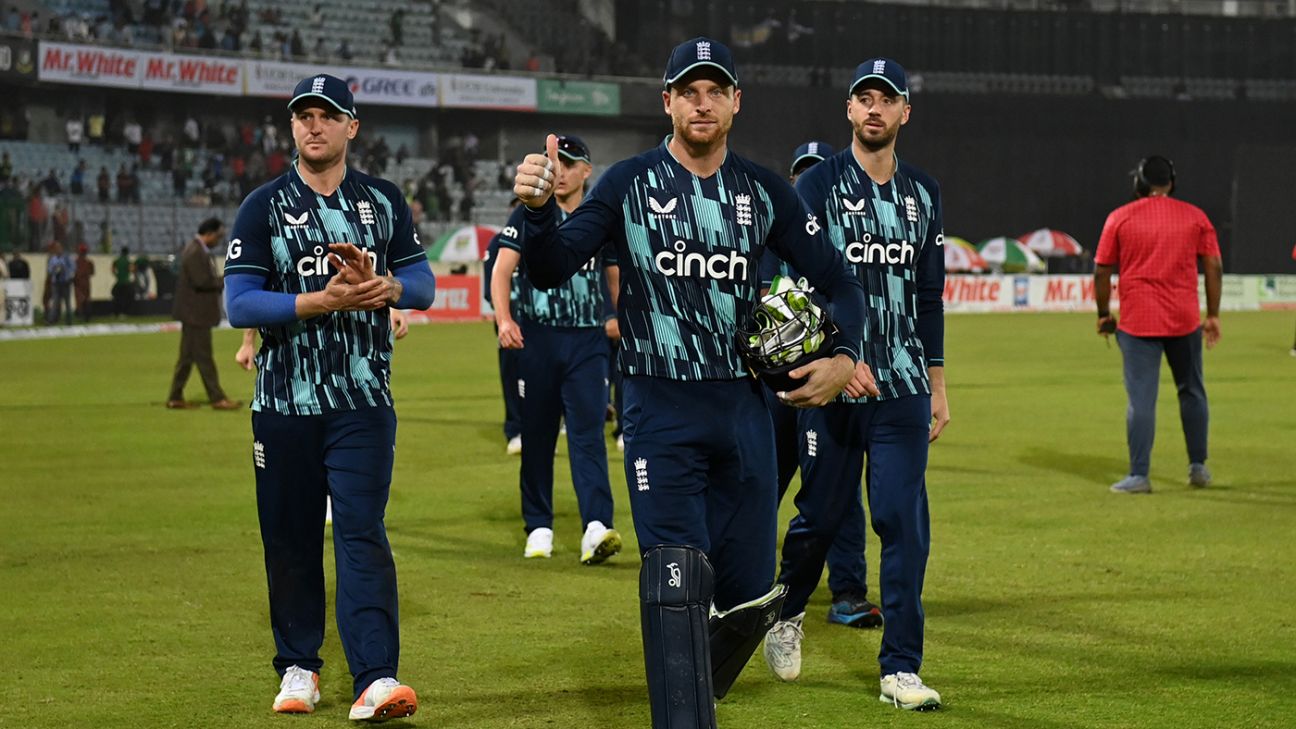 England Men will return to Trinidad for the first time since 2009 as part of their limited-overs tour of West Indies at the end of 2023.
The tour, which consists of three ODIs and five T20Is, will run from December 3 to 21, taking England through Antigua, Barbados, Grenada and Trinidad. Each island will host two matches, starting with the first two ODIs at the Sir Vivian Richards Stadium in Antigua.
The tour will conclude the week before Christmas with the fourth and fifth T20Is at Trinidad's Brian Lara Academy. It will be the first matches England have played at the stadium, having played all their previous 28 matches in the country at Queen's Park Oval. The last of which was a T20I in March 2009, which West Indies won by six wickets.
Given the timings of this tour, it is likely England will send a weakened squad, as they have done at times during the previous winter. The first match is 14 days after the final of the 50-over World Cup in India and
Jos Buttler
's side, as defending champions, expect to make it to the knockout stages.
Last year, a number of alternates were drafted in for the ODI series against Australia which came immediately after their T20 World Cup win. Though there is no Test cricket between then and the end of the year as there was in 2022 with a tour of Pakistan, some players will likely request time off ahead of a return to India for a five-match Test series scheduled to start in January 2024.
That in turn is likely to see a repeat of the situation that arose for the white-ball tour of Bangladesh in March. Beginning a day after the Test series in New Zealand finished, calls were put in to players down the pecking order. A number were rebuffed by those who wanted to honour more lucrative deals at the Pakistan Super League which was taking place at the same time.
The West Indies tour will clash with the Big Bash League, and also comes just before the second seasons of the SA20 and ILT20 which are due to begin in January. Given the usual demand for English and West Indian talent, preserving themselves for those competitions for better remuneration could lead to the series being a second-XI affair.
Following the Bangladesh tour, men's managing director Rob Key and ECB chief executive Richard Gould vowed to increase match fees to ensure that situation does not happen again. Much will depend on the scale of those increases. At present, those without central contracts can earn £5,000 and £2,500, respectively, for any ODI and T20I appearances, along with a tour fee.
In a statement released by Cricket West Indies upon the announcement of the tour, CWI's Chief Executive, Johnny Grave, said: "We are delighted to be able to confirm the England match schedule and to welcome once again their many travelling fans to the region for a pre-Christmas white-ball tour."
"This tour will be a major economic boost to the host countries, as well as providing our fans with the chance to see some of their favourite players in action against one of our biggest rivals. The tour will also help with our ongoing venue preparation and event planning for one of the biggest events ever to be staged in the region, the ICC Men's T20 World Cup, which takes place in June next year."
Vithushan Ehantharajah is an associate editor at ESPNcricinfo
(With Inputs from ESPN)

#England #returning #Trinidad #decade #West #Indies #tour