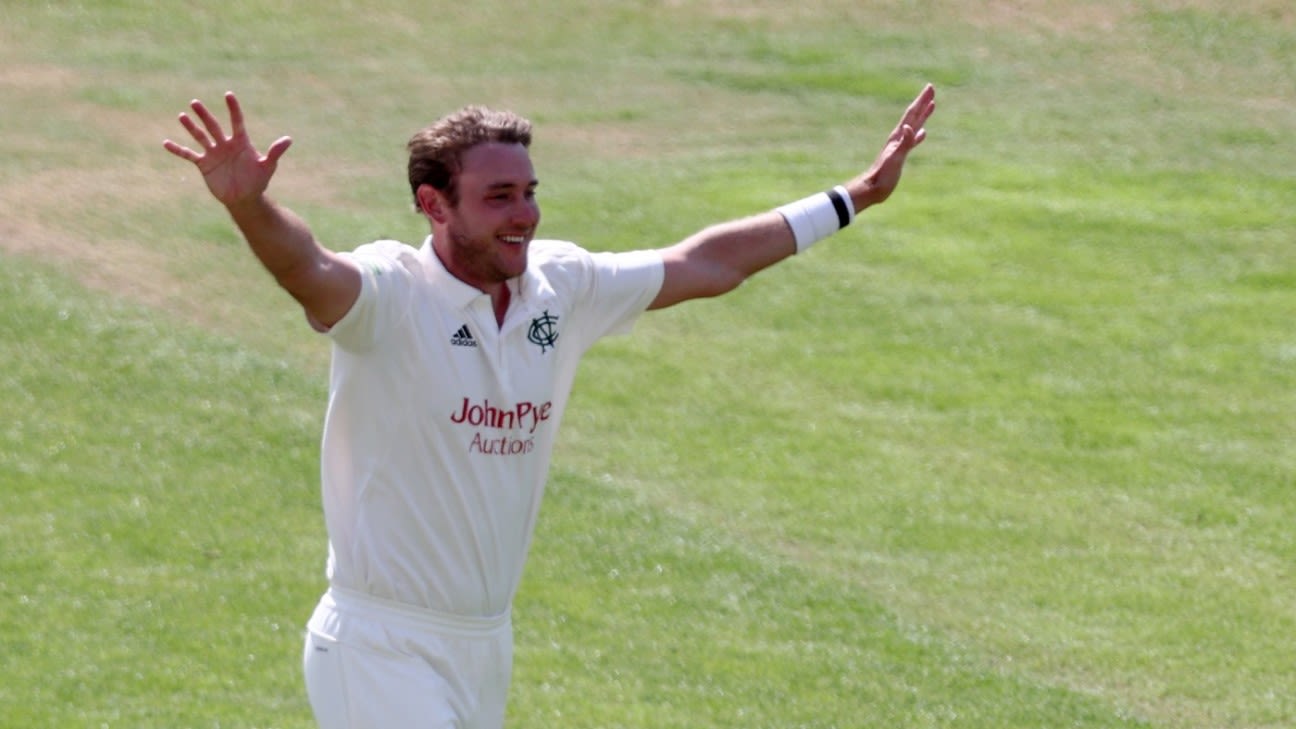 Worcestershire 159 (Paterson 8-52) and 225 for 5 (Barnard 101*, Cox 51*, Fletcher 2-44, Broad 2-49) lead Nottinghamshire 266 (Hameed 53, Duckett 50, Broad 45*) by 118 runs
It says a lot for the calibre of
Ed Barnard
's third Worcestershire hundred that for the first time this season
Stuart Broad
decided he must try to curb a growing rebellion and really slipped himself.
He was no longer feeling into the season, drawing on years of experience in his meticulous preparation for a potential England recall, he was pumping in with the old ball, a respected adversary in his sights, seeking to fashion a Nottinghamshire victory with as much energy as he could muster. Barnard made him forget the future and brought him into the present.
Broad in his veteran phase is not as quick as he was. His speeds varied between 76 and 81mph all day. The thought occurred that England could go into the New Zealand Test series with the most celebrated but also the slowest new-ball attack in Test cricket. But he was at the top of the range, with some nasty bounce to boot, as Barnard, for so long regarded as a bowling allrounder, earned the right to be regarded as equally proficient with bat and ball.
He was 98 when Nottinghamshire took the second new ball with four overs remaining – it can be safely assumed that bit had not quite gone according to plan. But he worked Luke Fletcher's first delivery to third man, comfortably took on
Haseeb Hameed
's throw, and secured a just reward.
It fell to Broad to bowl the final over of the day as Trent Bridge was bathed in evening sunshine. But Barnard and
Ben Cox
, whose first half-century of the season had contributed to an unbroken sixth-wicket stand of 125 in 47 overs, stood firm. They took a few blows and batted with considerable discipline. There are football fans around, apparently, who hope to see Notts wrap up victory before Nottingham Forest continue their promotion push against Swansea just across the road at three o'clock but it feels a little optimistic.
A match that looked likely at one stage to be claimed by Nottinghamshire within two days remains alive with Worcestershire holding a 118-run lead with five wickets remaining. The Lincoln Green stripes of the first day have long gone and an easing surface still makes Nottinghamshire strong favourites, but balls have occasionally gone through the top and Barnard's application has given his side hope.
Barnard's career progress is a two-finger salute to those who advocate the cutting of 18 professional counties for a supposed future of The Best v The Best, primarily based upon areas of high population.
His background – Shrewsbury School and England U19s – suggests that he would have made the grade in a slimmed-down system, but it is unlikely that he would have been the same rounded cricketer he now is. His batting talents have progressed more slowly than his bowling – he was not particularly prolific with the bat at junior level – but Worcestershire have nurtured those talents over many seasons and now, at 26, have given him the chance to make the grade at No. 6.
His maiden hundred only came last season, in a bore draw against Essex at Chelmsford, although he was less boring than some. A second century followed against Warwickshire at New Road in another run-fest. This time the demands were more onerous. When he came to the crease, Worcestershire were still 75 in arrears, having lost four for 32 in 12 overs.
Fletcher had uprooted Ed Pollock's middle stump second ball with a wonderful delivery that left the left-hander from around the wicket before Jake Libby drove with uncharacteristic looseness to be caught at backward point driving loosely. Broad produced bounce and movement to remove Azhar Ali in the same region. Dane Paterson added Brett D'Oliveira, who lobbed into the leg-side.
The batter who really catches the eye in this Worcestershire side is Jack Haynes, son of the former Worcestershire allrounder, Gavin. With respect, he looks as if he has the potential to outdo his father by a considerable margin, but looks can deceive and he is still awaiting his first half-century of the season. Broad, back for a third spell in mid-afternoon, old-manned him by setting him up for a hook, on 49, which he obligingly yanked straight to Ben Duckett at deep square.
There were runs, too, for Broad, at the start of the day, a hit-about-him innings that included two sixes against Charlie Morris as Worcestershire, who must have been watching too many Test match highlights, overdid the short stuff on a pitch still offering bowlers assistance by traditional means. Broad's unbeaten 45 from 27 deliveries represented his best score in county cricket for five years, but the only stats that England will be studying will be 18-3-49-2… with the chance of a five-for in the morning.
David Hopps writes on county cricket for ESPNcricinfo @davidkhopps
(With Inputs from ESPN)

#Barnard #Ben #Cox #defy #scenestealing #Stuart #Broad