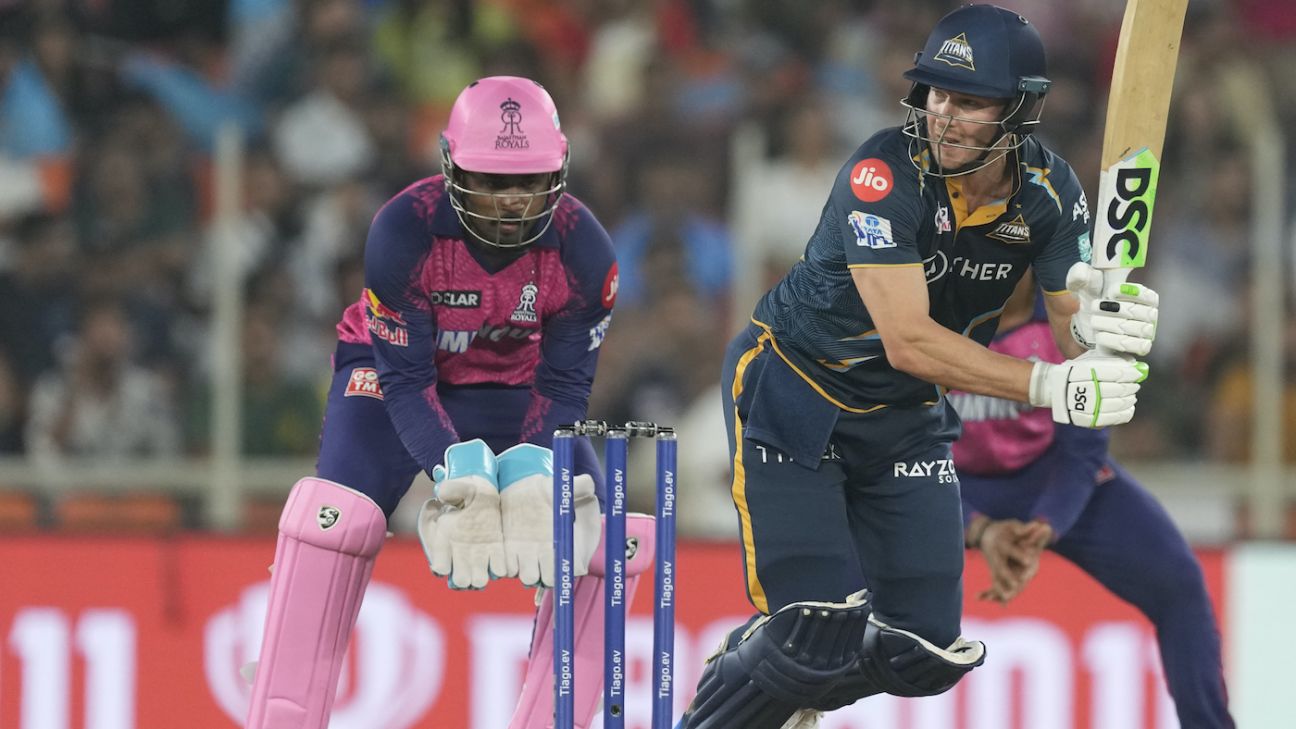 Royal Multisport Private Limited – Rajasthan Royals' parent company – have been
David Miller
's employers for around one-third of the last seven months but on Friday night, he will find himself walking out to bat
against
them.
Miller represented Barbados in the Caribbean Premier League last September, and captained Paarl in the SA20 in January, but for the months of April and May, he is playing for the team that beat Rajasthan in last season's IPL final. It is a right Royal tangle, and one that highlights the oddity of players representing different IPL-owned franchises in different leagues.
"I've got some understanding of what they are all about," Miller said before training in Jaipur on Thursday evening. "I'm looking forward to it. I know a lot of the guys, and this is the joy about franchise cricket around the world: you get to build relationships with players and management along the way, and build some really good friendships."
Similar situations have arisen throughout this IPL season. Two weeks ago, at the Wankhede Stadium, Sam Curran won the Player of the Match award for captaining Punjab Kings to
victory
over Mumbai Indians – the franchise who recruited him for their SA20 team, MI Cape Town, and bid aggressively for him in December's mini auction.
Perhaps, in that context, it is no wonder that franchises are looking to tie players to
year-round contracts
. There are clear challenges as to how to fit them into the draft and auction systems around the world that are designed to ensure a level of competitive balance, but the oddities thrown up by the status quo suggest change is likely.
In a parallel universe, Miller might well have found himself walking out in Royals' pink kit tomorrow rather than Gujarat Titans' dark blue. He spent two IPL seasons with them in 2020 and 2021 and if his record for them was anything like what it has been since he joined Titans, he would surely have been retained ahead of the 2022 mega-auction.
But Miller struggled for opportunities with Royals, batting only nine times for them in two years, averaging 20.66 and striking at 109.73. "It has been quite frustrating, not really being able to play over the past couple of years,"
he told this website
ahead of IPL 2022.
It has been a bumpy ride for Miller in the IPL. From 2013-2015, he was one of the league's best middle-order batters, consistently scoring 350-plus runs a season for Kings XI Punjab. But after a lean 2016 season – in which his top score in 13 innings was 31 – he found himself struggling for consistent opportunities, first with Kings XI and then Royals.
"I wouldn't say professional sport is easy," Miller said. "It can be very challenging and tough at times, especially in a tournament like this where there's so many overseas [players] in one squad and if you don't really do well in one season, you're kind of just forgotten about.
"Outside of the IPL, I've done really well internationally, domestically – it's just the IPL, where that one bad season that I had… I kind of just got written off. I knew what I was capable of. It was just a matter of getting a really good run and opportunity, so I trained really hard and tried to become a better player."
At Titans, Miller has played every single game that he has been available for, missing only the 2023 season opener when he was on international duty. "I was really chuffed that last season went the way it did," Miller said, "and I had the opportunity to play throughout the whole season."
Key to that has been a marked improvement against spin. From 2016-21, Miller scored at just under a run a ball (98.68) against spin in the IPL, and averaged 22.60 against it; since joining Titans, his strike rate against spin has shot up to 145.32. With only three dismissals to spinners in his last 24 IPL games, he has a remarkable average of 98.33 against spin.
The secret? "Just the mindset," Miller explained. "I've never really felt that I've been poor against spin, but it's definitely an area that I've needed to work on and as the years have gone on I've definitely focused a lot more on it. The biggest thing for me is just the mindset rather than technical faults and stuff like that… [but] I'm probably looking to play more on the back foot than [the] front foot.
"It's [been about] finding a way of getting off strike and accessing different areas. Playing spin… I'm feeling a lot better, and not feeling that they can bog me down. I've got my boundary options, I've got my one [single] options and then it's just about going out there and trusting that preparation that you've had with the mindset."
If he can extend that success against R Ashwin and Yuzvendra Chahal on Friday night, Miller will leave Royals wondering what might have been.
Matt Roller is an assistant editor at ESPNcricinfo. @mroller98
(With Inputs from ESPN)

#David #Miller #Royal #T20 #tangle