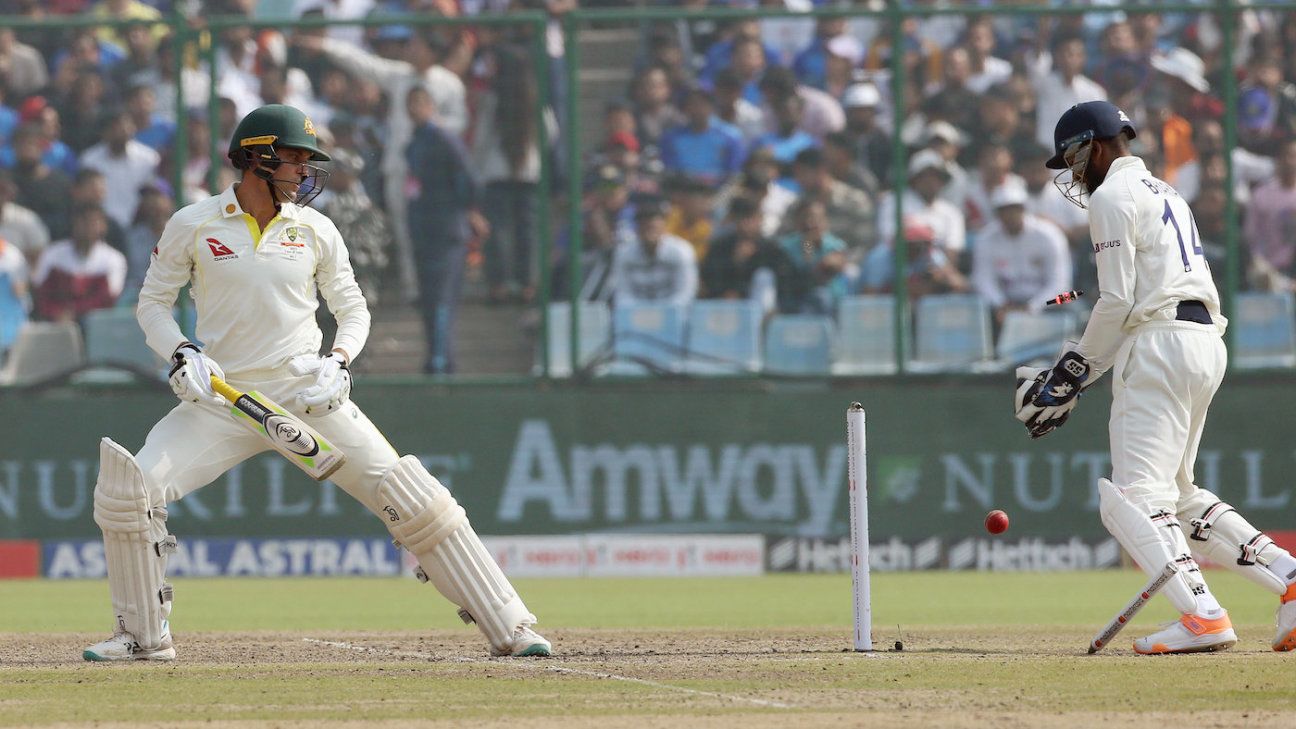 Australia were 65 for 1 in the first over of the third day with a lead of 66 before losing 9 for 48 in 110 balls to be bowled out for just 113 well before lunch on the third day.
India cruised to victory with just four wickets down to take a 2-0 series lead in the series. The stunning collapse comes just a week after they were bowled out for 91 in the third innings
in Nagpur
to lose that match by an innings and 132 runs.
Cummins had asked his batters to be brave and proactive in the immediate aftermath of the Nagpur defeat but admitted his team may have gone too far the other way in Delhi, with six of the dismissals coming via attempted sweeps or reverse-sweeps in a frantic 90-minute period against Ravindra Jadeja and R Ashwin who claimed all 10 wickets between them for the innings.
"Nagpur maybe [we] underplayed it, we probably overplayed it here at times in the second innings," Cummins said. "You've got to find a way to try and put pressure back on the bowlers. They're really, really good bowlers, especially in these conditions. Probably just at times maybe just overplayed it.
"I thought they bowled really well. It's not easy out there. But perhaps some guys went away from their methods.
"Each batter has their own way to go about it. I don't think there's any one size fits all rule. Unfortunately, quite a few of us got out with kind of cross-batted shots which might not be our preferred method."
Cheteshwar Pujara
, who guided India home in his 100th Test match, noted on
Star Sports
that he had put the sweep shot away on the Delhi surface having fallen trying to sweep in Nagpur.
"If you look at this pitch, it's not an ideal shot to play because there's no bounce," Pujara said.
"I think it's the initial phase when you are just walking into bat, you find it a little difficult, you need to get used to the pace of the pitch, some balls spun, some balls are going straight on. So you just need to figure out the way to tackle that. But once you play about 30-40 balls, then it's a good pitch to bat on. And then once the ball gets older, I think we have seen that throughout the game when the ball is hard it's slightly difficult. Once the ball gets softer, it gets easier to bat on."
Cummins admitted his team had let a golden opportunity slip to get back into the series having had India 139 for 7 on day two, leading by 124 in the first innings thanks to
Nathan Lyon
's superb five-wicket haul, only to lose before tea the following day in an extraordinary turn of events.
"I'd say just more disappointment, knowing that over here these opportunities don't come up all the time," Cummins said. "Especially being relatively in front of the game, feeling like that game was there for the taking."
Will Cameron Green, Mitchell Starc and Josh Hazlewood be fit for Indore?
Australia chose to train in the immediate aftermath of the Nagpur loss last week holding an optional centre-wicket practice on what would have been day five at the VCA Stadium. They are unlikely to follow suit in Delhi. But they have nine days to fill between the loss and the start of the third Test in Indore.
Cummins revealed there will be a lot of soul-searching for Australia's batters in particular. But there may also be some changes made to the squad.
"We've got a bit of time. We'll have a good think. Have a look at different things," Cummins said. "I think over the next day or two we'll look at any changes in the squad as well. Mitchell Swepson has gone home, he's a chance of coming back. Hopefully Cam Green is available, [Josh] Hazlewood, [Mitchell] Starc, we'll manage that.
"We'll assess it over the next couple of days. [We've] probably got enough time to have a bit of a break, a bit of a refresh, and still plenty of time to roll up the sleeves before the next one."
Green, Starc and Hazlewood are all expected to be fully fit for Indore while Swepson should be available to return to India after flying home for the birth of his first child.
But there are still some concerns over David Warner after he was
subbed out of the game
with a concussion following a blow to the head in the first innings. He has also suffered a hairline fracture in his left elbow from another blow in the same innings.
"Davey is still a bit sore and sorry," Cummins said. "So we'll manage and see how he goes over the next few days. He came to the ground today for a fair while which is good. But we'll kind of assess him over the next little bit."
Todd Murphy bowled with some side soreness in the fourth innings but managed to deliver 6.4 overs and collect the wicket of Virat Kohli.
Alex Malcolm is an Associate Editor at ESPNcricinfo
(With Inputs from ESPN)

#Cummins #collapse #Australia #batters #overplayed #methods