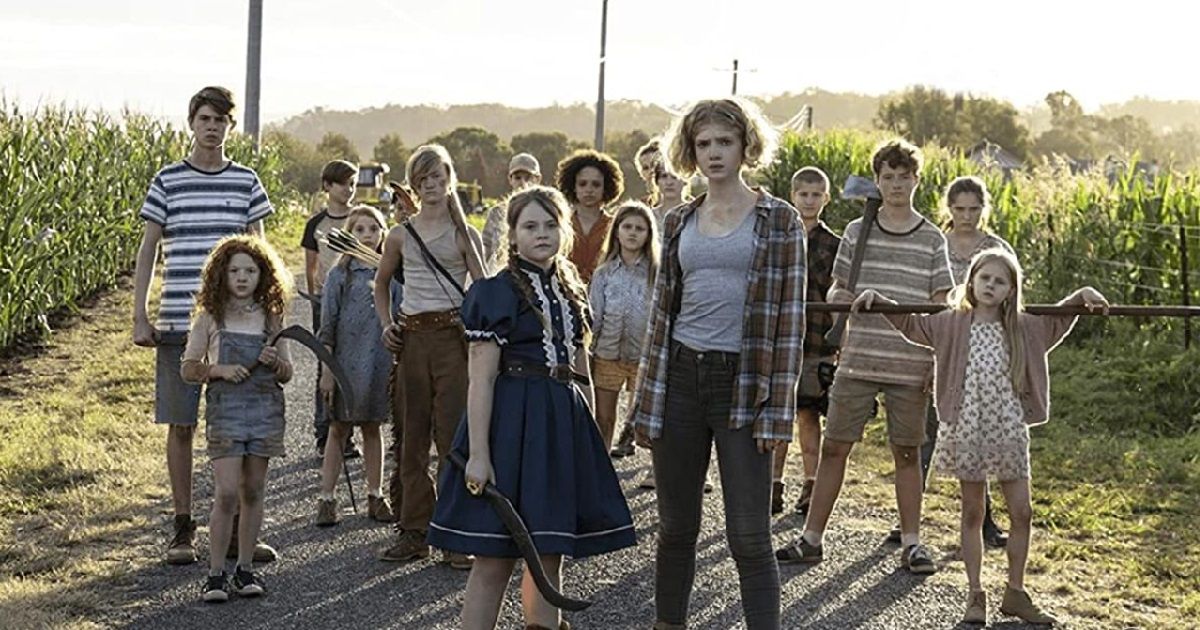 The upcoming horror film, and its many predecessors, are adapted from a short story by horror legend Stephen King.
The newest installment in the decades spanning Children of the Corn film franchise is finally hitting theaters next month. The reimagining was filmed over two years ago, but met delays as allegations arose that proper Covid-19 protocols were not followed during filming. Late last month, Children of the Corn was acquired by RLJE and Shudder and the official trailer dropped today. You can watch it below.
The trailer, which features plenty of plotting children, corn fields and fire, gives audiences a glimpse into the film's synopsis, which reads: Possessed by a spirit in a dying cornfield, a twelve-year-old girl in Nebraska recruits the other children in her small town to go on a bloody rampage and kill all the adults and anyone else who opposes her. A bright high schooler who won't go along with the plan is the town's only hope of survival.
Children of the Corn is written and directed by Kurt Wimmer, whose last directorial feature was 2006's Ultraviolet. The film stars Elena Kampouris, Kate Moyer, Callan Mulvey, and Bruce Spence. It was executive produced by award-winning digital production team Digital Domain, who created all the film's digital effects. Lucas Foster, Doug Barry, and John Baldecchi produced the film.
Related: Stephen King's Original Children of the Corn Gets a Soundtrack Re-Release
Children of the Corn's Origins
Based on horror legend Stephen King's short story of the same name, the original Fritz Kiersch directed film debuted in 1984, and starred Linda Hamilton (The Terminator). While the film was not positively reviewed by critics, it fared much better than the slew of straight to video sequels and the made for television film that followed, including Children of the Corn IV: The Gathering (with Naomi Watts and Karen Black) and Children of the Corn V: Fields of Terror (with Eva Mendes). The film franchise's last feature Children of the Corn: Runaway premiered in 2018.
King's story that launched the franchise was first published in Penthouse in 1977. It told the tale of a bickering couple driving to California. As the two drive through Nebraska, an accident forces the two to seek refuge in Gatlin, a seemingly deserted town. However, Gatlin is actually inhabited by a group of youth who worship an evil entity, known as He Who Walks Behind The Rows, and seek to kill anyone over the age of 18.
Children of the Corn will hit theaters on Mar. 3 and run for 18 days before making its way to On-Demand and digital Mar. 21.
#Children #Corn #Trailer #Introduces #Franchises #Latest #Generation #Evil

( With inputs from movieweb )