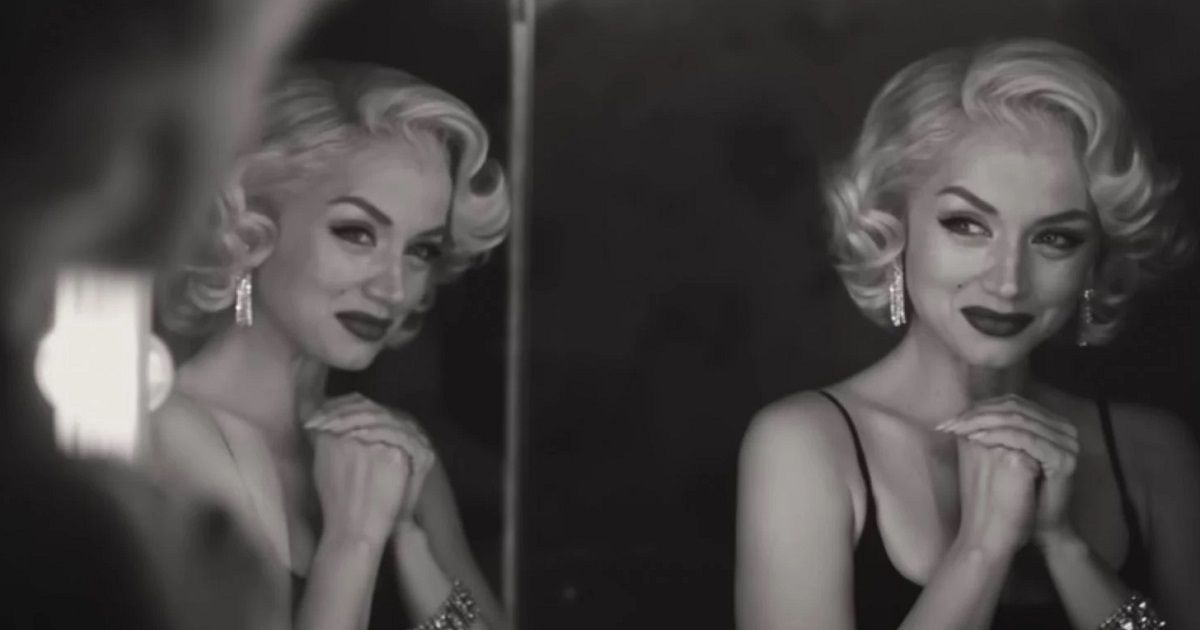 The latest trailer for director Andrew Dominik and Netflix's upcoming biopic, Blonde, once again teases the transformation of Knives Out star Ana de Armas into Hollywood icon Marilyn Monroe. Blonde is scheduled to be released on September 23, 2022 by Netflix, and finds de Armas as Monroe as it details her life and the tragedies that befall her as she becomes one of the most famous people in the world.
Based on the bestselling novel by Joyce Carol Oates, Blonde boldly reimagines the life of one of Hollywood's most enduring icons, Marilyn Monroe. From her volatile childhood as Norma Jeane, through her rise to stardom and romantic entanglements, Blonde blurs the lines of fact and fiction to explore the widening split between her public and private selves.
Led by Blade Runner 2049 and No Time to Die star Ana de Armas as Norma Jeane Mortensen AKA Marilyn Monroe, Blonde will delve into the real-life superstar's traumatic childhood as Norma Jeane Mortensen becomes an actress in the Hollywood of the 1950s and early 1960s. Written and directed by The Assassination of Jesse James by the Coward Robert Ford and Killing Them Softly filmmaker Andrew Dominik, Blonde boasts a stellar supporting cast alongside Ana de Armas in the lead role. Many of whom will bring to life familiar names from the era of classic Hollywood.
Blonde's supporting cast includes Adrien Brody as Arthur Miller, Bobby Cannavale as Joe DiMaggio, Julianne Nicholson as Gladys Pearl Baker, Caspar Phillipson as John F. Kennedy, Toby Huss as Allan "Whitey" Snyder, Sara Paxton as Miss Flynn, David Warshofsky as Darryl F. Zanuck, Evan Williams as Edward G. Robinson Jr., Xavier Samuel as Charles Chaplin Jr., Michael Masini as Tony Curtis, Luke Whoriskey as James Dean, as well as Garret Dillahunt, Scoot McNairy, Lucy DeVito, Chris Lemmon, and Dan Butler.
Blonde is Expected to Feature a Career Defining Performance from Ana de Armas
Joyce Carol Oates, the author behind the novel that Blonde will be based on, has heaped praise on Ana de Armas in the role of Marilyn Monroe. "Ana de Armas, the wonderful actress who plays her, I think it took her like four hours of make-up. So when you see them on screen, they don't really exist," Oates said of the No Time to Die stars performance. "It's like a fantastic image, but to make it a livelihood is to endure a good deal of anguish. As Marilyn got older, she was still being given these roles a young starlet would play, and she was feeling humiliated. You can't keep playing this dumb blonde nearing the age of 40. Some people say she committed suicide. I don't necessarily think that. I think she may have died of something like extreme despair."
Oates has also commended the vision of director Andrew Dominik saying, "Andrew Dominik is a very brilliant director. I think he succeeded in showing the experience of Norma Jeane Baker from her perspective, rather than see it from the outside, the male gaze looking at a woman. He immersed himself in her perspective."
Blonde is scheduled to be released on September 23, 2022 by Netflix and is rated NC-17.
#Blonde #Trailer #Ana #Armas #Marilyn #Monroe #NC17 #Netflix #Biopic

( With inputs from movieweb )