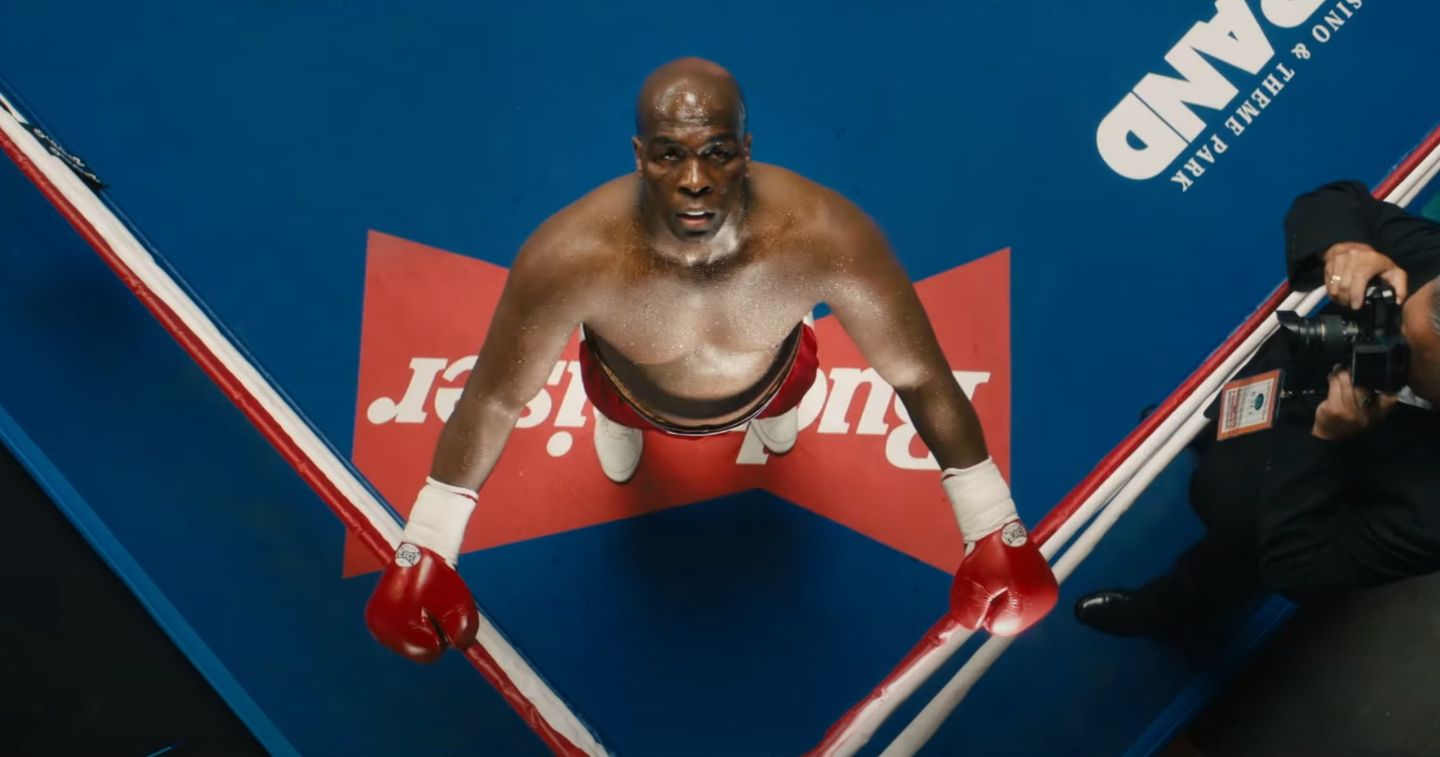 Inspired by the true story, Big George Foreman chronicles the boxer's unlikely championship win following his return to the sport.
Sony Pictures Entertainment has just released the official trailer for the new biopic Big George Foreman. Featuring Khris Davis (Judas and the Black Messiah) in the role of George Foreman, the film is set to debut exclusively in movie theaters on April 28, 2023. Ahead of that premiere, you can get your first sneak peek now by watching the new trailer in the video below, courtesy of Sony.
George Tillman Jr. (Notorious, The Hate U Give) directs the film using a screenplay co-written with Frank Baldwin with a story by Tillman, Baldwin, and Dan Gordon. Zeldon produced, while the real George Foreman served as an executive producer alongside Peter Guber, Wendy Williams, and Henry Holmes.
Along with Davis in the lead, the film also stars Oscar winner Forest Whitaker as Foreman's trainer and mentor, Doc Broadus. Other cast members include Jasmine Mathews (The Tomorrow War), Sullivan Jones (The Gilded Age), Lawrence Gilliard Jr. (The Walking Dead), John Magaro (The Big Short), and Sonja Sohn (Star Trek: Discovery).
Related: Mike Trailer Explores the Good, the Bad & the Ugly of Mike Tyson's Life
Big George Foreman Is Based on the True Story
An Olympic gold medal winner and multiple world heavyweight champion, George Foreman is one of the most famous boxing legends of all time. After winning his first world title by knocking out undefeated boxer Joe Frazier in 1973, Foreman had intially retired from the sport by the late 1970s. Over two decades after winning that first title, Foreman returned to boxing and won the heavyweight championship in 1994 with a win over Michael Moorer. As Foreman was 45 years old at the time, this made him the oldest world heavyweight champion in the history of the sport. The accomplished fighter would ultimately end his long career with 76 wins and just five losses.
The official synopsis for the new film, Big George Foreman, is as follows:
Big George Foreman: The Miraculous Story of the Once and Future Heavyweight Champion of the World is based on the remarkable true story of one of the greatest comebacks of all time and the transformational power of second chances. Fueled by an impoverished childhood, Foreman channeled his anger into becoming an Olympic Gold medalist and World Heavyweight Champion, followed by a near-death experience that took him from the boxing ring to the pulpit. But when he sees his community struggling spiritually and financially, Foreman returns to the ring and makes history by reclaiming his title, becoming the oldest and most improbable World Heavyweight Boxing Champion ever.
Big George Foreman will be released in movie theaters on April 28, 2023.
#Big #George #Foreman #Trailer #Highlights #Boxing #Champions #Legendary #Comeback

( With inputs from movieweb )