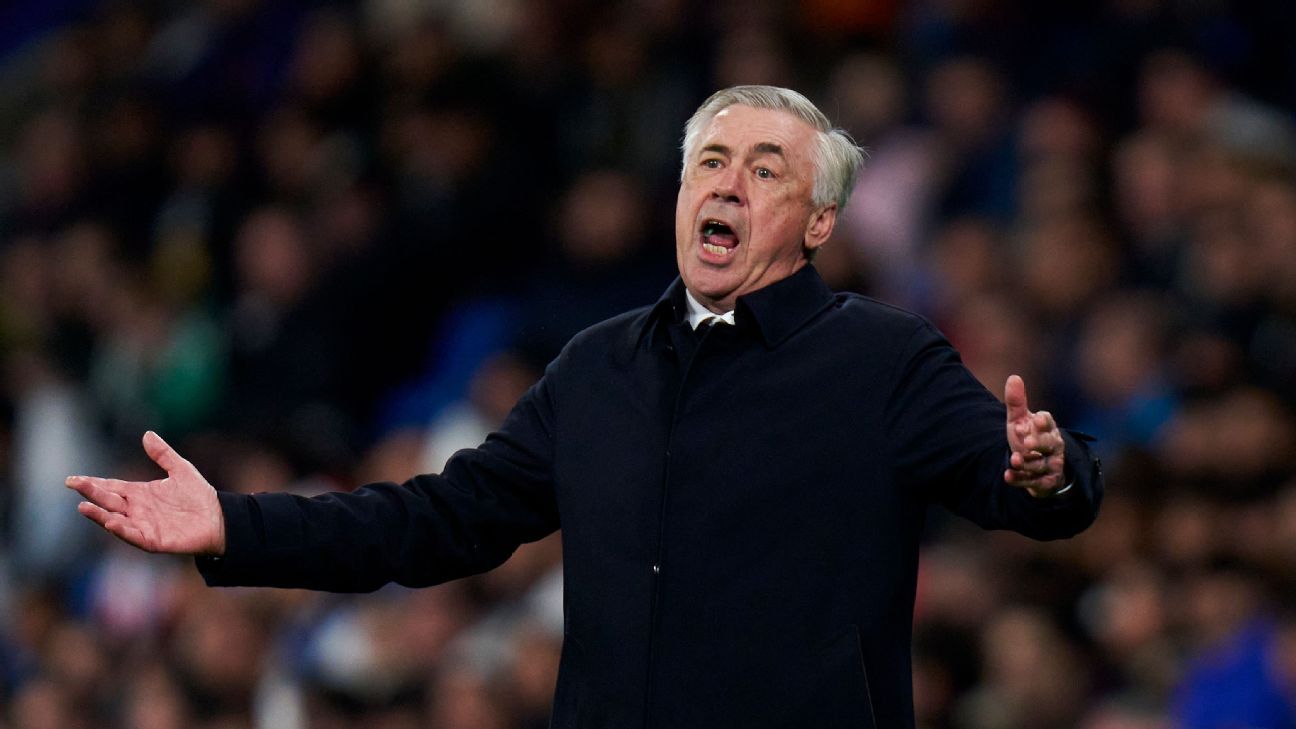 For a man who never played against them and didn't coach a team against them until he was fully 15 years into his managerial career, it might seem strange how absolutely obsessed Carlo Ancelotti once was with Liverpool FC.
When Real Madrid's Italian manager takes his Spanish, European and World champions to Anfield this Tuesday, he can either reflect fondly on that first visit to the home of the Kop — a 2-0 win in charge of Chelsea in 2010 — or on Vinicius' winner in last season's Champions League final against Jurgen Klopp's team. What he won't spend time recalling, but you may not know about, is him and his Milan squad chanting the Anfield anthem "You'll Never Walk Alone" to the television while willing and praying Liverpool to win a Champions League semifinal, and doing it as fervently as any "Red" Scouser.
There's obviously an explanation.
Real Madrid's manager missed his only opportunity to play Liverpool thanks to a knee injury when his then-team, Roma, faced them in the 1984 European Cup (Champions League) final. That night, in Rome's Olympic Stadium, Liverpool keeper Bruce Grobbelaar produced his infamous "spaghetti legs" antics until Ancelotti's teammates missed sufficient penalties in the shootout for the Reds to lift the cup.
Ancelotti described the Liverpool keeper as "the hysterical dancer" and then, 21 years later, Ancelotti's AC Milan had played what he called "perfect football" to lead Liverpool 3-0 at half-time of the 2005 Champions League final in Istanbul. You know what happened next: Milan kissed their dominant lead goodbye within six wild second-half minutes and then watched Jerzy Dudek produce Grobbelaar-style antics during the penalty shootout until Liverpool, again, lifted the very trophy the Italian coach had craved.
– Stream on ESPN+: LaLiga, Bundesliga, more (U.S.)
In his book "Preferisco La Coppa" (in English, "I prefer the Cup"), Ancelotti wrote: "Six minutes of blackout. The impossible that became possible. Our worst nightmare. I didn't believe it, I was paralysed and didn't have time to react. In 360 seconds, Liverpool had reversed the final by 360 degrees. The light had gone out and there hadn't even been time to change the bulb."
Imagine the trauma.
All of which explains the way a rematch with Liverpool — meaning the Reds had to excel and reach the Champions League final again in 2007 — became an outright obsession for this normally ultra-laid-back Italian.
In his autobiography he writes: "At that time [2007], I was 'coaching' two teams! Officially Milan, but with my heart, Liverpool! I supported us and them. By now, it was an obsession: I thought about it perpetually. One eye on Milan and another on Liverpool."
It came to a head when Rafa Benitez's Reds reached the 2007 semifinal against Chelsea, with Milan beating Manchester United to be sure they, at least, were in position for a revenge scenario. Said Ancelotti: "Our training centre practically no longer existed: it had been replaced by the goal-end of a stadium. The legendary Kop of Anfield was now in Varese near Milan, the absolute heart of the Rossoneri empire.
"Thirty maniacs, we were, in front of the television as Liverpool played their semi final second leg while we all chanted 'Liverpool…you'll never walk alone!' and cursed Chelsea to hell. There was no beer and burping, but there was everything else and it went as we prayed it would. Liverpool reached the final at which point we looked at each other and all thought the same thing: 'We've already won!'"
Just stop for a second, will you, and picture that scene. Dida, Alessandro Nesta, Clarence Seedorf, Filippo Inzaghi, Cafu and Ancelotti — all of them were victims of Liverpool's Istanbul miracle, yet there they were, roaring and celebrating in front of the TV, as Daniel Agger's goal levelled the tie and the Kop witnessed yet another penalty shootout win.
Ancelotti (and Milan) would get their revenge a couple of weeks later in the Athens final, but his obsession didn't stop there. Oh no. After Ancelotti left Madrid the first time, in 2015, he took a sabbatical to help cure a neck problem that was bothering him, but when an opportunity came up at Anfield, he was in the running.
"I knew there would be pressure at different stages of my sabbatical for me to start at a new club. I was linked with Liverpool, a great honour, and I was definitely interested, but not disappointed, when I wasn't appointed."
In fact, when Carletto finally did move to Merseyside in 2019, it was as manager of struggling Everton, and he duly became the first manager of the club in 10 years to defeat Liverpool and the first to lead the Blues to a win at Anfield since 1999!
However, the climax of his Champions League adventures against Liverpool, starting with watching helplessly and miserably in Rome 39 years ago, came last May in Paris when Thibaut Courtois, by a mile, was named Man of the Match in last season's final, his accolade indicating how close Liverpool came to winning. Then that rangy, inexhaustible power run from Federico Valverde, the raking back-post cross and Vinicius side-footing home the winning goal.
However, there's no Casemiro for Los Blancos this time. Madrid are juggling a players who are clutching at fitness, fighting back from illness, suffering from lack of game time or simply seeking form. Dani Carvajal has been a fleeting presence this season, Antonio Rudiger is error-prone and David Alaba has been slow and lacking sharpness, while Aurelien Tchouameni and Toni Kroos have been victims of a nauseous flu bug these past few days.

And then there's Karim Benzema: he's still brilliant, but staying fully fit less often. He has scored in all three of their finals this season (UEFA and Spanish Supercups, plus the FIFA World Club Cup) and in the majority of Madrid's defeats this season, he has been absent.

The likelihood, however, is that the European champions dig up a characterful performance Tuesday. It's what they do, yes, but Ancelotti is an enormous factor in that.

Former Chelsea captain John Terry says about Ancelotti in the book "Quiet Leadership" that "being able to pick a whole group of players up, to run through brick walls, to play through injuries… it's testament to Carlo. I've seen teammates play through injuries, taking injections to get them through it when they shouldn't really have been out there at all, because they wanted to perform for Carlo."

So let's turn back to the actual game and the state the two teams are in.

When Jurgen Klopp pipped Ancelotti to the Anfield job in 2015, the Italian wasn't only pleased for his rival; he even predicted success under the German. Correctly. But subsequently, he had these perspicacious things to say about Liverpool's "heavy-metal football."

As Ancelotti argued, "If you play at high intensity, like Jurgen Klopp's teams at Dortmund and now Liverpool do, data about physical performance will be very important. Here, the question is not 'is the system right?' but rather 'is it sustainable over a whole season … or two … or three?' Will the players be able to sustain such energy output and the strain on their bodies?"

What Ancelotti will know, inescapably, is that Klopp's team is suddenly posting good data again, a shift reinforced by the return to fitness of Virgil van Dijk, Diogo Jota and Roberto Firmino. Plus, there's the emergence of the remarkable 18-year-old Spaniard, Stefan Bajcetic, in midfield.

The scene is set, giving Liverpool a knockout-round opportunity for revenge after defeats against Madrid in the Champions League finals of 1981, 2018 and 2022.

Were Klopp and his players roaring and punching the air when the UEFA draw pitched them and Los Blancos together again? Perhaps not, but Ancelotti will go into this tie deeply aware of the motivational power that revenge can inspire. After all, it temporarily made him a Liverpool fan.
(With Inputs from ESPN)

#Ancelotti #Real #Madrids #Champions #League #history #Liverpool