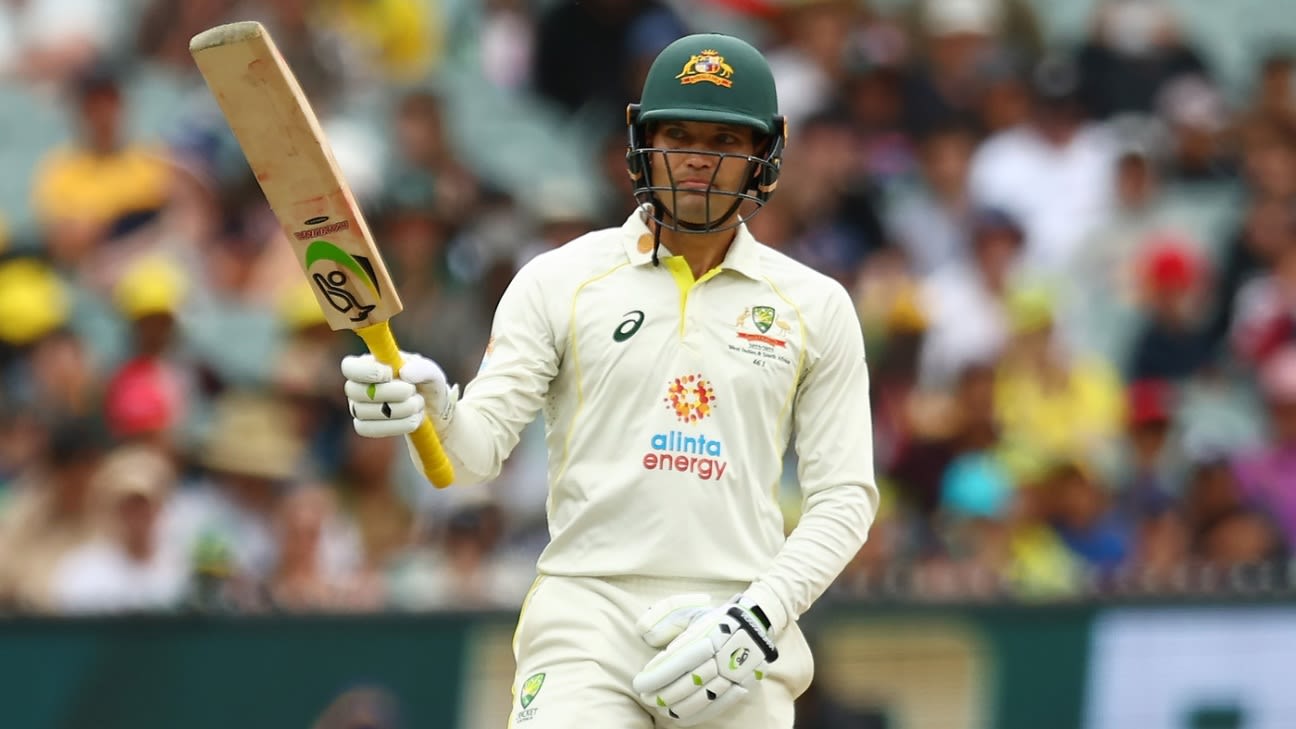 Stuart Broad
would like nothing more than to have
Steven Smith
caught at mid-off, but
Alex Carey
does not believe that Australia will be drawn into trying match England's aggressive style when the Ashes commences next month.
There are still six weeks to go before the opening match at Edgbaston and before then Australia have the small matter of trying to topple India in the World Test Championship final, but Bazball will continue to dominate the lead-up.
"We've heard some stuff in the media what the wickets might be like, the boundaries etc, [and] the way [England] are playing at the moment it is eye-catching," Carey told SEN radio. "I'd like to think we aren't surprised now [with] the way they'll come out and play.
"The tactical stuff will start to take place over the next couple of weeks but I don't see us falling into our batters going out and trying to score the same rate. We'll do it differently, we've had some serious success in the last 18-24 months playing the style we want to play in different conditions and lucky enough to be rewarded with a spot in the World Test Championship [final]. So we are excited to come over to their backyard and take on a team that's playing some really eye-catching cricket. As a player it's going to be hot contest and I'm smiling just thinking about that first Test."
Carey is one of ten members of the Ashes squad who are currently in Australia with the others spread across the IPL and county cricket. Training will ramp up this month for those at home with a camp in Brisbane before they depart for the UK in late May, leaving around 10 days to prepare for the WTC final at The Oval on June 7.
"We'll all come together before that World Test Championship and have our focus solely on that game but with an eye to the first [Ashes] Test match," Carey said.
On a personal level, the tour will be Carey's first experience of Test cricket in England having taken the Australia role at short notice ahead of the 2021-22 Ashes although he
was very impressive
during the 2019 ODI World Cup and scored
his first one-day hundred
there in 2020. He has a small amount of first-class experience in the country having played
one match for Sussex in 2019
where he made 56 and 69 not out then was drafted into the Ashes squad to keep wicket in a tour match against Derbyshire.
Carey, who scored
a maiden Test century
against South Africa at the MCG last season, is confident of being able to adjust his game to conditions as required but admitted that the wicketkeeping could provide some challenges with the 'wobble' that can often happen to the red Dukes ball when it passes the batter.
"It's hard to train [for] the wobble that we as keepers know comes down and we make it look a bit silly at times if we don't get a hand on it," he said. "For me, just staying really open-minded knowing they'll be days when it doesn't look pretty…you see some of the techniques of the English keepers and it's completely different to the Aussies.
"I think adapting as quickly as I can when I get over there, hopefully will have some centre-wickets and catch a few balls from our bowlers, then from there hopefully just react well enough that if one does wobble that I move to that, see it and catch it. But it's a really good point and probably something as cricket fans you expect the wicketkeepers to make it look easy at times, but it wobbles down and you are like 'what are you doing' but it's all part of the fun."
(With Inputs from ESPN)

#Alex #Carey #Ashes #differently #weve #success