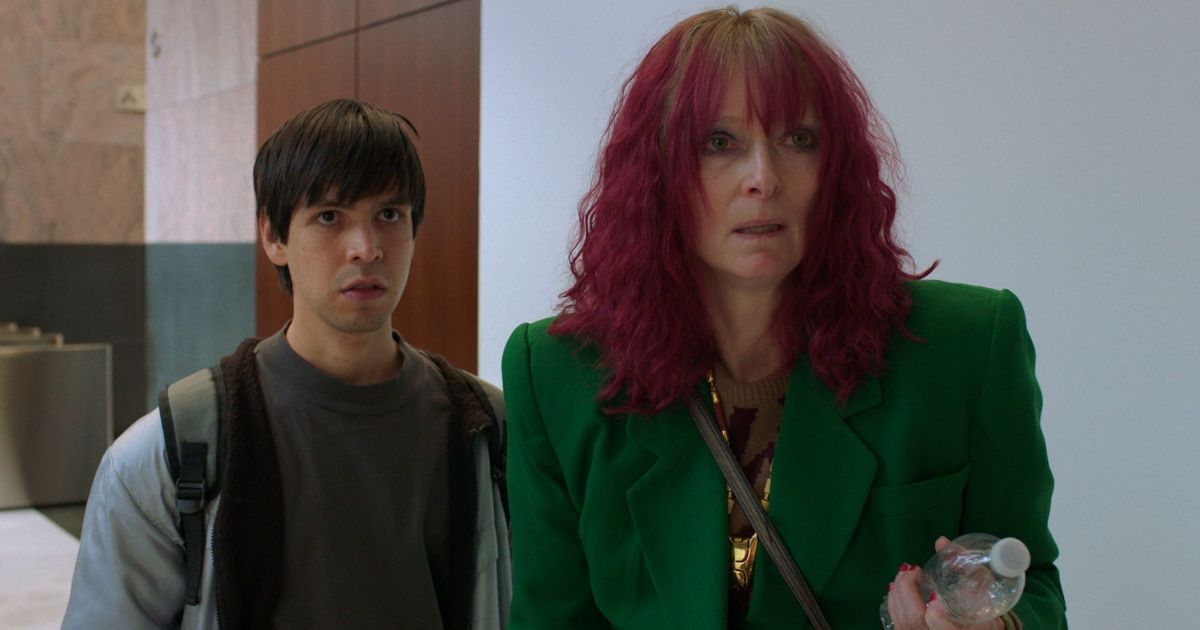 A24 has released a trailer for Julio Torres' indie comedy Problemista. Torres writes and directs the film and stars as Alejandro, a young Salvadorian artist who must contend with a monster of a boss in his pursuit of the American Dream. As the trailer shows, Alejandro is a talented toy designer from El Salvador, now living in New York, whose work visa is about to expire. He has just one month to find someone willing to serve as a co-signer for his visa so that he can remain in the United States. In an act of desperation, he turns to his boss Elizabeth, played by Tilda Swinton, a quirky (to put it nicely) outcast art curator who makes a deal with Alejandro; she will act as a co-signer, but he must help her put together an art exhibition. The trailer, which you can watch below, teases a surrealist adventure.
While Elizabeth's actions and words are enough to show what a nightmare of a boss she is, Torres emphasizes her wickedness by giving her glaring red eyes. The trailer also shows Alejandro's mother, back in their native land, as she worries about the dangers lurking in the real world. While the trailer points at a comical adventure it is reflective of the immigrant struggle, with Torres drawing inspiration from his life. In a previous interview with The Hollywood Reporter, he said the film is "very much a mosaic of different experiences. I think it mostly communicates on how I felt at a particular point in time. When you see it, you'll see it's not completely grounded in truth, but the seed of it stems from my recollection of a lived experience."
For his directorial debut, Torres lined up an impressive cast that includes Swinton, RZA, Greta Lee, Catalina Saaverdra, and James Scully, with narration by Isabella Rosselini. Problemista premiered at the SXSW Film Festival this March to critical acclaim. It hits theaters August 4.
Julio Torres' Expanding Career
Torres served as a writer for Saturday Night Live for six seasons during 2016 to 2019. During his time at SNL, he earned four Emmy nominations along with the writing team. In 2019, his comedy special My Favorite Shapes, premiered on HBO. The clever show saw Torres discuss his favorite shapes which he tied into personal stories, anecdotes, and jokes.
Torres is also known for his work on the bilingual HBO series Los Espookys, where he served as co-creator and writer alongside Fred Armisen and Ana Fabrega. Torres also starred in the comedy as Andrés Valdez, an heir to a chocolate empire desperate to find answers about his mysterious past. The series was canceled in 2022 after two seasons. Torres has also voiced characters in animated series including Bob's Burgers, Tuca & Bertie, and The Great North.
In his discussion with THR, Torres said that directing Problemista showed him the "importance of picking good collaborators," adding that he enjoyed working with people who "are very excited to bring their own thing to the work." These comments, combined with Torres past credits, should leave fans of Torres' work excited about his future projects.
#A24s #Problemista #Trailer #Teases #Julio #Torres #Surrealist #Immigrant #Experience

( With inputs from movieweb )