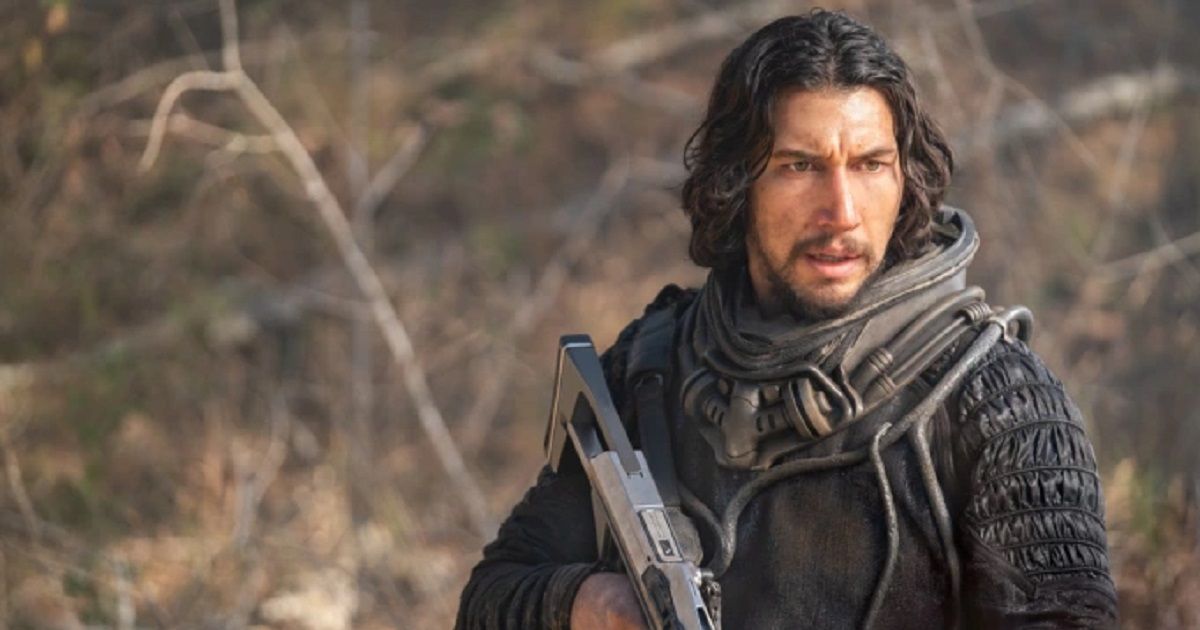 Adam Driver battles dinosaurs in the latest trailer for 65.
Academy Award nominee Adam Driver must fight to survive in the latest look at the upcoming science fiction action romp, 65. And what will he be fighting in order to survive? Well, dinosaurs, of course. The latest trailer for 65 comes courtesy of Sony Pictures Releasing, and reveals our best look yet at the kinds of dino-related dangers that Driver will face as he slowly discovers he has crash-landed on planet Earth. 65 million years ago. Check out the new trailer for 65 below.
65 finds Star Wars: The Rise of Skywalker star Adam Driver leading the way as a pilot named Mills who, after a catastrophic crash on an unknown planet, quickly discovers he's actually stranded on Earth…65 million years ago. Now, with only one chance at rescue, Mills and the only other survivor, Koa (Ariana Greenblatt), must make their way across an unknown terrain riddled with dangerous prehistoric creatures in an epic fight to survive.
While attempting to work out how exactly he has thrown himself headfirst into Jurassic Park, Driver will need to use all his wits and weapons to protect Love and Monsters, Borderlands, and Barbie star Ariana Greenblatt from the beasts that surround them. My Spy and Avatar: The Way of Water star Chloe Coleman and Euphoria actress Nika King also star.
RELATED: These Are the Best Adam Driver Movies, So Far
65 Comes from the Writers of A Quiet Place
The deliciously B-movie-esque idea behind 65 comes from the minds of the writers of A Quiet Place, Scott Beck and Bryan Woods, who have both written and will helm the dino-action flick. A Quiet Place is of course the hugely popular post-apocalyptic horror outing from 2018 which revolves around a father and a mother struggling to survive and rear their children in a world now inhabited by blind monsters with an acute sense of hearing. No doubt 65 will be filled with the same frights and intensity, only this time with dinosaurs in place of the aliens and with a lot more bullets being fired.
If that were not already enough to convince you of the excitement you should be feeling for 65, the project has also recruited The Evil Dead and Doctor Strange in the Multiverse of Madness director Sam Raimi as a producer. So, there is a lot to tempt you towards the bonkers action sci-fi when it lands in theaters later this year.
65 is far from the only intriguing project for Adam Driver in 2023. The actor is also due to portray driver and entrepreneur Enzo Ferrari in director Michael Mann's Ferrari, which will detail the story of the man in 1957 as he deals with family problems while also preparing for the 1957 Mille Miglia.
Driver is also due to star as part of the ridiculously stacked cast of Megalopolis for director Francis Ford Coppola and will star alongside the likes of Forest Whitaker, Nathalie Emmanuel, Jon Voight, Laurence Fishburne, Aubrey Plaza, Shia LaBeouf, Jason Schwartzman, Grace VanderWaal, Kathryn Hunter, Talia Shire, Dustin Hoffman, and Giancarlo Esposito.
65 is scheduled to be released on March 17, 2023, by Sony Pictures Releasing.
#Trailer #Reveals #Adam #Driver #Dinosaurs

( With inputs from movieweb )